Event
Extreme Entertainment for an Extreme Nation
Imran H. Khan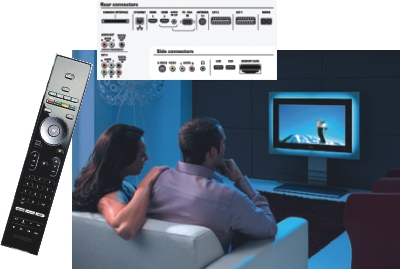 The latest line from Philips have Pixel Plus 3 HD and
Ambilight Full Surround
Watching TV is our number one form of entertainment. Occupants of most houses (and village communities) that own a "boob tube" watch more TV than they themselves consider good. Since so much time is spent watching TV, the launching of such an apparatus at its best is welcoming news in Bangladesh.
On November 8, 2006, Philips launched its new and exclusive line up of entertainment systems under the banner "Extreme Entertainment" at the Bangladesh-China Friendship Conference Centre. Latifur Rahman, Chairman and Managing Director of Transcom Group was present at the event as the Chief Guest and unveiled their latest product, an Ambilight Full Surround Plasma Television. "This launching comes at an appropriate time as Philips, in the last few years, have taken the lead in flat panel television," said Rahman. He continued, "In the field of liquid crystal display (LCD) and plasma televisions, Philips is currently the Bangladesh market leader." Also present on the occasion was Obaidur Rahman Khan, Executive Director of Transcom Electronics Ltd. "This is the first launch of this kind here in Bangladesh," says Khan. Philips and Transcom have been business partners for nearly 14 years now and they "strive to bring extreme entertainment in their products" concluded Khan.
To enhance home entertainment, Philips has introduced a new four-sided Ambilight Flat TV display. Ambilight Full Surround as it's called features a dramatic colour and light effect on all sides of the screen to 'draw consumers even deeper into the action'. Philips unveiled its latest entrance in the Flat TV arena with the 42" Pixel Plus 3HD and Ambilight Full Surround HD LCD TV, in short a television set at its best. The current Philips Ambilight Full Surround experience ranges from 37 to 50 inches. The main technology behind Ambilight is to provide a continuous band of dynamic lighting from left, right, top and bottom to provide more visual appeal for the viewers. The entire display is surrounded by an integrated canvas that makes the screen appear to be floating when mounted and produces a better colour effect. Research by Philips and the Lighting Research Centre at Rensselaer Polytechnic Institute has indicated that the Ambilight backlighting around the Flat TVs helps reduce eyestrain and visual fatigue. The display could be wall mounted too and hence, gives the user more room space.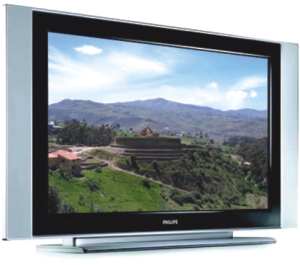 A Philips 50 inch True HDTV Plasma TV
Let's move beyond the tongue twisting terminology and take a closer look at what all this means. Some of the terms crucial to a better understanding of this paragon are: High Definition (HD) and Full Surround Ambilight technology. HDTV basically gives the user exceptional picture quality, right from the point of signal to its appearance on the screen. The HDTV sets also have more pixels than ordinary televisions sets, nearly 5 times more with 2 million pixels on screen. The audio system that accompanies the HDTV sets comes as multi-channel Dolby Digital. The sound, transmitted through up to 6 channels, is much clearer, more sensuous, and therefore more effective. In addition to this, the Pixel Plus 3HD and Ambilight Full Surround HD LCD TV' is packed with the latest Full Surround Ambilight technology. Pixel Plus delivers superb colour richness, smoother images and clearer action sequences. The Pixel Plus 3 HD, introduced in 2006, is a new generation Digital Natural Motion engine that enables judder-free images, which means when the camera moves over items such as walls and buildings with more details, the image does not come shaky. The Full Surround Ambilight technology intelligently adjusts colour tones as well as the level of the surrounding lighting to match the action that is taking place on the screen. This heightens the realism for the viewers with no additional pressure on the eyes. The glow from the lighting can be adjusted. The lighting effect is rather cool and gives an impression that a painting and not a utilitarian device is being exhibited. In order to connect with other modern technology, the latest range from Philips contains numerous ports. The connection methods are through USB 2.0, Memory cards (7 types are supported), and more. Using these, users can connect almost anything from pen disks to memory sticks to cameras right onto the TV sets. This technology could very well be the future of TV sets.
Also showcased in the event was the 2006 CES Innovation Award winner, the new CINEOS HTS 9800W Home Theatre system combining cutting edge technology with elegance to provide excellent home entertainment. This sleek system plays all types of DVDs, Mp3 CDs and Audio CDs, and comes complete with Neodymium Ribbon Tweeters, 6.1 Dolby Digital EX surround, wireless rear speakers and has a whooping 800W of sound power. To put the cherry on top, the whole system is touch screen. The main system is wall mounted and comes in a sleek black and gray colour. Numerous other home theatre systems were also showcased at Philip's "Extreme Entertainment" with power RMS ranging from 500W to 1000W.
The new CINEOS HTS 9800W Home Theatre system is totally touch screen
Also showcased in the event were numerous DVD recorders, DVD players, DVD Micro Theatre Systems and DVD Mini hi-fi Systems. For those who prefer to close their eyes while indulging in such entertainment, Philips also showcased a remarkable lineup of CD players and MP3 players among various other products.
Royal Philips Electronics (RPE) of the Netherlands, the Mother Ship of Philips, is one of the world's largest electronics companies and Europe's largest with sales of 30.4 billion euros in the year 2005. RPE is currently the market leader in LCD TV sales worldwide, according to a research. Global sales of LCD TVs increased 135 percent in the second quarter from a year earlier to a record 9.4 million unit. Keeping with the pace in the world, Philips in Bangladesh has also set their wheels in motion. Philips in Bangladesh has had the "greatest growth rate in the last two years in South Asia," according to Philip Lim, export manager, PCE Singapore export.
Philips and Transcom, the local distributor of Philips in Bangladesh, have come a long way together and they strive to bring more to the clientele. Philips believes that it's in the market with high quality products backed by superior after sales services. With few avenues of entertainment open to Bangladeshis, and fewer even for housewives, it is hoped that for couch potatoes mushrooming in the dank and dreary sanctuaries of houses and apartments, this is good news. Without undergoing the high risks or physical movement involved in extreme sports, they can indulge to their hearts' content in this "extreme entertainment." Kudos to Philips on their latest lineup.
Copyright (R) thedailystar.net 2006