Books
Collection of Poems
The Collected Poems of Robert Creeley, 1975-2005
Robert Creeley
University of California Press; October 2006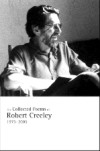 This stellar collection showcases thirty years of work by one of the most significant American poets of the twentieth century, bringing together verse that originally appeared in eight acclaimed books of poetry ranging from Hello: A Journal (1978) to Life and Death (1998) and If I Were Writing This (2003). Robert Creeley, who oversaw the publication of this volume before his death in 2005, helped define an emerging counter-tradition to the prevailing literary establishment--a postwar poetry originating with Ezra Pound, William Carlos Williams, and Louis Zukofsky and expanding through the lives and works of Charles Olson, Robert Duncan, Allen Ginsberg, Denise Levertov and others. The Collected Poems of Robert Creeley, 1975-2005, essential reading for anyone interested in twentieth-century American poetry, will stand together with The Collected Poems of Robert Creeley, 1945-1975, published in a new edition by University of California Press in 2006, as the definitive Robert Creeley for today and for the future.
---
Collected Poems, 1947-1997: Allan Ginsberg
Allan Ginsberg
HarperCollins Publishers; October 2006


Though his literary career spanned a half-century, Ginsberg remained contemporary throughout. As iconic a cultural presence as James Dean or Bob Dylan, he attracted friends and fans among successive generations of disaffected youth through his robust, rebellious spirit and oppositional politics. As the flagship beat poet, he reintroduced a Whitmanic energy that continues to flourish wherever poetry slams are held. This huge, single-volume testimony to his prodigious output reprints the complete text of 1984's Collected Poems 1947-1980, along with the collections that followed White Shroud, Cosmopolitan Greetings, and Death and Fame, including the original book attributes of each collection. A poet of extremes at times too trusting of his instincts, Ginsberg could be playful, angry, strident, obscene, graceful, and hilarious in the space of a page, and by now his readers know they are likely to encounter as many embarrassing poems as enlightening ones. Still, this compendium provides the most complete edition of Ginsberg available.
---
Living Things: Collected Poems
Anne Porter
Steerforth Press; January 2006


Living Things contains all the poems in Porter's National Book Award Finalist collection, An Altogether Different Language, plus forty-four new works. David Shapiro writes in his foreword, "Anne Porter's diction is as modest as that of William Carlos Williams or of a poet she nurtured as a houseguest for many years, James Schuyler…She has the quality of paying attention to ultimate reality that Fairfield Porter, who painted her so often alone and with their five children, told me should be the conclusion of every sermon…She is an American poet of stature who reminds us that the idea of the holy is still possible for us." Living Things is a book for any lover of fine poetry.
Compiled by SANYAT SATTAR
Copyright (R) thedailystar.net 2006