Endeavour
Furniture Frenzy
Elita Karim
The first thing that hits one upon visiting the furniture stores on Panthapath, is a wide array of furniture to choose from. Some of them have them a Victorian aura and the others may seem inspired by the furniture catalogue that one finds in Nilkhet. With people from all walks of life flocking to the stores almost every day, the street has become very popular amongst furniture lovers and homemakers. Not only do the furniture stores on the street cater to those who like to furnish their households with modern furniture, they also take orders to custom make furniture .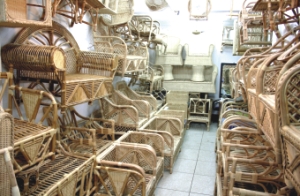 One particular shop that attracts many of the furniture lovers is the Bangladesh Cane and Metal House. Ranging from single stools to bedroom and dining sets, the furniture is made of cane and wrought iron. "Customers usually place their orders in our store and draw up designs and colour combinations of their preference," says Faisal, the owner of the store. "However, we have a number of ready made designs to choose from in the shop as well."
Having been around for more than 30 years in Dhaka, Faisal opened up a branch at Panthapath after finishing up with his undergraduation. "This store has been in my family for years," he says. "Now that I am looking after the family business, it seemed very natural that I opened up branches of the store and expanded the company."
The raw materials, used to make the furniture, are processed in Malaysia and other countries and then brought over to Bangladesh. "We have our own factories and workshops where these materials are then used to fashion each design and piece," add Faisal.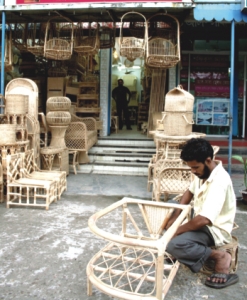 According to him, though the shop Caters to customers of both wrought iron and cane, most of the people seem to prefer the latter. Cane furniture is also much more expensive as compared to other materials. "Over the last decade, customers' choices seem to have changed and now they tend to be more inclined towards furniture made of cane rather than wrought iron," explains Faisal. "It has also been noticed that customers belonging to the upper-middle classes purchase more of cane as opposed to wrought iron."
According to one customer, cane furniture signifies a fusion of elegance and traditional beauty. Not only does it carry the ambience of simplicity and comfort, cane furniture mixes well with the environment and can be used to furnish any room in a household.
Furnishing one's home according to the right taste, perfect colour and the ideal texture requires plenty of creativity, passion and time. Though this industry is still developing in the country, establishments like the Bangladesh Cane and Metal House are coming up every other day to provide simple yet exquisite designs, thus catering to the tastes of people from every other part of the country.
Copyright (R) thedailystar.net 2006