Water Crimes
Water Water Nowhere
Shamim Ahsan
The kitchen sink is filled with unclean teaspoons, cups, glasses. Various other sorts of utensils are also piled up all over the places in the kitchen. It's obvious from their look that they have not been cleaned for ages. In the bathroom buckets of different size including a large drum are lined up. They are all empty. In one corner is heaped a huge pile of clothes that need washing.
This is the picture of a large part of Dhaka. People are living in unbelievable conditions. They cannot bathe, wash clothes or utensils, do the regular household chores due to acute water crisis. And that too for days after days. The amount of water needed for drinking and for toilet use is also hard to get by. Failure to bathe for days on end has resulted in prevalence developing skin diseases while it made many others to spend sleepless nights.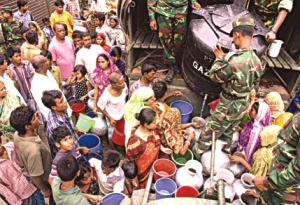 "Forget taking bath or washing clothes, we even don't know where we will get tomorrow's drinking water," Abdul Kuddus Dhiran, owner of the house in Gopibagh area says. "I have never seen such water crisis in my 50 years of living in Dhaka," says Abdus Sattar who was born and brought up in Dhaka's Tikatuli area. 50-year-old, Sattar who owns a shop that sells scientific instruments at Hathkhola, has sent his entire family -- his wife, daughters and a son -- to Kolabagan, his in-laws house, two weeks back, as "living here became impossible."
Life in many localities of the capital has become a virtual hell. This is probably the worst ever water crisis that has gripped large stretches of Old and New Dhaka including Gopibagh, Hathkhola, Doaganj, the greater Demra, Lalbagh, Maghbazar, Kalyanpur... (And only those who are still being forced to live in these areas know what it means to go without water for days on end.)
Their lives are incapacitated by this acute shortage of water. "I cannot concentrate at work. My children cannot study. You can use candles during power outages but what do you do of that obnoxious greasy feeling stemming from days of not taking a bath," complains Shaek Us Salehin, a Lecturer of English at the Northern University and a resident of Mirpur area.
The misery multiplies for people who live in slums or slum-like houses in different parts of Dhaka. At around 11.30 pm, a long queue of some 50 to 60 people -- kids who can barely walk and elderly sickly women are waiting near Narinda Police Fari. On the roadside there is a water pipe from where water would come forth 'at any time'. There is no water at this moment and all these people are expectantly waiting expecting for it. "Last night it was at 2 am when water supply resumed. Sometimes water comes for an hour or so at dawn," says Bashiruddin, a barber who lives in Doaganj. Even a month or so ago water flowed from this pipe throughout the day and people would be seen taking a bath and washing their clothes sitting under this roadside pipe.
While many have sent their families to places where water is still available, not everybody has this option. Sajal and Sanjay Dhar, two brothers who are goldsmith by profession live in Doaganj area, say they have nowhere to go. "We don't have any close relatives in Dhaka, where will we go or send our family members?" No one knows the answer.
Some have sorted out their problems rather ingeniously as Subrata Saha has done. A senior official at Basic Bank and a resident of Hathkhola. Subrata has started taking a towel and a pyjama inside his office bag. "For the last 8 to 9 days I am going to office at least 45 minutes earlier than usual. I take a bath in the office and I am not the only one. One of my colleagues who live in Moghbazar is also doing the same for the last few days," he says.
People are naturally furious at the government. "What the hell is the government doing about it?" "The government should resign if it can not provide things as essential as water", "What is he Wasa for? What is it doing?" These are some of the common outbursts from people suffering from the month-long water crisis. Well, for the moment, the only available solution is purchasing water from Wasa. With no other solution in the picture, people who have already been suffering from high prices of essential, are being forced to cough up extra bucks for buying water. "For the last eight days we are purchasing one lorry of water every day at a cost of tk 250," Saidul Islam, a mechanical engineer and a resident of Swamibagh says. Saidul complains that a section of Wasa employees are even extorting extra money -- Tk 400 and even more per lorry-- taking advantage of the dire situation.


Now how has such a situation arisen? Water and Sewerage Authority (Wasa), the organisation responsible for providing the Dhakaites with water, seems to have no clue about this. At present the city has a demand for 230 crore litres of water a day while the Wasa has an infrastructural capacity to pump out around 175 crore litres. But Wasa at present cannot produce water to its full capacity thanks to frequent power outages and low voltage. For the last several weeks Wasa's production has come down to as low as 145 crore litres a day, leaving a staggering deficit of 85 crore litres a day.
Though 230 crore litres of water is the demand on papers, in reality the demand is even more than that. A large number of hotels, restaurants, factories have taken illegal connections in connivance with a section of Wasa officials and employees. Besides, a huge number of residential buildings specially the high rise apartments install extra pump with the main Wasa line that goes under the road, which is illegal. As they forcibly brings in water through those pumps the other houses in the area do not get their share of water. Managing Director (MD) of Wasa, Dr Qazi Ali Azam, admits that such ill practice exists, but adds that it is very difficult for them to find out those illegal lines with so limited manpower.
But these are nothing new and the fact remains Dhaka has never experienced such acute water crisis before. Azam however has a ready answer: power outage and low voltage. "In every area the water pumps sit idle for five to six hours every day resulting in low production of water," he points out. "Again for a water pump to run the voltage has to be 380 to 420, but often the voltage is lower than that, which forces the station manager to switch off the pump," Azam adds.
Wasa bigwig Ali Azam also accuses hoarding of water as another factor that is contributing to serious water crisis. Many of the high rise apartment buildings and residential house in the city are stocking more water than they normally need, creating a serious crisis.
Again the water level usually goes down during the dry season, while the demand of water is also high during this time. Azam thus suggests that it's time they go for surface level water and not deep beneath the earth. He means utilising river water, but there are problems there too. Azam points out, the Shitalakhhaya, which now provides a substantial amount of water for the Dhakaites, has grown so polluted that this no more seems a great option anymore. "Making this water fit for drinking and other usages is not feasible," Azam points out.
When will Dhaka get rid of this problem?
Azam does not have a precise time frame to offer. "When the power situation improves, things will automatically improve," is all Azam can say. But Dhakaites know very well that water has always been a problem here even when the power supply is normal. Obviously Wasa needs to expand its capacity keeping in mind the ever growing demand for water for Dhaka's ever growing population.
Copyright (R) thedailystar.net 2006