Voicebox
"To kill, as Mujaheed of Allah."
ABDUR RAHMAN
chief of Jamatul Mujaheedin Bangladesh
when asked what his profession was.
"The judges were murdered on instruction from Allah. We should be rewarded, not punished for following the order," he continued.
"No-one will be able to stop the port's functioning even for a day as there are a host of my people in the port."
AKBAR HOSSAIN
shipping minister.
After the Chittagong city mayor threatened to halt loading and unloading of containers at the port if the government did not cancel the decision of privatising newly built New Mooring container terminal.

"There is no difference between Jainal Hajari, Shamim Osman and Salahuddin."
SELIM REJA
general secretary of Bangladesh Nationalist Party Sarulia union.
Salahuddin is a BNP MP; Hajari and Osman are Awami League leaders who, during their party's rule unleashed a reign of terror in their respective areas.
"Come out of the "politics of sickness, religion and bomb terrorism."
KAMAL HOSSAIN
president of Jatiya Oikya Mancha.
"Why have the various aspects of the [9/11] attacks been kept secret?"
MAHMOUD AHMADINEJAD
Iranian President
in a letter to US President George W Bush.
"We sell jeans at US $7 while it is sold at $70 in the USA, which is an injustice."
MIR SHAHABUDDIN MOHAMMAD
vice chairman of Export Promotion Bureau.
---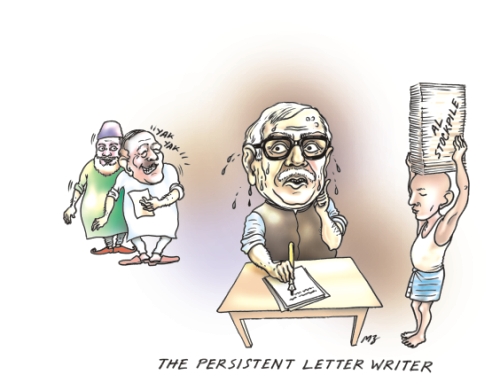 QUOTATIONS ARE TAKEN FROM DIFFERENT LOCAL AND INTERNATIONAL NEWSPAPERS. .
Compiled by: AHMEDE HUSSAIN. Quotes can be sent to <ahmedehussain@gmail.com>
Cartoon : MUSTAFA ZAMAN
Copyright (R) thedailystar.net 2006