Tribute

The Unique, The Unforgettable -- Nasreen Huq

Akhtar Sanjida Kasem
Nasreen Pervin Huq, the Country Director of Action Aid Bangladesh, with many other credentials to her credit -- a person who had lived her life with the mission and vision of rights, justice and empowerment of the vulnerable -- was killed in a tragic accident on April 24, 2006. She was almost beyond help when she was taken first to the Orthopedic Hospital, and later to the Dhaka CMH.
Hundreds of people crowded the corridors of Dhaka CMH throughout the day and night on April 24. With tears in their eyes and prayers on their lips, they desperately hoped for a miracle that did not happen. At around 8:00 pm, the announcement came, and the agonised waiting was over. It was now time for mourning. News spread like wildfire, and more and more people poured into the CMH, defying the rain, the storm, and the tight security within the Cantonment area, to grieve for an extraordinary woman.
At first, I, like many others, could not really believe that Nasreen Apa had been killed in a freak accident, caused by her car and her driver, in the premises of her house. But when we stood in silence before her lifeless body, there was no denying the fact that we had lost her forever.
Even then, she looked so peaceful in death. Her skin was pale and translucent. Her face was composed. It seemed as if she was sleeping, and would just wake up if we called her. The eyes would sparkle again with intelligence and humour, and the finely chiseled mouth would break into a warm smile.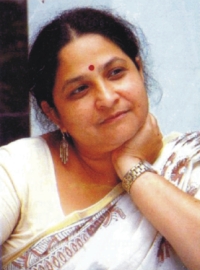 Anyone who knew about her, would know that she changed the lives of many people, through her professional, and humanitarian work. She brought light, faith and hope in the lives of many people. She simply could not sit back and watch people suffer. Hundreds and thousands of people loved her, a few may have hated her too (it was only natural, as she never compromised). But one thing was certain, you could never forget her, ever. I had met her only a few years ago, and I consider it a privilege. Many people knew her more intimately for a longer period of time, and their grief must be unbearable at this moment.
She spearheaded the campaign against acid violence against women in Bangladesh, and was a Member of the Board of Trustees of the Acid Survivors Foundation. Her compassion for the acid survivors was unique. But mere words fail to express how much she meant to the acid survivors. These women (mostly young, some in their teens) suffered severe physical and psychological trauma. Nasreen Huq, through her relentless efforts, helped to restore their faith and trust in people, and reintegrated them in the society through education, employment and social interaction. I met Nasreen Apa recently at a programme organised to mark International Women's Day, where some of the survivors were present. Someone was saying that one out of the five sentences they utter would be about their Nasreen Apa. We afterwards found that it was quite true. They got a new lease of life through her, and quite naturally, their life revolved around her.
Late Nasreen Huq was one of the most remarkable women in our country - in terms of education, professional status, and service to the society. She studied in the USA, and obtained her Masters Degree in Nutritional Science in 1989 from the University of California at Berkeley. She also did a short course on Women, Men and Development from the Institution of Development Studies, University of Sussex.
Besides being the Country Director of Action Aid International in Bangladesh, she was also the former Senior Policy Advisor of Hellen Keller International, former Research Nutritionist of BRAC, former Project Coordinator of ICPD Follow-up Programme in Naripokkho, and the Founder Director of Social Initiatives Ltd. She was a Gender Equity and Health consultant with many years of professional experience, she also had extensive experience promoting nutrition and health through a focus on women and children. She represented her organisation and her country at many national and international conferences. She was a member of the Bangladesh Delegation to the International Conference on Population and Development in Cairo and the Third Preparatory Committee Meeting (1994).
She was also the member of many important committees, for example, the Gender Advisory Committee, Ministry of Health and Family Welfare, Gender Advisory Panel for the Special Program on Reproductive Health, WHO, Geneva, and the Programme Advisory Committee, Asia Pacific Research and Resources Centre on Women and Health, Kuala Lumpur, to name a few.
The tragic and untimely death of such an accomplished person is an irreparable loss, not only to her family, friends and colleagues, but to the country as well.
There were many facets of Nasreen Apa's personality, like those of a finely cut diamond. She was a devoted daughter, a loving sister, a cherished wife, and, in the later years of her life, a doting mother. She was blessed with an educated and enlightened family, who encouraged her to nurture her talent and potential.
We saw that she constantly re-invented herself. With the arrival of her daughter, she changed the whole concept of motherhood for a working woman. She was immensely happy and proud to be a mother, and shared her happiness with all those around her. Very few children are loved by their mother, the way Jamila was loved. Even in her last few moments of consciousness, she ensured that Jamila was safe and unhurt. When Jamila grows up, perhaps someone will tell her that she was blessed, albeit for a very short time, with one of the best mothers in the world.
We were always amazed with the way she bonded with small children. She would share chocolates with them, play with them with cars or spinning tops, and would not hesitate to let them play games on her state of the art laptop. It is no surprise that my son is crying his eyes out, mourning the loss of his "Nasreen Auntie."
She was a warm and loving person, who valued and nurtured friendships. She was the busiest of us all, but she always had time for friend, family and colleagues. Her love and warmth reached out not only to her own friends, but to those of her husband's as well. Those who have visited her house even once, would know that she was a gracious and generous hostess. It was impossible to leave her house without having a meal with her. Her gifts were exclusive and thoughtful -- chosen with a lot of care, given with a lot of love.
All this talent, love, warmth, courage, commitment. . . destroyed in a moment of irresponsible recklessness!
Nasreen Huq was an icon in her lifetime. In death, she has attained immortality.
The writer is a Chartered and Cost and Management Accountant.
Copyright (R) thedailystar.net 2006