Special Feature
Thoughts behind Shantiniketan
Rabindranath Tagore's Shantiniketan, "the Galaxy of Peace", as it is fondly called, incorporates the dynamics of nature while creating newer spaces.
Kishwar Habib
It was in 1856, while passing Bolpure, the poet's father Devendranath Tagore, the feudal Jamindar with a mind set of spiritual devotion, sat under the shadow of two Chateem trees, which stood in the midst of a rough, barren a quite terrain. Devendranath discovered the tranquillity of nature, which gave him comfort, the pleasure of mind and peace of soul. He planned to build an Ashram in the place to mediate in pursuit of his "Brahmin" religion. In 1862, he took twenty bighas of land from the Lord of Raipur for an annual tax of five taka. Then he built a guesthouse in that lonely quite land, and named as Shantiniketan, The house of peace, which later came to denote the entire area. The development of Shantiniketan started gradually. The top-layer of gritty dry soil was removed and filled with richer ones brought from outside. Trees were planted for fruit and shade. Slowly, "Shantiniketan" started to get its hue, colours and life.
Devendranath, the Jaminder of Jorashako, occasionally stayed in Santiniketan with his followers of the same "Brohmma" religion and spent time in religious discussions, prayers and rituals. This Shantiniketan house is made in European architectural style. Later a temple was planned adjacent to the guesthouse, as there was no separate place for meditation in Brahmin religion.
Within a year, 1890-1891 a glass temple was built. Prasaunna Kumar Sikder from famous Shikder Company was the architect. Devendranath Tagore wanted the colours of twilight sky should play around the temple: life was given to the building by using coloured glass door, windows and wall.
Till today the whole surrounding basks into glittering lights when the temple is illuminated for different occasions. In 1888, Maharshi established Shantiniketan Trust with a guesthouse, a prayer hall, and a library dedicated to religious literature.
At the age of 40 in 1901, the poet permanently came to the Shantiniketan from Shilaidaha. Here he got the opportunity to come close to the ordinary people. The place is totally different from the houses, the places he lived before. That time the Ashram was small. In the North, there was a two storied building for guests with a small library; in east there was mango grove; the southern area, on the other hand, was blundered by "Shal" trees. The entry gate was in "Madabilata garden"; two marble sitting plates are situated in the northwestern part of the building, under the "Chateem" tree. West was full of coconut trees.
Rabindranath was always dissatisfied with the traditional educational system. He had nurtured in himself for a long time a scheme for a system that would be oriented towards both the spiritual and practical life. To achieve this scheme in 1901, with the concept of mythical institute he started a different type of school named Bramaya Charjasrom bidhyaloi. It was always the objective of Shantiniketan that learning would be a part of life's natural growth. First step towards this objective was to establish in the child a sense of oneness with nature. Robindranath wanted his students to be aware of their environment, be in communication with it and probe it. In "My School", he wrote, " I knew that the mind had its hunger for the ministrations of nature, mother-nature, and so I selected this spot where the sky is unobstructed to the verge of the horizon. There the mind could have its fearless freedom to create its own dreams and the seasons could come with all their colours and movements and beauty into the very heart of the human dwelling."
The idea of promoting art and culture in every sphere of life is also reflected in the environment of Shantiniketan. Along with English, Bengali, Mathematics, History, Geography and Science extra curriculum activities like Music, Dance, Drawing, Wood works, Book Binding etc were also being taught. Gradually the premises expanded, the little plant starts growing and bloom and shapes themselves into big trees. Open-air classrooms started functioning under the serene and tranquil shades of the greenery. Celebration of seasons also became common feature of Shantiniketan. Rabindranath felt it was necessary that an affinity should be forged between the students' minds and the flora and fauna of the ashram.
With the encouragement and guideline of Rabindranath, Andre Capeles, Nandalal Basu, Surendranath Krar, Gogendranath, Obonindranath, Protima Devi, Achari, Casahara and others established a new cultural centre and named it as "Modern Design Practising centre- Bichitra". Their creative knowledge was reflected in designing the campus Shantiniketan. Other than them, Tajesh Chandra Sen, Eim Hust, Gedes, Jogdend Roy, Kalimohon Ghosh, Andews Persons. Professor Petrick Gedes, his son Arther Gedes, Architect Vaman Rao, all these scholars participated in materialising Rabindranath's Thoughts in making of Santiniketan.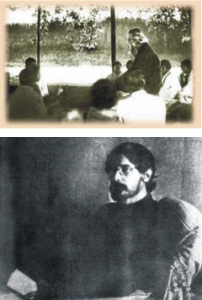 The Santiniketan School founded in the Santiniketan ashram, and the Visva -Bharati, make up the totality of Rabindranath's educational ventures. They were not separate and disconnected institutions although the Shantiniketan ashram was founded in 1863, the school in 1901 and Visva -Bharati in 1921. Rabindranath had conceived this totality even before "Visva -Bharati, was formally started. He wrote to his son Rathindranath in 1916, 'The Shantiniketan School must be made the thread linking India with the world. We must establish there a centre for humanistic research concerned with all the world's peoples …The task of my last years is to free the world from the coils of national chauvinism'. He also wrote, 'We must build up a relationship with the world, to serve and to be served, to give and to receive'. The new idea was one of co-ordination and co-operation among the cultures of the world. A true centre of Indian culture would foster the creative and the universal, first in India's many cultures, and then in those of the world at large. It was this idea that gave birth to Visva Bharati. The curriculum consisted of collecting the treasures of the Vedic, Puranic, Buddhist, Jaina and Islamic minds. It was hoped that this knowledge would lead India to find her identity in her diversity. Rabindranath wrote, 'We must understand ourselves in this extended and interlinked way or else the education we will receive will be like that of a beggar. No nation can be rich on begging'.
Through continuous study, correspondence, and world tours Rabindranath always kept himself informed about the intellectual developments, scientific innovations, and political changes taking place everywhere. Rabindranath transformed the institution into a centre for higher studies. His aim was to establish a complete system of education that would combine Indian philosophy with the best of international education.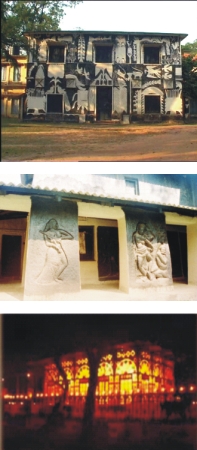 Though Rabindranath took the help of different scholars in different times yet, his direct influence was always there in architecture, designing the spaces of Santiniketan. He was active in every phase of creation from designing and planning to the selection of materials. More over, it is evident in his writings on different tours to other countries, where his keen interest to see and understand the culture and architecture of different visions is portrayed. Specially, he was amazed seeing the space utilisation in Japanese architecture, from where he influenced a lot to organisation of different spaces in Santiniketan. Other than that, in the detail design construction and interior designing of buildings like Birala Bhavan, Sri Bhaban, Ratan Kutir, Arts Buildings was also found. The creativity at Kala Bhavan remained charged and strengthened with the arrival of talented and gifted teachers.
Sitting in the ashram of Kala Bhavan one can feel the creative energies flowing around and the deep and sincere interest of the students and teachers mingling in the interactions. Shantiniketan remains among the foremost institutions for creative art. Local red pebbles soil was also used, as after mixing with water, it becomes strong binder, these soils were directly used in constructing houses, roads, class room areas, student hotels and house for teachers.
Besides these, an open-air theatre named "Surel Theatre" was also made. Around Six hundred spectators could sit together at a time. Few metres ahead of Art Building, beside "Sangeet Bhavan", student hostel "Kalo Bari" (Black house) was made in 1934. This mud house is roofed with Asbestos. Lots of local and foreign students and teacher participated in the unparalleled architecture and sculpture of this mud house.
In May 1951, Visva -Bharati was declared to be a Central University and "An Institution of National Importance" by an Act of Parliament. It was granted the status of a unitary, teaching and residential university. Taken together, Santiniketan Ashram, School and Visva-Bharati are the main embodiments of Rabindranath's educational philosophy. Of the three, the first is more purely spiritual; the second one is devoted to giving students an education and introducing them to a school of life, and the third is designed to establish a bridge between the east and the west through humanistic study. In addition, he wanted to unite purposeful education with the pursuit of the ideal life. The educational ideals of Santiniketan are a manifestation of Rabindranath's humanistic outlook on life. He has detailed the philosophy that lay behind the establishment of this institution in his essay, 'The Centre of Indian Culture'.
Rabindranath Tagore's role in the innovation of educational ideas has been eclipsed by his fame as a poet. He was a pioneer in the field of education. For the last forty years of his life he was content to be a schoolmaster in humble rural surroundings, even when he had achieved fame such as no Indian had known before. He was one of the first, in India, to think out for himself and put in practice principles of education which have now become commonplace of educational theory, if not yet of practice.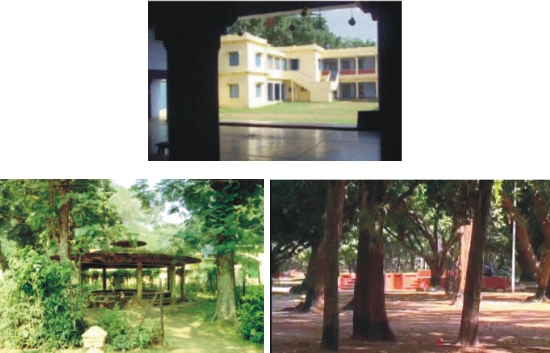 In 1916, in a lecture on Art he said, "In a city, where men are proud of their citizenship, public buildings must in their structure, express the love for their country". The historical value of creating such a mammoth campus consisting of almost all art media is immense. Especially in defying the dominance of British Architectural style at that time. The holistic approach, the candid thoughts that the poet had put in Santiniketan attracts us all, even long after his death in 1941.
Kishwar Habib is an architect; she also teaches at Ahsanullah University of Science and Technology.
Copyright (R) thedailystar.net 2006