Event
Life in the fast lane
Imran H. Khan
"Did you see that Porsche? How cool was that! And the white Beamer?? Awesome!" As I made my way into the Dhaka Motor Show 2006 on April 27 at the Bangladesh-China Friendship Conference Centre, the excitement around me was intense. Even at the gates, the word was out that some amazing vehicles had made their way into Dhaka. And as I made my way into the hall room with an entourage of car lovers, a feast was unfolding before my eyes.
Before anything else crossed my eyes, the slender shape of the Porsche Cayenne Turbo was an oasis in the Sahara. This Sports Utility Vehicle (SUV) made by Porsche since 2002 has the first V8-engined vehicle built by Porsche since 1995. Other than being one of Porsche's best-selling vehicles in the world, this turbocharged powerhouse has extremely high performance for an SUV, on road. Off road…well the low profile tires somewhat ruin its full performance but still, it's a collector's item. Anisur Rahman Khan, Deputy Manager of Porsche stood beside it with a sense of pride. He knew quite well that the vehicle he was offering to his clients would definitely put a smile on their faces. The Cayenne Turbo is the top of the line for Porsche SUVs, equipped with a 4500 c.c. internal combustion engine and a V8 engine. The smile might change to apprehension as this beauty comes at a hefty cost of Tk 2 crore and 50 lakh and any potential owner will probably bite his or her lips before asking for the keys. Its previous model, the Porsche Cayenne with basic option is 'only' about Tk 1 crore and 25 lakh. The Porsche Boxster, which was introduced in the Porsche line at the end of 1996, has taken the crown of the roadster segment with a price tag of Tk 90 lakh. Powered by a 2.5 litre engine, the price seems quite affordable compared to its elder sister, the 911. I will have to get back on the info if the 911 Turbo is street legal in Bangladesh. Nonetheless, all models of Porsche are available but one has to endure the wait time four to five months for the car to be delivered. Customisation is not an option but rather a privilege as everyone wants to have their own special getup for their vehicle, be it a GPS tracking device or even a custom signature on the dashboard.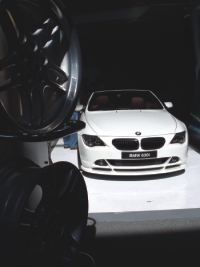 After tearing away from my oasis, Executive Motors took my breath away with their line-up. The colour white never did anything for me but the white BMW M5 and the BMW 630i got my eyes rolling. Md. Sharman Islam, Consultant of Sales and Marketing, was extremely kind enough to guide me through the Beamer's range of pride and joy. The BMW 3 Series with a 2 litre engine comes at a price of 55 lakh while their 5 Series, the BMW 523 and the BMW 525, is about Tk 72 lakh and Tk 76 lakh respectively. Both these vehicles have 2.5 litre engines. The BMW 7 Series is by far one of the best-driving luxury sedan in the world. Now, the best has taken a step forward as it has updated the 7 Series Sedan for 2006 with a new, more powerful V-8 engine, graceful new styling and a host of new features to enhance the driving experience. With a 3 litre engine, the 7 Series BMW 730 Li comes with a price tag of Tk 1 crore and 25 lakh and that too with just the basics. This lavish auto is surely for those Bangladeshis who demand a touch of class and a hint of elegance, while keeping the basic sports option intact.
Rancon Motors Ltd. with their line-up of Mercedes-Benz also brought in a large crowd. Its 2006 version of M-Class ML-500, with the V8 cylinder engine packing a whopping 302 horse power, is a true reflection of DaimlerChrysler's dreamy off-road vehicle. A 2006 version of the Mercedes-Benz B-150 Sports Tourer was also on display along with the E-240 Saloon. Both these cars combine the perfect blend of luxury with comfort. The best thing about these expensive toys is that they come with a lot of options, starting from surround sound systems to CD changer with MP3 options to DVD players. These would probably come quite useful during those dull hours stuck in endless jams.
Another popular automobile company that took to the stage was Toyota. It had on display its new Corolla LX 1.5L, a 1497 c.c. piston displacement vehicle with an electronic fuel injection system. Proton, Nissan, Hyundai and Kia also had their range out for show and Mitsubishi had a Lancer GLX, sports version set up to wow the crowd. Priced at Tk 12 lakh, it was almost a give away for some lucky chap. Dayang was probably the only '2-wheeler dealer' in the show and they proudly flaunted their line of motorcycles. Banks were in abundance as Standard Chartered Bank, Brac Bank, Dhaka Bank, Eastern Bank and Prime Bank all had one or more stalls at the show. Sporty Wheels Ltd., a car sale and servicing centre, had a Mazda RX8 on display in their stall. This Tk 28 lakh sports vehicle bags 238 horse power and is equipped with the evolutionary 'rotary engine' (aircraft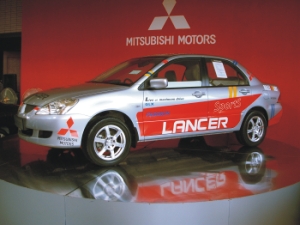 engine). Sporty Wheels Workshop were giving three years guarantee on their paint job and their premium denting works and had special packages for their colour jobs. They apparently do their paint jobs in an automatic temperature controlled and dust free paint booth. Somewhat if a spa for cars wouldn't you say. Other such offers were in abundance in other such workshops along with offers on car accessories.
An interesting addition to the show was the 'EBL Treasure Hunt Challenge,' organised by Eastern Bank Ltd. About 50 cars took part in this time challenge event where the participants would have to go through seven points to get to Nandan Park. The participants were given punch in cards and penalty was awarded to those who rushed to the checkpoints. Once at Nandan, the participants and their family were treated to lunch, all the rides and also a live Miles concert. The first prize of the event was Tk 25,000, the runner-up got Tk 15,000 and the third prize winner bagged Tk 10,000.
An anticipated event at the Motor Show was the unveiling ceremony of a designer car by one of the locals, Nizamuddin Awlia Leepu. Leepu is the only Bangladeshi car designer and has named his car the M26 after our Independence Day. Bernie Fineman, a veteran in the auto trade for nearly half-a-century, a person who has worked with the likes of Rolls Royce and Jaguar, and the provider of the engine powering the M26, uncovered the vehicle before a vigorous crowd at the F1 stall. The car had been made from the chassis of a 1984 Toyota Sprinter, but the transformation was miraculous. The car, which took just 28 days to be made, was part of a Discovery Channel's series on him. Leepu had been working for quite a while now on different vehicles without the aid of advanced equipment or computers and so, Discovery Channel will do two episodes on his works. The M26 packs a 1.8 litre 7K Toyota engine and produces 84 brake horsepower. Bernie tuned the engine to produce an additional 42 brake horsepower.
Director of Cems Shahed S Sarwar spoke quite positively about the event and its objectives. "We did not simply want to display flashy new cars at the event but wanted to highlight the automotive components of the industry," says Sarwar. "We had a seminar on the component sector and it was challenging to bring in the component makers of Bangladesh, as most of them reside in Old Dhaka. Buying a car is a one time thing, but we constantly need spare parts and that is where Bangladesh needs to grow," concludes Sarwar.
Participating in the three day event were various local distributors and dealers of cars and motorcycles. Other participants in the event were, of course, banks, insurance companies, lubricant companies and automobile accessory shops. Sixty-five companies with a range of products showcased their products and services while hoards of people kept on coming in. The show was organised by Conference and Exhibition Management Services Ltd. (Cems) while Standard Chartered Bank was the partner of the auto show. Lucas, Castrol and Dunlop were co-sponsors and SouthAsia Enterprise Development Facility (SEDF), Gulf Air, F1 Management and Bangladesh Motor Sports Club were the associate partners of the event. Banglalink acted as the telecom partner and The Daily Star and nTV were the media partners of the event.
Copyright (R) thedailystar.net 2006