Face to Face
A Legendary Cricketer
Sultan Quamrun Nahar
The under 19 World Cup is now a successful chapter of our cricket history and our sporting mentality at well. Bangladesh had the honour to host this prestigious championship beating other candidates like Australia and England. It was the most well organised tournament Bangladesh has ever hosted. The man behind this spectacular event is none other than A S M Roqibul Hassan -- former Bangladesh cricket captain and present ICC match referee. He was the host director of the Under 19 World Cup 2003. In an exclusive interview with SWM, this legendary cricketer shares his thoughts on the Bangladesh cricket scene and how he first came into it.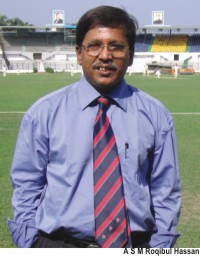 SWM : How did you get into cricket?
R H : I have been playing cricket since my school days. However, I played my first class match in 1968 in Karachi.
SWM : When did you play your first one day and test match?
R H : My test debut was in 1968 versus England. My one-day debut was in 1986 versus Sri Lanka.
SWM : Any memorable match?
R H : Yes, there is one particular match which I love to recall at every opportunity. The match was versus Mohammedan in 1974 in Dhaka. As an opener I scored 143 and remained unbeaten. What makes these innings special to me is I played the entire innings with one of my eyes almost closed because of a cricket injury. I had quite a few stitches on it..
SWM : Did you always want to be a cricketer?
R H : Not really. Besides cricket, I also used to play Tennis and football. In fact I won a number of trophies in my school, college as well as in the press club union T (Table Tennis) Champion. I also had interest in athletics and in fact won the top position in the 100 metres and 200-metres sprint in the Dhaka Inter- school Athletic Championship. It was not as though I would be a cricketer.
SWM: Where do you think Bangladesh cricket stands today?
R H : Bangladesh is going through a bad patch of time at present. But I am an optimist and I believe Bangladesh would soon get over it and start playing good cricket. I wish them all the best.
SWM : Would you like to do something for them?
R H : Certainly, if I am asked. I would consider it a great honour for me if I can contribute in any way for the development of Bangladesh cricket.
SWM : What are some of your achievements that you would like to recall?
R H : I played 3 ICC championship for Bangladesh -- I consider it a great achievement for me. I was awarded with the national award in 2000, the Mahbubullah Trust Award 1980. I was the president of Bangladesh Sports Writers association for four years and the vice president of Asian Sport Press Union.
SWM: Do you have any record worth mentioning?
R H : Yes, a very exceptional one. I am the only player who played for both the Pakistan national team [East and West Pakistan together] and also for the Bangladesh national team. Again I am the only player from Bangladesh who played for 'World 11', which consisted of the world's best eleven players at that time.
SWM : Which was your last match?
R H : Well, my last match was against Denmark in 1986. It was the ICC championship.
SWM : What is your opinion about the involvement of women in sports journalism?
R H : It is a very good sign. I think they should come more in number.
Roqibul Hassan at a glance
Name : A S M Roqibul Hassan.
Date of birth : 1st January 1953
Horoscope : Capricorn
Test debut : 1968
One day debut : 1986
Favourite batsman : Hanif Mohammad, Sunil Gavaskar
Favourite bowler : Imran Khan, Wasim Akram.
Favourite ground : Karachi National Stadium, Dhaka National Stadium.
Dress : Any casual dress.
Colour : Navy blue, red.
Food : Bhuna khichuri, beef bhuna, dry fish.
Favourite Personality : Nelson Mendela, Mohammed Ali.
Copyright (R) thedailystar.net 2004