Books

The New Bangladesh
Sanyat Sattar
Executive Report on Strategies in Bangladesh


The Bangladesh research Group
Icon Group International Inc.; November 2000
Bangladesh has recently come to the attention to global strategic planners. This report puts these executives on the fast track. Ten chapters provide an overview of how to strategically access this important market, a discussion on economic fundamentals, marketing and distribution options, export and direct investment options, and full risk assessments (political, cultural, legal, human resources). Ample statistical benchmarks and comparative graphs are given.
---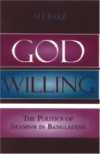 God Willing
Ali Riaz
Rowman & Littlefield Publishers; June 2004
"Is Bangladesh becoming a Taliban state?" The question has become urgent in light of the growing strength of militant groups supposedly aligned with Al Quaida, the landslide victory of the centre-right coalition in the general election of October 2001, and the deliberate and planned violence against religious minorities that followed. God Willing explores the explosive issue of Talibanisation by analysing the politics of Islamism in the world's third most populous Muslim country. Ali Riaz helps the reader to understand the emergence of Islamism as a legitimate democratic politics in a largely secular state, as opposed to the media's sensational portrayal of Bangladesh as a country overrun by Islamist forces with a supranational agenda. The author compares Bangladesh with Indonesia and Pakistan, thus adding a valuable global context for evaluating the politics of Muslim countries.
---
Who Needs Credit?
Geoffrey D. Wood & Iffat Sharif (editors)
Zed Books; January 1998
In recent years Micro-credit, the loan of small sums to people excluded from normal banking processes, has emerged as an important and growing issue in Development Policy. The result of disillusionment with the ability of either government agencies or international aid programmes to change the situation of the poor, Micro-credit has proved very successful. The Grameen Bank in Bangladesh alone lends to two million people. By reviewing the experience of Bangladesh, the country most closely associated with pioneering Micro-credit programmes, the book asks critical questions potentially overlooked in the rush to repeat the success of these ventures in other countries.
Copyright (R) thedailystar.net 2004