Cover Story
Pricey Shocks
Shamim Ahsasn
In the first week of Ramadan when the news of price hike of essentials dominated every important national daily in the country, a team of Rapid Action Battalion (RAB) raided Khatungonj, a wholesale market of Chittagong. With onions being one of the items being sold at unusually high prices, onion wholesale shops in Khatungonj, Chaktai and Asadgonj were the targets of the elite forces. Late in the morning of October 19, plainclothes RAB members appeared at one of Khatungonj's biggest wholesale markets, Hamidullah Mian Market, and began their queries about the prices of onions, garlic, ginger, etc. On completion of their enquiry, they left the scene only to return in uniform and in bigger numbers.
After splitting into several teams, they took position at Mita Traders, Chittagong Store, Mohammadia Centre, Barkat Bhandar, Hoque Traders, and ordered the shopkeepers to sell onions at Tk 15 a kg. Some readily complied, not happily of course. But a brawl was clearly in the making when general secretary of Hamidullah Market Businessmen Society, Afsaruddin appeared on the spot and locked in a heated exchange of words. Though the RAB officers behaved themselves, some of the low ranking members who were carrying clubs with them harassed the businessman. A ginger wholesaler, Abu Syed, was even beaten up when he refused to entertain their command. Fortunately, the RAB teams, sensing trouble, left the scene. The following day, incensed businessmen observed a day-long closure of the market and organised rallies protesting the RAB raid.
Price spiral of essentials during Ramadan is hardly a new trend. What is new is the unique measure the government has tried this year to solve the problem. The government's idea of intimidating traders and using force to control price hike illustrates how clueless and unprepared it was regarding the price hike issue that it could take such illogical steps. In the meantime, it is the same story again -- another Ramadan, another rude price explosion, again the government is caught off guard and another bout of unnecessary hardship for consumers. This time it was the vegetables that set fire in the market. Eggplants at Tk 70 to Tk 80 and green chilly at Tk 120 per kg broke all past records. Almost all vegetables other than potatoes were selling at over Tk 40 per kg. Onions, an item the demand of which increases during Ramadan, once again touched the Tk 30 per kg mark. Rice, the price of which is not usually influenced by Ramadan, was also selling at a much higher price.
For lower income and middle income group people, going to the bazar has never been more upsetting. Forty-five-year-old Sajjadul Kabir, who teaches science subjects at Motijheel Model School, is indignant when he is asked about the price hike of essentials. "During every Ramadan prices go up. Everything has suddenly become so expensive." His six-member family, with two school-going sons, is to be managed by his sole income. "I have never seen vegetables being sold at such exorbitant prices in my entire life. Half a kilogram of cucumbers cost Tk 25 and one hali (four) of lemons, that too, of very poor quality, cost Tk 24. With a monthly salary of Tk 8,000 how can we survive?
Though it's already 8 pm, Kaptan Bazar kachabazar (kitchen market) has a sizeable number of customers. Ershadul Bari, who works in the accounts section of Apollo garments in Mirpur, also shares the same sense of despair as Kabir. "I feel miserable every time I come to the market. My mother has asked me to buy some vegetables, but I don't know which one to buy. Even vegetables like kochur loti, usually a cheap item, is selling at Tk 30 a kg, not to mention tomatoes that is selling at Tk 100 per kg," he says. Thirty-two-year-old Ferdous Hasan who sells tickets at Obhisar Cinema Hall, however, has worked out an intelligent solution: "I have stopped going to market and since Ramadan began my menu is rice, egg curry and pulse."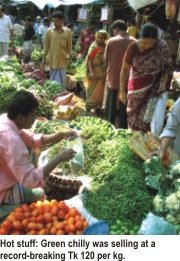 General consumers invariably blame the government for the merciless price spiral of essentials. "What is the government doing now?" was one question every shopper is asking. "They will not be found now when the most low quality rice is selling at Tk 18 per kg. They will come again when the election time comes," says Abdus Sattar, who sells halim at Kaptan Bazar.
The government, on its part, is apparently trying to ease the situation. After the first week of Ramadan the government has started OMS (Open Market Sale) through more than 10,000 dealers across the country. But two to three days into the OMS programme there were many complaints. The programme didn't take off in many areas both in and outside Dhaka. Dealers were also discouraged.
"Each of the dealers would get 500 kg of rice for selling in the open market. You buy at Tk 12 and sell at Tk 13, and then there is carrying cost. Besides, you need to hire a hand which brings down the ultimate profit to less than Tk 300," explains Saifuddin, a dealer in Gopibagh bazar. The government however revised the provision of 500 kg allotment per dealer on October 25 and started to allot 1,000 kg each.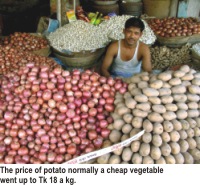 But the OMS programme aimed to have a positive impact on the price of rice, didn't really work. While price of coarser rice has gone down by one and one and a half taka, better varities such as nazirshail is still selling at above Tk 22. But what could the government do? Even before that, is the government supposed to do anything about price spiral? Commerce Minister Altaf Hossain's predecessor Amir Khashru Mahmud Chowdhury gave the usual answer to the price hike problem: "In a free market economy, the demand and supply of goods determine the price, the government has nothing to do here." Many believe Mahmud lost his ministerial job for his fondness for this economic theory and his reluctance -- some say inability -- to do anything about the price hike. The incumbent commerce minister had a much more valid excuse to explain the market situation. The month-long flood as well as the consequent downpour badly damaged crops of more than 40 districts. So when newsmen heckled him about the price hike he simply put the blame on Nature's shoulder. He appeased people, however, with the assurance that if he got three consecutive sunny days prices would fall down immediately. Nature took mercy on us and there has been no rain since then. But the prices continue to soar.
Though Bangladesh has adopted a free market economy following the trend of the times, many believe that the market has been opened too widely and too prematurely. According to this school of thought, Bangladesh should follow a middle position, a free market economy with some restrictions. Bangladesh with its import-dependant market is reaping few benefits, but losing out substantially because of it.
Maleque, Programme and Information Officer, CAB (Consumers Association of Bangladesh), however, has a more historical explanation. Bangali Muslims traditionally were never businessmen and it was the Marwaris and Hindus who dominated business and trade. A culture of business ethics naturally evolved from years of business experience and was handed down from one generation to the next. The present generation of businessmen without such ancestral legacy of fair play, are more concerned about making quick profits at any cost. Since, in a free market economy the government does not do business and has no direct authority over the market, the control of the market largely goes to the businessmen, many of whom are unscrupulous and greedy. "It is this particular group of business people who, taking the advantage of free market economy, are manipulating the market for their benefit. In the guise of creating an association, they have actually created a kind of monopoly and the general consumers are being held hostage by this," Maleque elaborates.
Should Bangladesh then discard free market economy? "No, all we need is a certain level of government control over the market so that in a crisis situation it can intervene and uphold the interest of the consumers," he says. Like many others, he strongly believes that, had the government been a little alert, this type of price spiral of essentials could have been averted.
But what could the government do in particular to stop the price hike of essentials during Ramadan? Price spiral during the holy month is a usual phenomenon. Much of the unusual price hike centres around the 70 percent import of agricultural products such as onion, ginger, garlic, turmeric, pulses, sugar, oil, wheat, rice, etc. At times when consumption of particular vegetables increases or when the local produce drastically falls such as during floods or droughts, unscrupulous businessmen intentionally hoard the supply for a long enough time to create an artificial crisis in the market. To keep prices stable the government can import these items and release the stock in the market in case of any scarcity, either real or artificially created. If not on a regular basis, such measures can be taken ahead of special times like Ramadan or after a natural calamity. Trading Corporation of Bangladesh (TCB) was in fact established for this very purpose and was in operation until recently. Maleque gives the example of Bangladesh Sugar Corporation (BSC) to illustrate his point. "The government used to import sugar through BSC a couple of years ago. Sugar was then sold at Tk 30. Interestingly, when the government stopped importing sugar, letting the private sector take over, the price went up to Tk 40. That too after reducing the tax by 15 percent. What's more, 26,000 registered sugar dealers were left in the cold, deprived of their only means of livelihood. Now, around five to 10 importers import sugar and control the market," he says.
There is, moreover, no system of monitoring prices on a regular basis, and it is only after media outcry that the government wakes up. But little can be done to keep the prices stable . "The commerce ministry can think of making a data bank on the prices of daily essentials, record the deficit between demand and supply at different times of the year, keep the update about the international market rates, especially of the goods Bangladesh heavily imports," Maleque suggests. During Ramadan or at any other time when the prices go up, the businessmen often blame the higher international rates of a particular good or goods. Being uninformed about international market rates, the government can exercise little bargaining power. A data bank on prices of essentials will work as a guideline for the government regarding when to intervene and how.
The ignorance of consumers regarding their rights only worsens the situation. The government can put up an information cell to keep consumers informed about the market situation. Provided the government has data on certain produce and its price in the international market, it will be possible to work out an approximate price, taking duty and carrying cost into account. "Informed consumers will automatically emerge as a pressure group and can even control the market to a certain extent," he argues.
Copyright (R) thedailystar.net 2004