Bangladesh lost by 48 runs against Australia at the Trent Bridge in Nottingham today. 
Bangladesh managed 333 for eight in 50 overs. This is their highest ever total in ODIs. But despite scoring their highest ever ODI total, Bangladesh could not manage a win. Mushfiqur Rahim, who remained unbeaten on 102 off 97 balls is the highest scorer for Bangladesh on the day. 
With five points from six matches, Bangladesh will now have to depend on the results of the other teams while needing to win their last three games to have any realistic chance of qualifying for the semis. Australia meanwhile went top of the standings with 10 points following today's win.   
[Wicket] 49.6, Ban- 333/8: Mashrafe Mortaza c Maxwell b Stoinis 6 (5b 1x4 0x6) SR: 120.00
Mashrafe Bin Mortaza tries to whack it towards mid on but it is straight to the hands of the fielder. The captain departs in the last delivery. Bangladesh lose by 48 runs.
49.3, Ban- 331/7
Mashrafe Bin Mortaza strikes a four straight above the bowlers head. That takes Bangladesh to 331 -- their highset ever ODI total.
48.6, Ban- 326/7
Mushfiqur Rahim plays on the off side and takes a single to bring up his hundred off 95 balls.
[Wicket] 48.2, Ban- 323/7: Mehidy Hasan Miraz c Warner b Starc 6 (7b 0x4 0x6) SR: 85.71
An angling in delivery from Starc but Mehedi chips it straight to the hands of the fielder. 
[Wicket] 45.4, Ban- 302/6: Sabbir Rahman b Coulter-Nile 0 (1b 0x4 0x6) SR: 0.00
Sabbir Rahman goes for a golden duck. He tries to dab an outside off ball to third man but ends up dragging it onto his stumps. 
[Wicket] 45.3, Ban- 302/5: Mahmudullah c Cummins b Coulter-Nile 69 (50b 5x4 3x6) SR: 138.00
Mahmudullah finds the fielder as he goes for a pull over deep sqaure leg. Riyad walks off after scoring 69 off 50 balls.
44.6, Ban-300/4
After hitting Pat Cummins for a massive six in the previous delivery that went all the way to the gallery, Mahmudullah guides one to midwicket to take a single that brings up 300 for the Tigers.
43.4, Ban- 284/4
Mahmudullah steered a Coulter-Nile delivery past backward point for a magnificent four. That brings up his fifty.
End of over 43, Ban-277/4
A hundred-run stand between Mahmudullah Riyad and Mushfiqur Rahim came up when Cummins bowled a wide outside off to Riyad.
41.2, Ban 251/4
Mahmudullah plays a length delivery from Adam Zampa towards deep midwicket to take a couple. That brings up 250 for the Tigers. 
34.5, Ban- 207/4
Mushfiqur Rahim guides a short ball that touches his gloves and goes past the keeper for a boundary. Mushfiqur reaches his fifty off 51 balls.
[Wicket] 29.2, Ban 175/4: Liton Das lbw b Zampa 20 (17b 3x4 0x6) SR: 117.64
Liton was trapped infront by an Adam Zampa delivery that slid and struck his pads. Liton takes the review that shows that the ball is just clipping the leg stump. Umpire's decision stays and Liton has to walk off the pitch.
24.1, Ban 144/3. Tamim Iqbal departs. Drags on a Mitchell Starc delivery onto his stumps. Tamim Iqbal b Starc 62 (74b 6x4 0x6) SR: 83.78
20.4, Ban 118/2: Tamim Iqbal notches his first fifty of the tournament with the left-hander hitting five fours in his innings so far. Places a Stoinis delivery to Third Man to run a single and bring up his fifty.
Shakib falls with Tigers 102 for 2
18.1, Ban 102/2: Shakib looks to flick it towards the leg side off Stoinis but gets the leading edge. It's an easy catch at mid off. Bangladesh have lost their second wicket. Shakib Al Hasan c Warner b Stoinis 41 (41b 4x4 0x6) SR: 100.00
Mushfiqur Rahim is the new batsman at the crease. A lot will depend on how this partnership does with two of the most experienced players now at the crease.
12.5, Ban 74/1: Tamim-Shakib star in fifty partnership. Shakib works one towards square-leg to run two and that brings up fifty for the second-wicket stand.
7.5, Ban 42/1: Australia lose a review. Big shout for leg-before and Finch asks for a review after Coulter-Nile delivery raps Shakib's pads. Pitched outside leg stump. NOT OUT!
Soumya falls to a run out
Soumya Sarkar and Tamim Iqbal started decently for the Tigers but a huge mixup from the openers saw Soumya depart to a run out. 
3.5, Ban 23/1: Soumya Sarkar run out (Finch) 10 (8b 2x4 0x6) SR: 125.00 
It was a bad mix up but Aaron Finch makes no mistake. After a bright start this is a big setback for the Tigers in their mission to assail target set by Australia. Soumya had initially called no but then once Tamim had turned his back, he went a few more steps towards the striker's end before trying to return to the non-striker's end.
Australia post mammoth 381 for five 
Australia managed a mammoth total of 381 for five after rain had halted the game for about 10 minutes at the Trent Bridge in Nottingham. 
After a brief delay of about 10 minutes, the game resumed as the rain stopped in Nottingham.
Our reporter Sakeb Subhan at the ground informs that the covers are now being taken off. Good news for everyone!
"There was a spell of pretty heavy rain for around five minutes as the covers were being spread out on the square, but then it got lighter and at the moment (2:14 pm), the rain has stopped. If there is no further rain, the innings will be completed and there will be a shortened interval. The misery is not yet over for Bangladesh." our reporter Sakeb Subhan informed from the Trent Bridge in Nottingham. 
End of over 49, Aus- 368/5
Australia are on 368 for the loss of five wickets. But the rain in Nottingham gets heavier and the umpires had to stop the game just after the end of the penultimate over.
[Wicket] 47.1, Aus- 354/5: SPD Smith lbw b Mustafizur Rahman 1 (2b 0x4 0x6) SR: 50.00
Mustafizur traps Steven Smith with a full toss delivery. Smith revies it but it seems hitting middle and leg. Given out. Australia lose their fifth.
Soumya removes Khawaja 
[Wicket] 46.5, Aus- 353/4: UT Khawaja c †Mushfiqur Rahim b Soumya Sarkar 89 (72b 10x4 0x6) SR: 123.61
It is Soumya Sarkar again. He gets Khawaja caught behind off a surprise short delivery. Mushfiqur Rahim takes a good diving catch after the ball took a bottom edge of the bat. Khawaja misses out on his ton. Soumya has been sensational with the ball for the Tigers.
[Wicket] 46.2, Aus- 352/3: GJ Maxwell run out (Rubel Hossain) 32 (10b 2x4 3x6) SR: 320.00
A full yorker on leg by Soumya Sarkar to Maxwell. He started running responding to Khawaja at the other end but Khawja sends him back. But its too late and Rubel hits the stumps with a calm and collected throw. 
[Wicket] 44.2, Aus- 313/2: DA Warner c Rubel Hossain b Soumya Sarkar 166 (147b 14x4 5x6) SR: 112.92
It is the part timer Soumya Sarkar again. This time he gets the big fish. David Warner lobs a simple catch to short third man. Warner could not work off the slower ball short ball from Soumya and Australia lose their third. Warner walks off after scoring a brilliant 166 off just 147 balls. Although the damage has been done.
43.3, Aus- 302/1: David Warner lofts an attempted Rubel Hossain yorker that came as a half volley on the leg side for a four. Three hundred comes up for Australia.  
Warner's 150 powers Australia to score big
42.3, Aus- 230/1: Mashrafe hits a yorker on leg, Warner dug this out to long on. 150 for Warner! His 6th score 150 plus in ODIs.
This is the third 150 score for an individual in this world cup.
38, Aus- 230/1: Slower ball back of a length, Khawaja works this off the hip behind square. 50 for Khawaja at a run-a-ball. This also brings up the 100 partnership between Warner and Khawaja
32.2, Aus- 187/1: David Warner flicks a Shakib Al Hasan delivery off his pads behind square to take a single. That brings up his hundred. This is the left-hander's second hundred in this World Cup.   
Warner, Khawaja fifty-stand after Soumya removed Finch 
30.3, Aus 171/1: Khawaja sweeps Shakib Al Hasan to take a double and that brings up their fifty-run stand. After Soumya removed Aaron Finch, both these batsmen are going along smoothly.  
25.3, Aus 140/1: Mix-up between Khawaja and Warner as the former plays Mehedi to mid on and runs with the latter not yet beginning to run towards the other end. Sabbir does not collect the ball properly and follows up with a wayward throw. Warner could have been gone with a clean pick-up and throw.
22.5, Aus 124/1: Big shout from Soumya for leg-before. Khawaja was the batsman. Bangladesh did not take the review. Pitched outside leg-stump.
20.5, Aus 121/1: AJ Finch c Rubel Hossain b Soumya Sarkar 53 (51b 5x4 2x6) SR: 103.92
Australia have lost their first wicket as part-timer Soumya Sarkar removes him after a fifty in his very first over. Finch was beginning to look really strong but Soumya gets him with a length ball. Finch does not read the delivery well enough that came to him at a mild pace. Finch guides it straight to man at short third-man.
19.6, Aus 116/0: Finch manages to glance one just off his pads and it runs away to fine leg for four. That's fifty for Finch as well.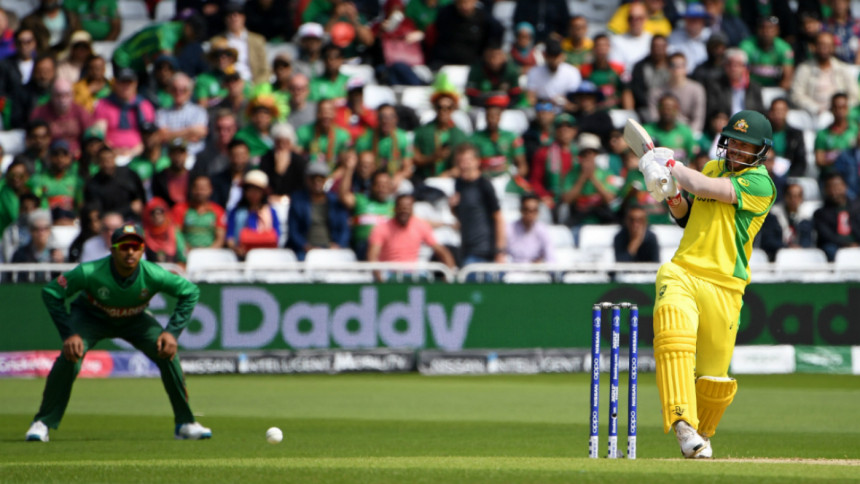 14.6, Aus 86/0: Having been dropped on 10, Warner reaches his fifty, clipping Rubel Hossain for a single towards fine leg. Four fours and two sixes in that innings.
Bangladesh skipper Mashrafe Bin Mortaza returns for his sixth over in the trot in the 11th over of the Tigers' innings.
Warner reaches fifty after dropped chance
9.3, Aus 52/0: Finch drives and drives straight down the ground. No chance for fielder at mid-on. It was a fuller length delivery and Flinch hits it for four. Australia reach 52 and that's the 50-run partnership between Warner and Finch. Australia reached 53 for no loss in the Powerplay.
The pitch looks to be on the slower side with the ball perhaps holding up a bit. Does not have great pace and perhaps batsmen need to play their way in a little bit before playing their shots. Bangladesh opening bowlers have been slightly on the shorter side. Have to make the Australia duo drive on the front foot and take risks.
End of over 5, AUS- 27/0
Despite a missed chance, Australia get a decent start. The two openers have been picking the right deliveries to strike boundaries and taking singles and doubles at times to keep the score board ticking.
David Warner            12 (19b)

Aaron Finch              13 (11b)
Mashrafe Mortaza     3-0-16-0

Mustafizur Rahman   2-0-10-0
4.6, AUS- 25/0: Warner dropped on 10 as he went back and cut it in the air but the man at back ward point could not take the catch. Sabbir Rahman got both hands to it low to his right but it burst through. This might cost the Tigers in this crunch match.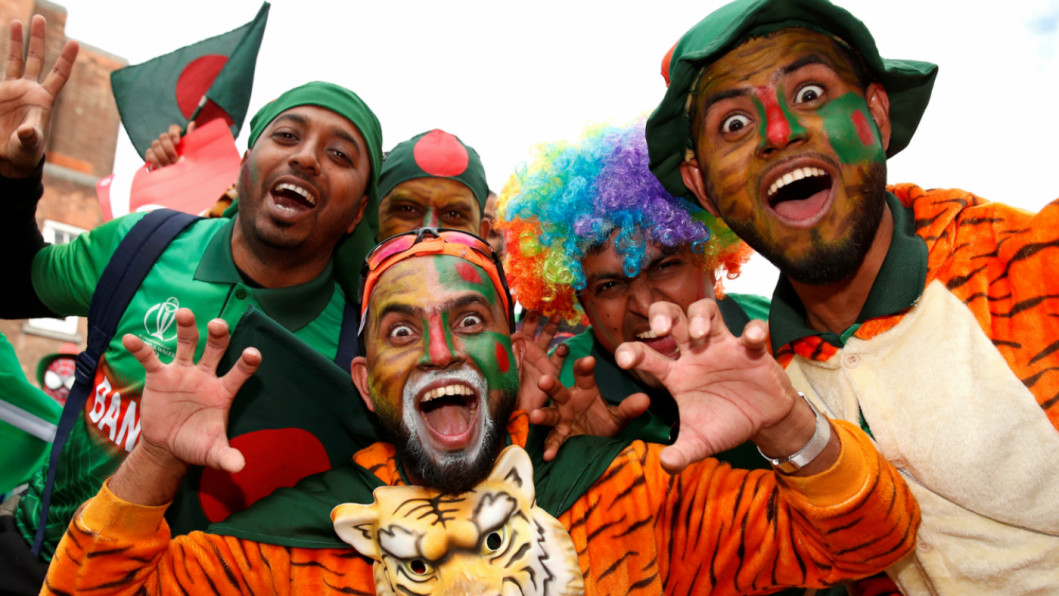 Australia opt to bat first against the Tigers
Australia won the toss and chose to bat first against Bangladesh at Trent Bridge.
Australia will be looking to reclaim the top spot on the table while Bangladesh have a huge opportunity to put pressure on the top four with a win today. Australia have only played Bangladesh in two ODI's since 2011. The 2015 World Cup clash in Brisbane was washed out without a ball being bowled while the Champions Trophy clash in 2017 ended without a result with rain halting Australia's chase.
Bangladesh skipper Mashrafe Bin Mortaza informed at the toss that there are two changes in the side. Mosaddek Hossain and Mohammad Saifuddin make way for Sabbir Rahman and Rubel Hossain.
"We would have liked to bat first as well, it's a good wicket," Mashrafe said.
"But we are chasing well in the last few days. The boys are pretty much confident, especially from the last match. We have got two changes. Mohammad Saifuddin is out because of the back spasm. Mosaddek Hossain hurt his shoulder. So he is out as well. Sabbir Rahman and Rubel Hossain come into the side."
Australia captain also informed that there are three changes in the Aussie side.
It's a very good surface," Aaron Fich said. "We have got three changes. Marcus Stoinis is back from the injury, Zampa is back and so is Nathan Coulter-Nile. Marsh, Behrendorff and Richardson are out." said Finch during toss.
Playing XIs:
Bangladesh: Tamim Iqbal, Soumya Sarkar, Shakib Al Hasan, Mushfiqur Rahim (wk), Liton Das, Mahmudullah, Sabbir Rahman, Mehedi Hasan Miraz, Mashrafe Mortaza (capt), Rubel Hossain, Mustafizur Rahman
Australia: Aaron Finch (capt), David Warner, Usman Khawaja, Steven Smith, Glenn Maxwell, Marcus Stoinis, Alex Carey (wk), Nathan Coulter-Nile, Pat Cummins, Mitchell Starc, Adam Zampa