The administration together with the law enforcement agencies played a role to influence the December 30 polls outcome in favour of the ruling Awami League, the Left Democratic Alliance candidates have alleged.
At a public hearing at the Jatiya Press Club yesterday, 82 LDA candidates from across the country gave eyewitness accounts of how the party in power had been at the centre of alleged election manipulation.
"We reject this farcical election and farcical results ...," Ruhin Hossain Prince, a central leader of the Communist Party of Bangladesh (CPB), said at the start of the hearing.
All parties, except for the components of the AL-led grand alliance, had faced hindrance in every step before, during and after the election, speakers said. 
The candidates said an adverse and fearful situation was created ahead of the polls. Activists of the AL and its associated bodies attacked rallies and processions of LDA candidates, removed their posters and assaulted and threatened them. 
Complaints about these acts of violation of the electoral code of conduct were met with mere assurances with no follow-up action from deputy commissioners, superintendents of police and designated people from the Election Commission, they said. 
Azizur Rahman, CPB candidate for Satkhira-1, said they were not allowed to say anything against the government during the polls campaigns.
He also alleged that AL men had attacked his two street rallies on December 16 and 18.
Azizur further said seven to eight youths from local AL office snatched the microphone from him while he was giving a speech at a rally on December 21.
Many of the candidates alleged that AL men on motorbikes had often surrounded opposition rallies in a threatening manner, leading to dispersal of rally participants.
Abdus Sattar, Revolutionary Workers Party of Bangladesh (RWPB) candidate for Barishal-5, said eight activists of the party were injured in attacks while distributing leaflets in Barishal Sadar.
On the election day, all his polling agents were picked up around 10:00am and released around 4:00pm when the voting ended, he added.
Alfaz Hossain, Socialist Party of Bangladesh (SPB) candidate for Rajshahi-1, said he had been forced into a black car after he finished electioneering around 6:00pm on December 27. Those who were inside the vehicle identified themselves as intelligence agency members.
He said they took him to a restaurant where he was threatened.
Around 2:00am the following day, he was dropped off at the spot from where he had been picked up, he added. 
Reazul Islam Razu, CPB candidate for Dinajpur-4, said he got a phone call around 11:00pm on December 28. "Don't deploy any polling agents. If you do, you will face harassment," he quoted the caller as saying.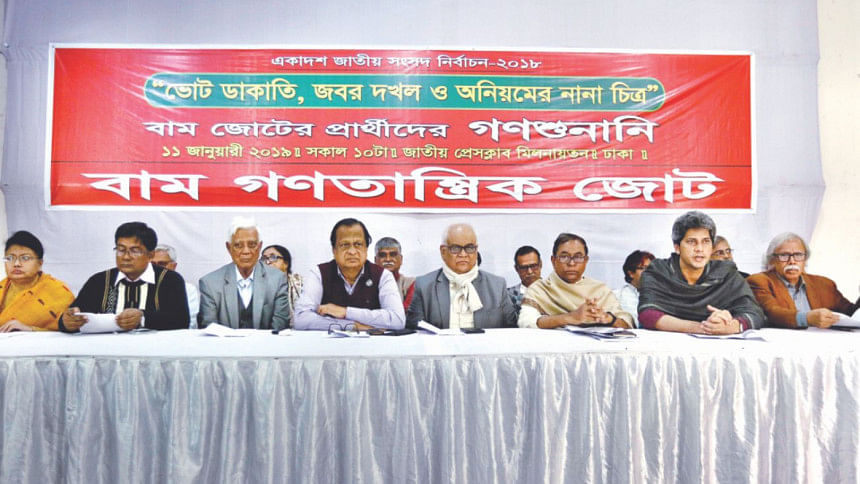 LDA candidates alleged that casting of ballots had actually begun the night before the election day. 
Shaikat Mollah, a polling agent of the RWPB candidate for Pabna-1, said he himself witnessed casting of ballots at three polling centres in the constituency on December 29 night.
The candidates said ballot stuffing on December 29 night became evident when presiding and polling officers around noon on the election day declared at many centres that they ran out of ballot papers.  
They further said it was found that most of the centres were taken over by AL leaders and activists by noon.
At Edward School centre in Mymensingh-4, AL men fired shots in the air around 10:30am.
Panicked, voters ran in different directions, leaving the centre deserted. AL men then took control of the centre and stuffed ballot boxes, said Emdadul Haque Millat, CPB candidate in the constituency.
 Ballot boxes were stuffed by AL men in 136 out of 176 polling centres in Mymensingh-4, he claimed. 
Tapon Basu, who contested the polls on the CPB ticket from Pirojpur-1, said he couldn't vote because his vote had already been cast.
"I got just one vote from the voting centre where 10 of my family members are voters," he said.
Ballot stuffing also took place during the "lunch break" when the gates of polling centres were closed, said SM Ahsan Habib, SPB candidate for Dhaka-17. 
Coercion and threats continued even after the voting, the candidates alleged.
There was a huge gap between the number of votes cast, which the candidates learnt from their sources, and the final results announced at the deputy commissioners' offices, they pointed out.
"It is the most tainted election ever in Bangladesh's history," said Ganosamhati Andolan Chief Coordinator Zonayed Saki, a candidate for Dhaka-12. 
The casting of 30-50 percent votes the night before the election day, filled ballot boxes, stuffing of ballot boxes in public and inconsistent figures of vote counts -- all these made the polls questionable, he added.
Manabendra Deb, CPB candidate for Gazipur-4, alleged that his sister went to cast vote around 8:30am at a local polling centre but faced obstruction from the ruling party men. They put pressure on her to vote for "boat".
He further said the ruling party men violated the electoral code of conduct in various ways, but the authorities did not look into the matters. They only took action against activists of other parties.
Zahid Hossain Khan, CPB candidate for Tangail-2, said he visited 21 out of 127 polling centres in his constituency on the election day.
"Presiding officers were not found in some centres. At one centre, polls officials started the vote count around 2:20pm. When asked about such anomalies, the officials concerned did not give any satisfactory answer," he said.
Haradhan Chakrobarty, SPB candidate for Feni-3, alleged that his supporters and party activists were barred from entering polling centres while some were beaten up.
The night before the election, many voters were warned not to go to polling centres while a house of minority family was torched "centring the election", he alleged.
SPB candidate for Rangpur-4 Sadek Hossain said he visited at least 30 polling centres on December 30. At one of the centres, he caught a person red-handed with six ballot papers while casting fake votes.
"I took him to on-duty police personnel but they asked me to let him go," he said.
SPB candidate for Laxmipur-4 Milon Krishna Mandal alleged that he was informed on the morning of the polls day that about 60 percent votes in his constituency have been cast illegally on the previous night.
Another SPB candidate, Uzzal Roy of Sylhet-1, said voters were barred from entering the Sylhet MC College polling centre after 10:00am.
Police baton-charged his party men without any provocation at a centre in Malanichhara while his polling agent was driven out of Bachhaipara Government Primary School centre, he added.
Opu Dasgupta, SPB candidate for Chattogram-11, alleged that his polling agents were forced out of centres while the presiding officer at a centre was found "confined" to a room.
"Asked about the situation, he [the presiding officer] replied that he was unable to do anything," Opu said, adding that only ruling party men were at the centre after 11:00am.
CPB candidate for Sirajganj-3 Mostafa Nurul Amin alleged that on the night before the polls day, ruling party men took control of a centre in his village while a police sub-inspector was casting fake votes in the middle of night.
No step was taken to prevent it though complaints were made to the deputy commissioner, who was the returning officer, he said.
Addressing the public hearing, CPB leader Ruhin Hossain Prince said they had formally invited the Election Commission secretary and National Human Rights Commission chairman but none of them attended the event.
However, some local and foreign polls observers were present, he mentioned.
Mohammad Shah Alam, coordinator of the LDA, said they wanted to come up with specific allegations of electoral anomalies at the grassroots level.
He further said the LDA will exchange views with people on the findings and hold a daylong meeting of the alliance members on January 15 to decide the next course of action.
Alleging that the December 30 polls did not reflect people's will, he demanded dissolution of the 11th parliament and an election under "a neutral polls-time administration".
Shah Alam also said the alliance will wage a movement for fresh parliamentary polls under a "caretaker government".
[The Daily Star could not independently verify the allegations that were raised at the hearing]