The Awami League will expedite institutionalising democracy and strengthen the National Human Rights Commission, the Anti-Corruption Commission, the mass media and the judiciary if voted to power for a third straight time.
"In the last 10 years, parliament was the centre of all state functions…. Initiatives will be taken to make the House more effective," said AL chief Sheikh Hasina, unveiling her party's election manifesto at a city hotel yesterday.
With some significant promises to ensure good governance made before the last two parliamentary elections still remaining on paper, the ruling party has now come up with fresh pledges to improve governance.
In its 21-point pledge, the AL also vows to show zero tolerance for corruption, make a stronger electoral system through reforms, alleviate poverty, create employments, ensure service-oriented and accountable administration, and put more focus on infrastructure development.
Just 11 days before the 11th parliamentary election, Hasina made an impassioned appeal to voters to view the mistakes she and her party colleagues made since taking office in 2009 with "kindness" and elect her party yet again.
"To err is human. My colleagues and I might have made mistakes while performing our duties. I, on behalf of myself and my party, fervently request the countrymen to look kindly on our mistakes," she told the programme attended by her party leaders, businesspersons, dignitaries and foreign diplomats.
"I promise to build a more beautiful future by learning from the past. We will build a non-communal golden Bangladesh free from hunger, poverty and illiteracy as cherished by Father of the Nation Bangabandhu Sheikh Mujibur Rahman," she said.
Making an earnest request to the people to ensure AL's victory through a "ballot revolution", Hasina said, "Cast your vote for 'boat'. We will bring you development and prosperity…. Our victory is certain, God willing."
NEW PROMISES
The 2018 manifesto titled "Bangladesh on March towards Prosperity" focuses on 33 sectors to be dealt with two strategic plans -- the SDG and Delta Plan 2100.
The party eyes to increase the GDP growth to 10 percent from 7.8 percent at the moment in the next five years and bring down poverty rate to zero from about 22 percent now by 2041.
It will create jobs for 1.28 crore youths, with overseas jobs for 1,000 youths -- both male and female -- from each upazila, according to the manifesto.
Pointing to recent protest for safer roads, Hasina vowed to bring discipline in Dhaka's transport sector.
"If elected, we will introduce modern bus services to curb indiscipline in Dhaka's mass transport service," she said. 
Also, modern civic amenities will be made available in every village, she added.
A national minority commission will be constituted to address issues related to ethnic groups, religious minorities and backward communities.
The manifesto also pledges to ensure media freedom and free flow of information.
"Effective measures will be taken to stop spread of fake news and unexpected rumours. Journalism and news media that promote social responsibilities will get assistance [from the government].
"A media friendly law will be formulated. There will be no misuse of any law against journalists and the mass media," Hasina said.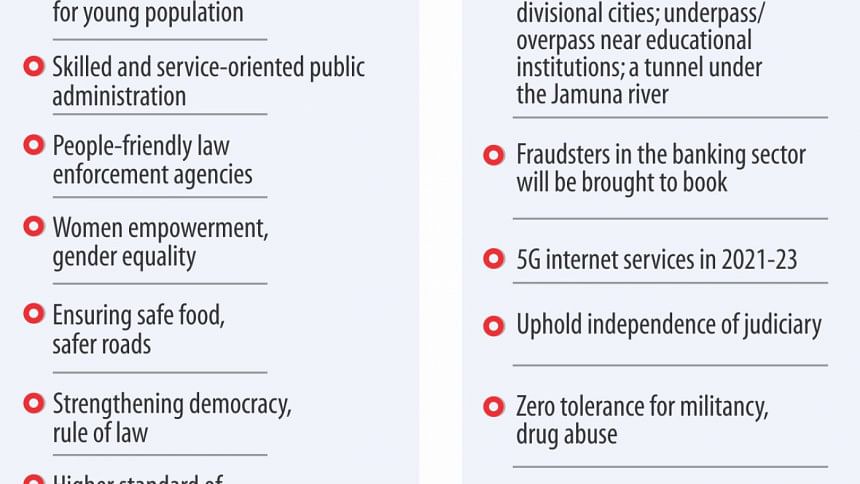 WHAT ABOUT PAST PROMISES?
In her address, the AL chief said the manifesto for the next parliamentary polls was in fact a continuation of her party's long-term plans outlined in the 2008 and 2014 manifestos.
However, after its 2008 win, the AL did not deliver on some of its vital pledges.
Before the election, it had pledged to appoint an Ombudsman, make public the wealth statements and sources of income of the prime minister, ministers and their close relatives every year. It also pledged to stop extra-judicial killings. But all of the pledges are unfulfilled.
Its pledge to take steps to inculcate tolerance and decency in politics also remains on paper to this day.
The AL also did not deliver on its 2008 promise to keep 100 parliamentary seats reserved for women with the provision for direct election.
In the run up to the 2014 election, the AL was silent on issues such as extra-judicial killings, the appointment of an Ombudsman and disclosure of wealth statements.
But it had pledged to make efforts to build national consensus among political parties and professionals on fundamental issues such as upholding democracy and unhindered development. But no such effort has been made.
Its pledge to make necessary laws and rules to ensure transparency in the performance of MPs in and outside parliament and their accountability to the people also remain unfulfilled.
Like in the past, the party in 2014 also spoke of taking measures to make parliament effective and strengthen institutions.
It also promised to strengthen the Election Commission by developing a strong electoral system through reforms.
But the current EC is finding it difficult to ensure a level playing field for the candidates in the December 30 polls.