Lunch break at Lalbagh Number 2 Primary School would be a mundane affair had it not been a polling centre in Dhaka-7 constituency. 
According to regulations, the Election Commission mandates uninterrupted voting across all centres from 8:00am to 4:00pm.
And the reason for this unprecedented lunch break? Free packets of biriyani doled out by AL candidate Haji Mohammad Selim. Even the boxes were custom-made with the candidate's face and election symbol "boat" on it. As polling officers munched on, fingers knuckle-deep in greasy biryani, voters queued up outside and shouted to be let in.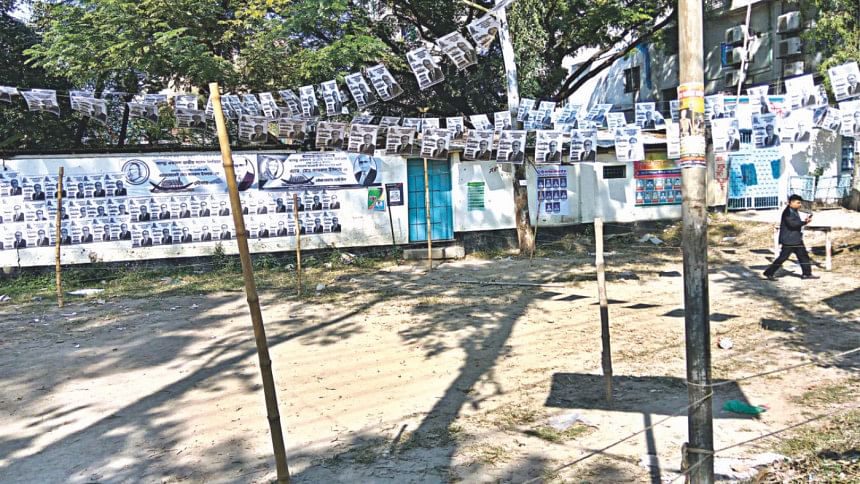 A similar scenario was in Rahamatullah High School of Lalbagh, where lunch break began around 1:30pm. "Our polling agents are having lunch, no one can enter," said men bearing "boat" ID cards to this correspondent. Only select one or two voters were being allowed in, while a mob formed outside.
Riaz Uddin was one voter who managed to slip inside. "I had been waiting for an hour. Every time a queue formed, the AL volunteers dispersed the line saying there is no voting going on here. I managed to get in behind someone after about an hour!"
Meanwhile, half an hour into the lunch break, voters could be heard banging on the gates to be let in.
Sabbir Biswas, presiding officer at Rahamatullah School, told The Daily Star that he has informed the police about the "lunch break".
When the gates were finally opened, all was quiet in front of the centre -- most of the frustrated voters had left.
KM Bashir Government Primary School of the same constituency was closed between 1:00pm and 2:00pm.
The Daily Star correspondent sneaked inside but was forced out by the police because of "lunch break".
When asked about it, a presiding officer said, "You have been misinformed. There is no lunch break."
"You've seen what's happening here; I do not want to talk about this," said another presiding officer.
This correspondent witnessed some women voters turn away without voting because the rooms were empty.
While visiting Future Gen International School polling centre at Moneswar Road, 25 women were seen standing in a queue.
One of them told this correspondent that she was waiting for nearly half an hour but couldn't cast her vote as voting remained suspended due to lunch break.
The presiding officer of the polling station admitted that voting was "paused" so that election officials could have lunch but did not give any reply when he was asked why this was being done flouting the rules. 
A police official, standing next to the presiding officer, said voting was stopped only for five minutes.