'Not in the mood to respond to AL's lies'
Says Fakhrul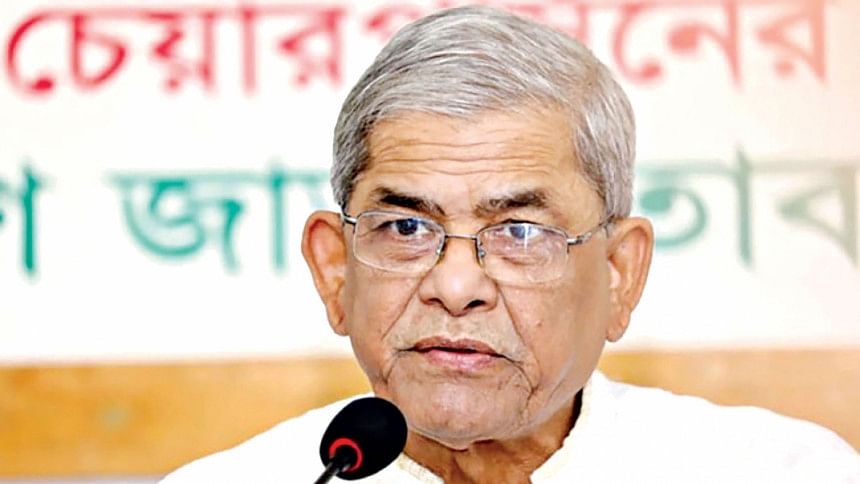 BNP yesterday said it is "not in the mood" to respond to Awami League's lies.
Mirza Fakhrul Islam Alamgir, the party's secretary general, made the remark in response to a question at a press conference at BNP's Nayapaltan central office.
When a journalist asked questions about the government's move to hike electricity prices, Fakhrul said, "I have already sent a statement in this regard. Today, I am not here to respond to Awami League leaders."
BNP organised the conference to announce a 10-day programme to observe the 87th birth anniversary of the party founder Ziaur Rahman on January 19. Before the announcement, BNP held a joint meeting of the party and its associate bodies at its headquarters.
"In the current context, Ziaur Rahman is not only relevant but also important. That is why we on behalf of the party have taken various programmes to commemorate the day," said Fakhrul.
Remembering the contribution of Ziaur Rahman, Fakhrul said, "Let's remember the person with due respect, who proclaimed independence and who showed the way."
Fakhrul said that people of the country have now woken up. Already 15 leaders and activists of BNP died in police firing and by the torture carried out by Awami League-led criminals.
More than 600 leaders of BNP have been made disappeared in the past 15 years, while thousands of leaders and activists have been killed, he said.
To observe Ziaur Rahman's birth anniversary, the party will place flower wreaths at his grave at the capital's Sher-e-Bangla Nagar at 11:00am and hold discussions at Institution of Engineers, Bangladesh at 3:00pm on January 19.
Mohila Dal will hold a discussion on January 17, Sramik Dal on January 21, Muktijoddha Dal on January 22, Krishak Dal on January 23, Jubo Dal on January 24, and Swechchhashebak Dal on January 26.
An art competition, organised by Jatiyatabadi Chhatra Dal, will be held on January 18. A doa- mahfil will be organised by Ulama Dal on the same day.
Dhaka city units BNP will distribute winter clothes on January 19.
Besides, a cultural programme will be held on January 20 arranged by Jatiyatabadi Samajik Sangskritik Sangstha.