At least three journalists, including a photojournalist of this paper, were assaulted during parliamentary polls in Dhaka and Chattogram yesterday, while a number of journalists covering polls for this paper faced obstructions from activists of political parties and law enforcers in the capital.
Kazi Tahsin Agaz Apurbo of The Daily Star and Al Amin, a staff reporter of Chattogram-based online news portal Cvoice24.com, came under  attack by alleged ruling party men while covering election proceedings.
Meanwhile, senior reporter of Bangla daily Manab Zamin Kafi Kamal was assaulted while returning from a polling centre after casting vote in Moghbazar.
Apurbo was assaulted by five to six men in front of Shahjadpur Model Government Primary School in Gulshan around 12:05pm.
The attackers, wearing badges of Awami League electoral symbol "boat", came out of a crowd and started questioning him while he was taking photographs well outside the polling centre.
At one point, they swooped on him and beat him up indiscriminately. The attackers broke his spectacles and took away his cell phone.
However, with help from on-duty police personnel, he got his cell phone back, on condition of deleting some photos of polls atmosphere from it.
Al Amin alleged he was injured in his forehead by some 15 miscreants while trying to enter Bepza High School polling centre in the port city around 10:30am, reports our Chattogram correspondent.
The attackers, who were near the polling centre during voting hours, swooped on him after knowing his professional identity, he further alleged.
He was rescued by some locals, and later took treatment at a local clinic.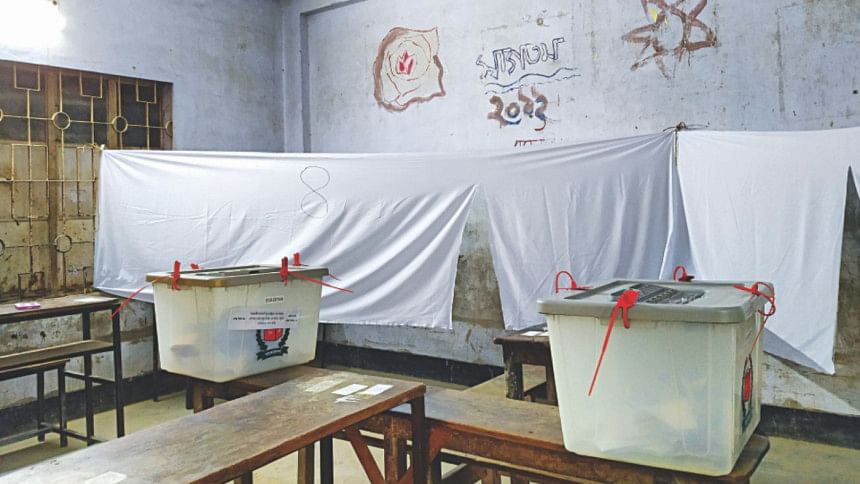 Contacted, Officer-in-Charge Mir Nurul Huda of EPZ Police Station said he was unaware about the incident.
Police would take action if a complaint is filed, he added.
Kafi Kamal said he, along with his wife, was returning from Eskaton Garden School on a CNG-run auto-rickshaw around 9am.
Seeing some people beating up a few youths in front of Moghbazar BTCL School centre, he came down from the auto-rickshaw and tried to take photos and videos of the incident from a safe distance, Kafi said.
Suddenly, some youths wearing badges of "boat" symbol surrounded him, snatched away his cell phone and started kicking and punching him.
Kafi said he was rescued by two other journalists passing by, and received treatment at a nearby hospital. He had to get four stitches above his left eye.
STAR JOURNOS OBSTRUCTED
Besides, a number of journalists of this paper, who were carrying identity cards issued by the Election Commission, were also obstructed in different ways, including denial of entry to polling centres, by on-duty law enforcement agency members and alleged ruling party men across Dhaka city.
As per EC guideline, journalists carrying EC-issued identity cards were allowed to enter polling centres without any obstruction.
AKM Zamir Uddin was not allowed to enter AKM Rahmatullah Degree College in Uttar Badda area around 9am. Upon learning that he is a journalist, a man wearing badge of "boat" symbol told him not to enter the polling centre, and "offered a cup of tea".
Rafiul Islam was repeatedly obstructed by on-duty police and Ansar men from entering nine out of the 10 polling centres under Dhaka-4 constituency, keeping him waiting outside the main gate in most cases while the law enforcers got "permission" from inside the centres.
In Shyampur under Dhaka-4, a senior reporter of this paper who wished not to be named, was kept waiting for over half an hour by police personnel, for "taking permission from authorities" to let him in at Faridabad High School polling centre.
Sohel Parvez was denied entry at four centres in Dhaka-6 constituency. He was pushed and shoved at Dhaka Central Girl's High School centre by some men wearing badges of Jatiya Party electoral symbol "plough", and was forced to leave the place.
Reporter Muhammad Zahidul Islam and photojournalist Amran Hossain were stopped at the gate of the Shaheed Zia Basabo High Scool under Dhaka-9 by law enforcers, saying photojournalists were not allowed inside. Later, they went in after the presiding officer came to the gate.
Zahidul Islam was also prevented by activists wearing badges of "boat" from entering a polling centre in Modhubagh, under Dhaka-12 constituency.
Photojournalist Palash Khan was prevented by activists of Awami League from entering Manipur High School polling centre in Mirpur under Dhaka-15.
Our reporters at Kalachandpur Government High School and College in the capital, as well as at polling centres in Bandarban and Barishal, also faced obstructions in covering the election.