SOUMYA'S PRACTICE MAKES PERFECT
Soumya Sarkar was batting in the ICC Academy nets the day before yesterday's match. He was facing up to some local net bowlers. One of them, just about bowling at medium pace, bowled a bouncer and Soumya, who has faced much faster bowlers, went for the hook. It was astonishing to see that he was late on the ball, making the shot an ungainly one that resulted in the ball going straight up into the net.
On match day, he was facing the considerably faster Junaid Khan. The Pakistan left-arm pacer bounced one at him and the exact same thing happened. Soumya was eons late on the pull, the ball went higher than long, and he was caught at square leg inside the circle. Given the practice, Soumya might count himself unlucky that he got bat on ball at all.
CAN'T WALK, CAN FLY
It is always a source of wonder that Mashrafe Bin Mortaza still plays cricket.  A survivor and sufferer of seven knee operations, it is a common sight to see him limping on the field. That is, until the ball is in play.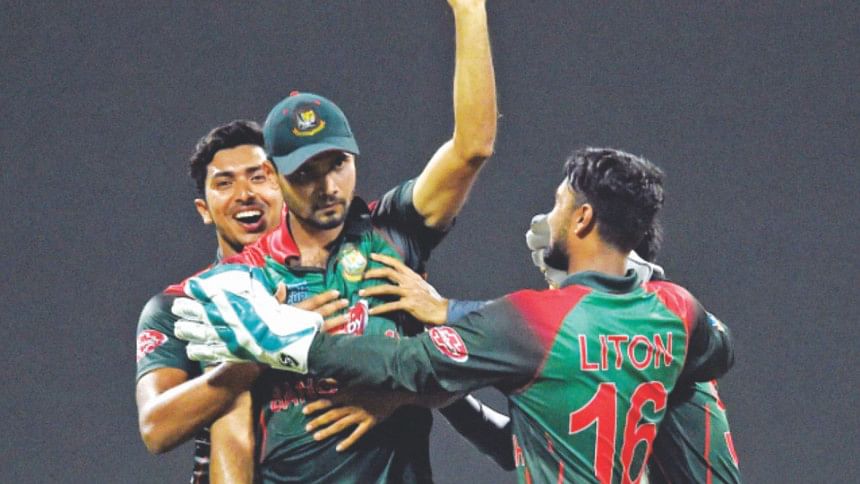 But even by his inspirational standards, yesterday was special. In the 21st over, Rubel Hossain bowled on Shoaib Malik's stumps and he played early and uppishly towards midwicket. Mashrafe, as if his boots were spring-loaded, leapt to his left and, completely airborne, plucked the ball two-handed clean out of its intended trajectory. He had a reaction time of 0.84 seconds and took the ball 2.54 metres above ground, proving that you don't need to walk to be able to fly. 
FIVE BALLS WITHOUT THE BIG FIVE
Those watching the match on TV may not have noticed, and they would probably have had a panic attack if they did, but for five balls during Pakistan's chase Bangladesh faced a situation they have not ever faced in the last decade.  Shakib Al Hasan had gone home before the match started because of injury, Tamim Iqbal left more than a week before. After the 15th over Mushfiqur Rahim went off as he was struggling with the heat and his lingering rib injury. Mahmudullah Riyad left the field a little later and, after Mashrafe caught Malik spectacularly, he left the field clutching his hand.
For the remaining five balls of that over, Bangladesh were without the five cricketers who have been the beginning and end of Bangladesh cricket for the last decade. Mahmudullah came back out at the end of the over and, let alone the fans, the cricketers themselves probably breathed a sigh of relief.