Interview
Reconciling Heritage with Innovation
AASHA MEHREEN AMIN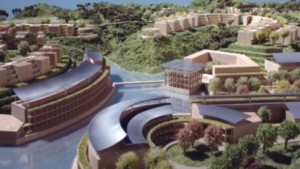 A model of the Asian University for Women in Chittagong.
Internationally, Moshe Safdie is well known for his spectacular designs of universities, urban residential projects, airports and cities that tend to reunite the original topography of the land and sometimes ancient architectural façade with the demands for contemporary trendy solutions. Many of his works like the famous Madilla Centre in Jerusalem have the charm and grace of the old world yet incorporate practical, futuristic solutions to growing urbanisation. A graduate from McGill University and later an apprentice of Louis Kahn, Safdie's first work was the award-winning Habitat 67 project based on his masters thesis which was part of the Expo 67, considered to be the most successful World's Fair of the 20th century, with 62 nations participating. This January, Safdie came on his second visit to Bangladesh to attend a grand symposium of the Asian University of Women in Chittagong, being the designer for this innovatively constructed centre for learning. In an exclusive interview with The Star, Safdie talks about the philosophy behind the construction of this much awaited university as well some of his other works that have earned him such fame all around the world.
So what was your vision behind the design for the Asian University of Women?
There is a combination of factors. I have done a number of unversities and I was very enthusiastic to know that an international group was getting together to start a university for women of Asia. It sounded like a noble vision. I knew the region, having worked in Singapore. I also knew that it wasn't going to be easy at this distance and also that the building conditions were not easy. But I also realised that it was an important assignment. We went to see the site which is beautiful but also very fragile. So the challenge was to keep the land as close as possible to its topography: it's a very hilly region (a developer would have just flattened it). So the proposal was to create a plateau from the top and build a little in the valley; all the academic buildings are in the valley which I call 'downtown' and the residential buildings are in the hills. So you walk up and down from the downtown… Everybody is very excited about it. But first we had to figure out how to do that – the first building has to have everything as it will serve as a temporary campus to accommodate five to six thousand students. So it will have the classrooms, libraries, labs etc. all of which will eventually have their own buildings.
We have that designed and ready to go soon; we have started the earthwork and will start the foundation in a month. It will take around two years to complete. We are using mainly indigenous materials- I found what you call 'Bangla brick' which sounds pretty indigenous. It will be a very 'green' building with plenty of open windows, natural ventilation but also airconditioning in the classrooms, a good water management programme etc – all the things you have to think of in this day and age.
Moving on to another area. You have worked with Louis Kahn, the architect of our Parliament building. What was it like and how did you come to work for him?
Marina Bay Sands, Singapore.
It was thrilling. I graduated from McGill University where I had done a precursor of the Habitat Project as my thesis. I had a travelling scholarship and I went to Philadelphia and had seen the Richard's Medical Research Building. I was very impressed. I just felt he was the architect I wanted to work for and I went to see him. He looked at my drawings and gave me the job. I was assigned to the Indian Management Institute in Ahmedabad in India. I worked on that and was the resident architect. Just as I was going to India my professor from Montreal came and said 'there's going to be a World Fair and I'd like you to come back and take care of the master plan. I left for Montreal and there I proposed my thesis as the main pavilion and like a fairy tale, the government approved it and I built it. So the Habitat Project was my first project.
What initiated you to envision such an innovative project as the Habitat Project?
While doing my thesis and because of my travelling scholarship, I saw that in America the problem of housing is that everyone wants to live in the suburbs with a house and a garden which causes such a waste of land. So if we could create high rise buildings that have the qualities of living in an individual house, if we can do this in an urban setting, we could reverse the tradition because we could give the living qualities of small towns with houses that had gardens. Around that developed the concept of housing where every home has a garden. We used prefabricated modules for economy and installed them in three directions so everyone had a garden looking at the sky. It has been declared a heritage building so it is well protected.
What has been one of your latest projects in Asia?
The Singapore Marina Bay Sands is a mega project. It is 10 million square feet built in four years. It includes hotels, convention centres, museums, theatres, casinos… It faces downtown and it was an opportunity to create a new kind of urban centre. On February 17 it will open formally but it is already open. So you can see a two and a half acre sky park on the 60th floor.
What about our own Parliament building? How did you feel when you first saw it?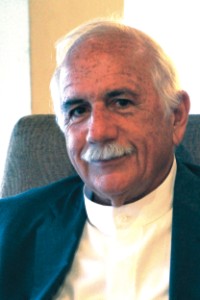 Moshe Safdie
Photo: Zahedul I Khan
It was a touching, moving experience. It has extraordinary presence and power. I was impressed. I was impressed because I knew it had been finished after his (Kahn's) death and although not everything was done the way he would have wanted it, nonetheless, when you enter the building there is such a powerful monumentality. It feels like a place of governance, with the lake and the buildings around. What impressed me most was the way people feel about it, having worked in Chandigarh where there are buildings designed 50 years ago but they are now very neglected. You walk around and it breaks your heart. Here you feel that they take care of it, not that they can't take care of it better. But you feel that people can identify themselves with it, that they love it.
When I worked for Kahn I knew he had a son who I had never met. I met him some years ago, he was making 'My Architect', a film on his father. I featured in one of the episodes. It was really nice to become friends with the son of Kahn, he is the same age as my son. So he is like a younger brother or son to me.
You have a lot of experience with heritage sites. Here in Bangladesh there is a constant conflict between preservation of old buildings and the interests of the owners. How do you resolve that?
It is a complicated issue because it's an economic issue. In many cities where the municipalities have allowed such buildings to be scrapped, they often regret it later. In Singapore for example, in the 70s and 80s all indigenous shops were replaced, all four-storied buildings were scrapped. All of a sudden they realised that they had no memory. So in the last minute they decided to keep China Town and Little India and protected that. So if you don't save some of these areas – not individual buildings but areas –you will regret it later.
It's important to preserve whole areas. If the zoning permits them to build high- rises, owners of buildings will be desperate to demolish the old building. You have to find a way to keep the zoning as such so that they don't get the feeling that they are being deprived of income. So you have to have some policy about preservation that is supported by zoning. This means you cannot have corruption in the planning because if you circumvent the zoning, you're in trouble.
First you have to declare what areas have to be saved. Once you declare them, it becomes difficult to destroy them. You need government grants, if you renovate the building and prove its historic importance, you need a wealthy municipality that can afford this. One way or another I think it is very important to keep heritage from disappearing. That means politicians have to be convinced of the importance of preserving these sites.
The Marmilla centre in Jerusalem is one such area that you have designed while keeping its original form. You have said that it is a place where people can get together despite differences. In a conflict-ridden city like Jerusalem how did that work out?
I worked on it for 35 years.
Why so long?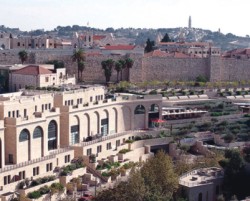 Mamilla Centre, Jerusalem
Because it's Jerusalem. I was commissioned by the government in '72 to do the master plan . The area was a no-man's land. It is in the heart of the city, exactly where everybody meets. But it was a slum. My idea was based on the premise that it would be an extension of the 'suk' or bazaar but I did not make it like a mall. Instead, I made it like a square with gardens, two hotels, shops, parking lot etc. My thinking was that if we create this centre all the people would come. It would be a bridge; it would bring people together because as you know, the city has a lot of tension and conflicts.
But first the conservationists opposed it saying it would destroy heritage. Then the religious people said you cannot have shops so close to religious sites. Archeologists opposed it. It went on and on. I said you could have harmonious development. Everybody now agrees it can be harmonious.
So we kept many of the old buildings and also built new buildings as well as infrastructure, we built a 2000 car parking lot for example. All the buildings after 1940s we did not save. The older ones we saved. With some, we took them down and reconstructed them, used new infrastructure and put them back.
Now it is open and everyone is coming here.
So is your vision of bringing everyone together really happening?
Yes everyone agrees that it is happening. Palestinians, Israelis, religious-minded, secular, tourists – everyone is coming. It is very exciting.
Do you think architecture has the ability to resolve conflict?
I don't think architects can solve political problems. But architecture can have an enormous impact. Architects can create conditions which help communities to come together.
It is all about the public realm and how will design affect it. Most airconditioned malls try to emphasise on the private realm- the floors are marble, there are security systems… So it is important to create a public realm. This has an enormous impact.
Copyright (R) thedailystar.net 2010