Profile
In quest of Identity
Fayza Haq
Abdus Shakoor
Abdus Shakoor, who has sported a mane of egret white hair for quite some time, speaking over café au lait, says, " We do not want to ape the west: We wish to bring some modern form so that people from the US and the west understand the richness of our past history. Our roots are not to be sniffed at: They go back to thousands of years, as in the case of Mainamati and Paharpur. We should definitely be proud of our culture and not try to make the quick buck in any mad pell-mell fashion. We should try to hold up our forests, birds and beasts in our work. We should take pride in our way of life. We have so much of natural beauty in our boats, rivers on which they ply, the fishermen. The songs of the fishermen and farmers –Jari, Shari and Murshedi – they are of a high standard. The cultural comforts too of our homes–our bonhomie should be highlighted before the world."
His works are known to have the highest sales at art shops aimed at expatriates and overseas visitors. Otherwise, too, Shakoor is a well-known professor of fine arts.
Shakoor, however, says one must not succumb to the lure of the churned out items, with the excuse that one has to make a living. "The ultimate aim of an artist, with a conscience," says Shakoor "cannot be to live on the lap of luxury. Each artist has his own thoughts and feelings to present. This is definitely despicable, when an artist repeats his themes and images simply for easy fame and fortune," "An artist of this type will not be respected and admire at home or abroad, in the long run," he says, "people will pause and think: All the people cannot be fooled all the time. Young painters, connected with galleries do have hang-ups. I feel, however, that the truly creative urge will be admired in the long run." Yes, a painter has to survive. He cannot ignore the socio-economic situation, says the seasoned painter. However, says the master-painter, an artist's drive, his passion, should be maintained.
Talking about the writings in his paintings, Shakoor says that he does not consider them as calligraphy. On the other hand, he says, calligraphy is something formal and stylised. The writings are simply to support the ballad theme of his paintings, he says.
Story of Chandrabati, water colour, 2008.
Giving his opinion of figurative art in Bangladesh, today– does he feel that figurative art will survive, despite the attraction for the semi-abstract–Shakoor says, "In every country, every artist works on his own ideology. When Bangladesh was East Pakistan, as we know it, most painters went for abstract painting. The demand and supply of the market was related to this. Later on, from the time of Zainul Abedin, Qamrul Hassan, SM Sultan and Safiuddin Ahmed and later on Qayyum Chowdhury and Rashid Chowdhruy, artists have done figurative works. They were not concerned with whether the painting would sell or not. Post-independence, artists did two types of paintings. One type had composition with figures on the canvas. Others went in for pure abstraction. In between, were artists who went in for the semi-abstract. Figures were there, as also some colours. I believe, when one writes poetry, fiction the pen plays or paints pictures about Bangladesh, it is normal that one would expect to comprehend the theme. Even when the artist paints abstract themes, I believe, one should understand that the painting is about the painter's country. The colours and lines reflect the theme. It is only too obvious that Zainul Abedin's sketches on the Bengal Famine of the early forties represent Bengal. Seeing the works of Quamrul Hassan, one recognises that they are based on the lifestyle of Bangladesh. One has the right to paint as one wishes. Yet, one has certain commitments to keep."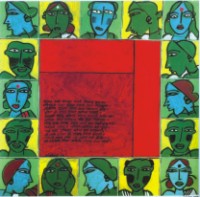 Story of Mahua, acrylic, 2008.
Talking about the importance of folklore and legends and ballads in art, the maestro says if the painter/writer/ singer thinks that this is folk ideology or philosophy is important for his/her work in hand, or wishes to go global, he/she has the right to go his/ her way. However, he feels that if one can present a centuries-old subject in an interesting way to the west – this is admirable. "If one wears a suit and sports a tie, will this impress the western viewer as something remarkable. On the other hand, I feel, presenting a garb of "lungi" and "punjabi" will be more with it, on a stage performance, for instance," says Shakoor. Being cosmopolitan is not something to be aimed at, necessarily, Shakoor believes.
Asked to comment on whether it was easy to reach the heights that he has achieved today, Shakoor says, " It was not so easy for me, someone not quite born with a silver spoon in my mouth, to reach the position that I have today. I've struggled with painting for 30 years. I've had to decide where to go, when to go, and what to paint. For years I've tried to paint in a manner that is significant and memorable. Like all creative artists, I've aimed at being remembered till the sands of life have run.
Ballad and Face 2, water colour, 2009.
"It's only after 30 years of struggle that today I've buyers at home and overseas. My paper for my Masters at Maharja Sayaji Rao University, Baroda was done under Professor KG Subramanya, with a course of two years, with a scholarship from the Indian government.I learnt techniques such as using minimal colouring and lines concept of compositions, and gathered my ideas from him. Subramanya stressed on simplicity, giving the example of Picasso's 'Guernica'. I dealt with traditional forms."
Touching on his sources of inspiration, Shakoor rounds up the talk at the Bengal café, "My father felt that if by my education I could establish myself, he had no objections. My youth was in Bogra town. There I read the ballads, which inspired me. There were various fairs and local bazaars, where I saw figurines. The motifs of deities in the temples also burned in my mind. They are reflected in my work even today. As a student, I was lucky to get Zainul Abedin. Apart from him, Abdul Baset, Anwarul Huq and Rafiqun Nabi were my other guides at the then Art College."
Copyright (R) thedailystar.net 2010