Neighbours
Desperate North
The downfall and flight of Tunisian President Ben Ali last week sent a warning to autocratic rulers across the world. Kim Jong-il in faraway North Korea is a certain candidate for dethroning by popular revolt and signs of the regime's desperation can be seen during the first weeks of the New Year.
After making pleas to South Korea for the resumption of dialogue almost every other day for no other purpose than getting life-saving aid, Pyongyang announced Sunday the launching of a 10-year economic development plan. The North cheats its people when it says that the plan will bring the communist state "to the rank of advanced nations" by 2020.
The announcement via the Korea Central News Agency did not reveal much detail but enumerated 12 sectors to inject huge foreign investment over the next 10 years. They included infrastructure, agriculture, basic industries exploring electric power, coal, oil and metals, and comprehensive regional development. Roads will be extended by 3,000 kilometres, new railways will be laid over 2,600km and 20 million tons of iron will be produced.
Pyongyang's propaganda geniuses were at work with a declaration that the new state plan "opens the door to a strong, prosperous state," the long-cherished goal which was set to be attained in 2012, the centennial of DPRK founder Kim Il-sung. Without admitting failure to fulfil the promise, the North Korean rulers effectively moved the target about a decade back from the original schedule.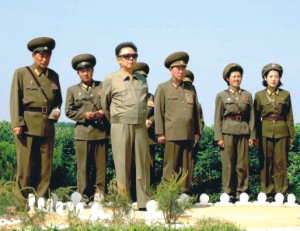 Kim Jong-il in faraway North Korea is a certain candidate for dethroning by popular revolt. Photo: courtesy
Few North Koreans would have believed that their life would be different in 2012 and thereafter. The disastrous currency reform late in 2009 only resulted in a 70-fold rise of staple food prices. Suppression of markets in cities made it harder to get food and daily necessities and, after some time, private trading returned to prove the limitations of official power to control people's spontaneous activities to meet their basic needs.
The North Korean version of social polarisation has deepened. Factory workers whose workplaces are closed due to power shortages and scarcity of raw materials are offering their labour at rich homes that have incomes from trade with China or government jobs. Families which receive remittances from relatives in South Korea, China, Japan or the United States can also buy their services.
A shortwave radio station here specialising in North Korean affairs reported that the people who met their separated family members from the South at Mount Geumgang last year were forced to surrender all US dollars they received from their loved ones during the reunion. Previously, officials had collected about a half of the cash gift from South Korean relatives as "expenses" for the reunion project. Now, they cite the current difficult economic situation to ask them to empty their purses.
Seoul has so far made no response to Pyongyang's repeated calls to hold direct talks "at any time in any place to discuss all problems between the two sides." It is quite clear that Sunday's announcement of the 10-year development plan was mainly aiming at the South, which had been the largest provider of humanitarian and economic aid during the 2000s until inter-Korean relations froze in 2008.
Seoul senses growing anxiety in Pyongyang from its recent behaviour. President Lee Myung-bak will not move unless Kim Jong-il shows sincerity at least with an apology for the deadly attacks along the maritime border last year. We will see more signs of restlessness if the developments in Tunisia had a direct impact on the minds of Kim and his designated successor.
– Editorial Desk
The Korea Herald
Reprinted with permission. All rights reserved.
Copyright (R) thedailystar.net 2010