Cover Story
The Journey of a Dreamer
On December 25, Mazharul Islam, a living legend in the field of architecture will turn 87. Wheelchair-bound and barely able to speak, his eyes, however, defy the ailments of old age and shine brightly with the spark of brilliance that has always visualised a Bangladesh transformed in mind and body. His illustrious life and work are worth a flashback into the past.
FARHANA URMEE
The Public Library building designed by Muzharul Islam in 1953-54. Photo: Zahedul i khan
Muzharul Islam, architect, teacher, politician and activist – the name does not require much introduction as it bears the achievement and the pride of being a pioneer who introduced modern architecture to Bangladesh. The blend of modernity with pre-existing architectural traditions, the merging of brick and greenery, the playing with space and air with brick-built structures – all these aspects can be found in his architectural work.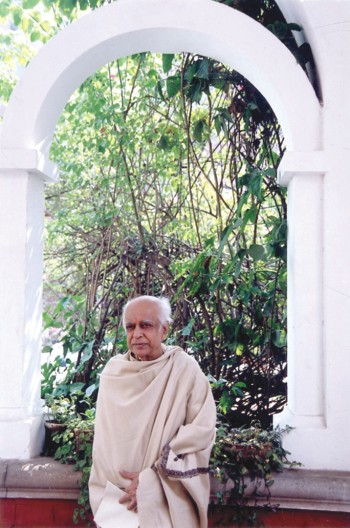 Photo: Zia Islam
Muzharul Islam had to start almost from zero in introducing basic features of modern architecture such as simplifying forms, eliminating ornamentation and making the basic structure of the building its embellishment. In an interview with architect Shamsul Wares on his 80th birthday he said, "when I started having modern archetype and geometry in my work Dhaka had hardly any model of modern architectural instance."
The Faculty of Fine Arts, University of Dhaka, Public Library, National Archives at Sher-e-Bangla Nagar, Housing for IV Employees in Azimpur Dhaka, EFU Building (Jiban Bima Bhaban), five Poly-technique Institutes across the country, the master plans and design of University of Chittagong and Jahangirnagar University, office building for the World Bank, National Library at Sher-e-Bangla Nagar in the city are among his notable works.
To Islam, modernisation in architecture is not the separation from one's own culture rather applying a contemporary style in the existing culture keeping in mind the climatic conditions of the area. Open terrace complemented with grass and trees but no additional concrete decoration in structures gives Islam's works a constant impression of connectedness between civilization and nature.
The architecture of every country would not be the same because it has to go with the geographical location of the country, climate and the culture. In the case of Bangladesh architectural designs should take into account its landscape, sun, rain and flow of air, shades and shadows. Thus architectural works should not only depend on the conventional culture rather fulfil the requirement with proper calculation and assessment of proportion and percentage and geometrical arrangement, believes Islam.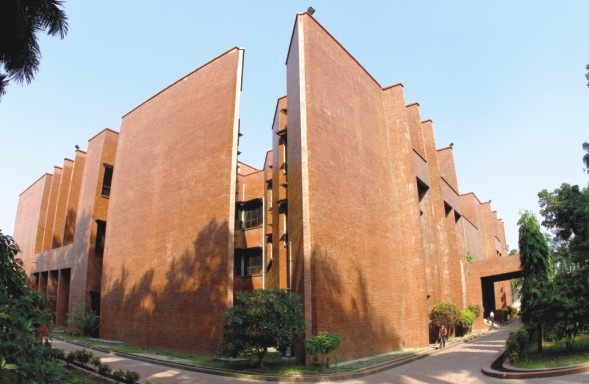 National Library: brick-built structures complemented with grass and trees give an impression of connectedness between civilisation and nature. Photo: ZAHEDUL I KHAN
Modern architecture, itself is a perception that has been conceived in the early 20th century as a result of social and political movements worldwide. Islam, the pioneer of modern architecture in Bangladesh was associated with cultural and political activities throughout his life. Husne Ara Islam, wife of Muzharul Islam gives an impression of his life so attached with contemporary issues of society, culture and politics. "When Chhayanaut did not have their own permanent place, they used to practice at my place; as a true artiste my husband always inspired such cultural activities. Different politicians stayed at my place during political turbulences, and I saw my home as a place of cultural gatherings and political discussions." Rafique Muzhar Islam, elder son of Muzharul Islam adds, "We feel so privileged that we could come in touch with so many high-profile artists and cultural activists from childhood."
Husne Ara Islam evaluates her husband's work by saying that simplicity was the main attribute of his work, which can also be found in his lifestyle as well. "All throughout we led a very simple life and he (Islam) never liked any kind of extravagance either in his professional or personal life," she says.
The architect in his younger days.
"I have always seen my father carrying a book with him and if we asked him something, he would not answer all our questions and say 'read and then you would come to know, all the questions cannot be answered, you have to look for the answer of your question by yourselves', this is the way he taught us," says Rafique. My father used to run a volunteer study group named Chetona with the dream to create among young people the spirit to build Bangladesh afresh and be acquainted with the history and heritage of the country, continues Rafique.
"Islam's work is recognised not only in Bangladesh but he is also a very well-known figure worldwide for his contribution to modern architecture," says architect Shamsul Wares, who was his student and also had worked with him as a professional. "He never compromised with anything, and did his work with determination." To bring new designs, and to convince people to accept those unconventional designs was not easy when Islam conducted his major project in the 1960s. It was Islam's persuasive capability to make people understand the unfamiliar nature of his designs and accept them whole-heartedly.
He has been an audacious man and his initiatives and works have always reflected that eminence, says Husne Ara. His elder son who is also an architect echoes his mother's words regarding his father's spirit to take the challenges and to fight for cause. "To bring a Jewish architect in Ayub Khan's regime was definitely not easy but he (Mazharul Islam) could justify his position and make the government invite Louis I Kahn to design the then 'Second Capital Complex' (Sangsad Bhaban)." He also invited Stanley Tigerman and Paul Rudolf to work in Bangladesh. American architect Stanley Tigerman was one of his classmates in Yale University, USA and under the guidance of eminent architect Paul Rudolf he conducted his post gradation at the same university.
His works reflected the language of architecture and expressed the friendliness to the local environment. Syed Abrar in an article sums up Islam's idea of urban architecture "cities should provide the environment for civilised life within the context of our own cultures. The city can develop only as a part of the physical environment of the country with the ultimate aim of abolishing all differences between the city and rural areas. The traditional relationship with nature that exists to a certain extent in the rural areas should be continued in the city as well."
Faculty of Fine Arts, University of Dhaka. Photos: ZAHEDUL I KHAN
Initiating modern architectural culture and practice in the country was not that simple in those days when people used to see highly decorated and ornamental structures, appreciation was hard to obtain. His elder son says, "When I was a mere child I heard people's negative remarks about the newly introduced brick-built structures (structure having no external plaster); people said, these buildings looked like sheer boxes, or skeletons. But now as a professional architect I can understand its significance as sustainable architectures. The buildings won't be needing frequent white-wash or paint or even renovation on the exterior wall and other maintenance; which, I must say, is very cost effective for a country like ours."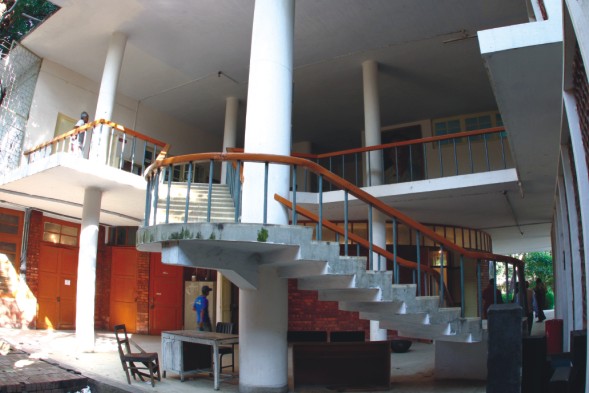 When Islam started designing Faculty of Fine Arts, University of Dhaka, Mirpur Ceramic brick was not available at that time. He started the building of Charukala Bhaban with the fine-looking bricks coming from a machine-made brickfield. He showed the construction labourer how to bond those bricks all by himself and kept the red colour and texture of the brick as it was. He used teakwood brought from the then Burma, which can endure the humidity of our country. Brick, concrete, glass and wood, all these materials did not have to lose their distinctness in Islam's work and their original combination had brought out some phenomenal instance of architectural works.
Islam's son Rafique Muzhar Islam, an architect following in his footsteps.
Photo: ZAHEDUL I KHAN
Regarding Islam's work architect Rabiul Hossain in one of his writings mentions "In the 1950s there was no trained architect to design the government buildings and thus the government had to hire foreign architects to get their work done, but those works hardly had the characteristics of modern architecture and lacked standard quality; in such an adverse situation, Muzharul Isam had to move on alone. Rather than being influenced by earlier foreign works, he brought individuality to his works. And he created a coherence of nature, culture, art and architecture. He made the perfect harmonisation of local materials. The combination of art and architecture was commenced by Islam in Bangladesh. He was the one who proposed to add wall paintings in the University Library wall."
He had planned a number of works but those aspirations could never see the light of implementation due to red tapism of government. His determination led him to get involved with an argument with the government and demand release order and resignation at different times. Rulers could not restrain him any longer. In 1967, he finally resigned from the post of a government architect and started to work independently. After that, he along with Engineer Sheikh Muhammad Shahidullah established an architectural consultancy firm named Bastukalabid.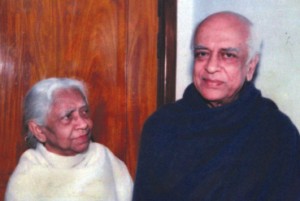 With his wife Husne Ara Islam. Photo: Courtesy
His thoughts reflected in his works, and his vision for bringing societal change was evident in his practice. "He has always been an inspiration for me in doing the most undoable things," says Husne Ara. Smiling, she recalls the moment when she resumed studying after a long gap that happened due to early marriage and other family affairs. Husne Ara says, "I started going to college again and appeared in the examination with classmates of my daughter's age only upon his insistence and encouragement." Eventually I got involved with student politics and my husband constantly supported me to become an activist, saying 'one cannot stay away from politics as every single matter of daily life is related to politics', continues Husne Ara.
To Islam architecture is the art that can be understood by measuring its practical needs and utility, responsiveness to climate, convenience of placements, but its aesthetic expression is not easy to define. And the aesthetics must not remain confined in bookish knowledge or commercial motivation of the profession. The love towards the land, people and culture and a sincere intention to do something noble can make superior architects who can change the look of the country in truest sense.

Assigned by the then Pakistani government to design the parliament building Islam decided to invite Louis I Kahn to take up the project. Photo: ZAHEDUL I KHAN
---
His life and works
Born in December 25, 1923 in Murshidabad, he led a very down-to-earth lifestyle throughout his life. After graduating from Civil Engineering from Kolkata University in 1946, he went abroad for higher studies and graduated from University of Oregon, USA in 1952. He was awarded a scholarship and went for further studies in AA School of Architecture, London in 1956. He started his career as an architect in 1955 and Public Library and Institute of Fine Arts and Crafts are two of his initial works as an architect in the then Pakistan.
Islam was honoured with the Honourable Fellowship, from American Institute of Architects at its national convention at Texas in 1999. He played a significant role as the member of Master Jury of the First Aga Khan Award for architecture, Geneva in 1980. His supremacy in judgement made him a jury in a number of national and international design competitions including design contest for the headquarter building of the Islamic Development Bank in Jeddah, and the Ministry of Foreign Affairs building in Riyadh. He was given the Independence Day award in 1999.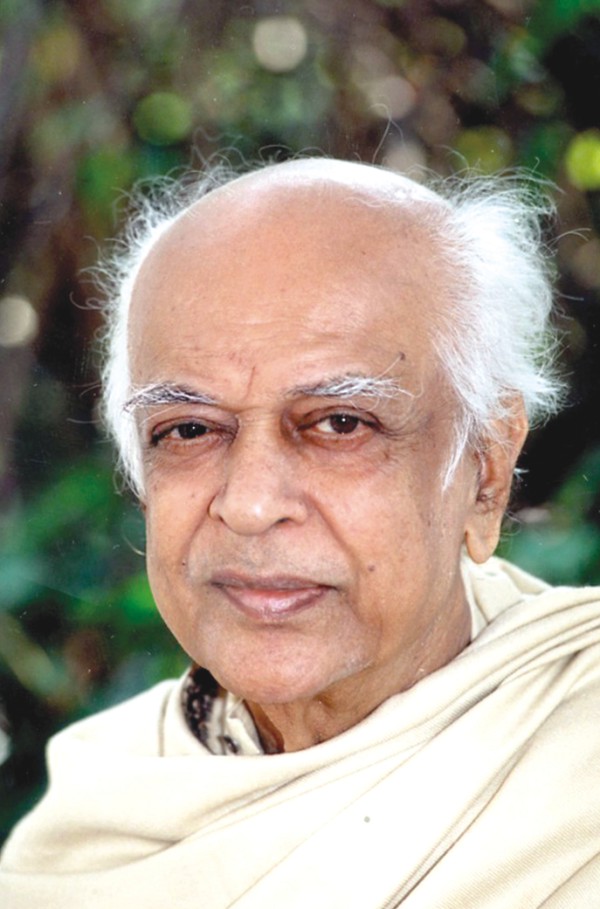 Photo: Zia Islam
Copyright (R) thedailystar.net 2010