Jyoti Basu
Tribute

The Champion of the Silent

Last week, the news of Jyoti Kiran Basu's death shocked the nation. The veteran Marxist leader and India's longest-serving chief minister Jyoti Basu, finally breathed his last at around 12:30 pm at the AMRI Hospital in Salt Lake in Kolkata, India, at the age of 95, after fighting for life for 16 days. Biman Bose, leader of the Communist Party of India (CPI M), announced the news to the media. Basu had been suffering from multiple organ failure for a long time.
Quite a number of grief-stricken people had gathered in front of the AMRI hospital, from all walks of life, and also the CPI(M) headquarters in New Delhi and Kolkata as soon as his death was announced. Leaders in Bangladesh, President Zillur Rahman and Prime Minister Sheikh Hasina, in separate messages, paid deep condolences at the death of the veteran Indian communist leader as well.
Basu was a young barrister in England, when he embraced communism. A relentless crusader against communalism and a fervent advocate of secular politics, Basu was instrumental in prodding his party CPI (M) into supporting a Congress Party-led government in 2004 after parliamentary elections did not give Congress majority with a view to keeping BJP at bay. A political legend, Basu was the longest serving chief minister of West Bengal for 23 years from 1977.
Born was on July 8, 1914 as Jyotirindra Basu to an upper middle-class family in Kolkata. His father Nishikanta Basu, a doctor, hailed from the village of Barodi at Narayanganj in Bangladesh. Basu had wanted to visit his ancestral home in Narayanganj for one last time before his death.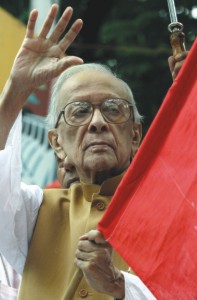 According to a Daily Star report, Rashed Khan Menon, President of the Workers' party said that Basu had played a very significant role in organising the freedom fighters in West Bengal during the Liberation War. Jyoti Basu had also helped Bangladesh obtain its rightful share of water from the Ganges in 1996. He was the first high-profile Indian leader to raise the issue and spoke on the radio to convince the people of India. Known for his modesty and humble nature, Jyoti Basu would get very emotional if any issue relating to Bangladesh came up for discussion. Menon further related that during the tenure of the BNP-led government, when India had stopped exporting rice to Bangladesh, on the request of a top BNP leader, Menon spoke to Basu. He requested the veteran leader to ask the Indian government to lift the restriction on account of the sufferings of the Bangladeshi people. Within a day, the Indian government took initiatives to send rice to Bangladesh, says Menon.
"Jyoti Basu's contributions to the people of this country will always be remembered," says Mujahidul Islam selim, general secretary of the Communist Party of Bangladesh (CPB). As soon as the news of Basu's death was known, Prime Minister Sheikh Hasina flew to Kolkata to pay her last respects. The president of the CPB Monzurul Ahsan Khan also flew to Kolkata, with other leaders of organisations and political groups. Khan says that Basu will always be remembered for his relentless struggle for the welfare of the oppressed people.
Compiled from the Internet.
Copyright (R) thedailystar.net 2010