Travel

Travelling along the Coast-2
By the river 'Net-Mrai'
Audity Falguni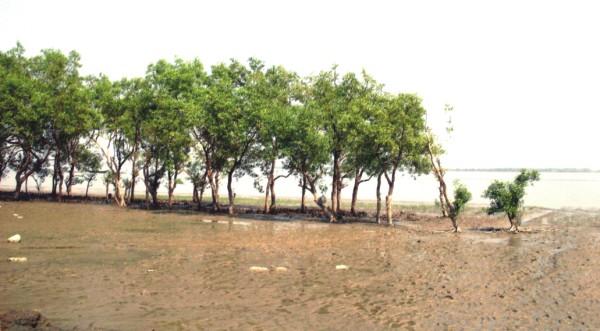 It is known that steamers used to ply from Akiab of Myanmer to Teknaf, Cox's Bazar and Chittagong regions through the river 'Naaf' during the British regime. In the Rakhine language, the river 'Naaf' is called `Net-Mrai.' `Net' refers to God and 'Mrai' means river. Thus, the word 'Net-Mrai' means 'River of the God.' The Rakhine call Teknaf 'Kawau Sang.' Once upon a time, the entire Teknaf area was mostly inhabited by the Rakhine. Legend has it that Aan Than Di, father of the great Rakhine rebel leader Chin Pean (who joined Captain Cox in the Burma-British war) purchased a huge amount of landed property in the Teknaf area after he fled from Myanmar. (Maung Ba Aung, Bangladesh e Rakhine Samproday: Itihas, Oitijhjho o Jibondhara).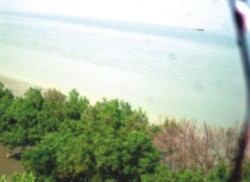 A view of the Naaf.
But let us move from the pages of history books again to the present time. Last November, I made my journey to Teknaf from Cox's Bazar along with a young Rakhine woman Mey Mey Shen. She works as a computer composer in a local daily newspaper of Cox's Bazar. We boarded the bus to Teknaf at 8:00 a.m. and it took us just three and half hours to reach the Teknaf bus station. We went by remote areas of broader Cox's Bazar - Ukhia, Kutu Palang or Nayapara -- places we read about in newspapers and wonder over our coffee thinking how distant and marvelous they must be! No sooner had the bus had passed Ukhia, a number of BDR men boarded our bus and I came to know they were going to Teknaf for routine patrols against smuggling at the Bangladesh-Myanmar frontier. Soon the river Naaf appeared before us. It was a heavenly sight from the windows of our bus. The river looked so long, wide, calm and azure! As if the whole sky had bent down upon her waves and time had stopped for eternity. We also noticed the jetty ghat to St. Martin Island, the lone coral island of our country, at one corner of the Naff river. Unfortunately we could not get down immediately to take some photographs besides the `Naaf' river as the bus was going to Teknaf town at first so we could visit the legendary Ma Thin's Well (Ma Thin er Kup) and interview some Rakhine families in the Choudhuri Para Rakhine locality.
At the Teknaf bus stand, two reporters of the Cox's Bazar based daily where Mey Mey Shen works, received us. The Teknaf municipality seemed even worse than the Cox's Bazar municipality corporation in maintaining the minimum cleanliness of the township. Why is it that our authorities are so callous about our most precious tourist spots? We hired a CNG to visit the Teknaf thana (police station) campus where the legendary Ma Thin's well is located and then to take us besides the river Naaf and the Choudhuripara Rakhine locality.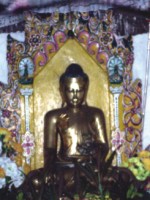 A statue of Buddha in Ashoka Vihara, Tekhnaf.
The Teknaf thana authority seemed to have been extremely cautious and sincere in maintaining and renovating the historical Ma Thin's Well. The entire well has been cast in ceramics with beautiful decoration and the total history of the spot has been inscribed on a ceramic wall. The tale of Ma Thin's well goes like this: Dhiraj Bhattacharya was a famous cine actor of Kolkata, the then undivided Bengal of the'40s. But before joining the entertainment industry, he started his career as a police officer. His first appointment was in Teknaf and Dhiraj came here from Kolkata to start his career. He used to live in the Thana campus. One fine morning, Dhiraj rose from his sleep a bit earlier in the morning and he heard laughter of female voices. He noticed a number of young Rakhine women with pitchers on their waists gossiping, laughing and taking water from the well of the thana campus. Among the crowd, a particularly beautiful but coy woman attracted his notice. Soon the young bachelor and the pretty maiden fell in love and decided to get married. But Dhiraj came from a conservative Bengali Brahmin family who do not allow marriage outside their caste. Some of Dhiraj's Bengali Hindu colleagues in Teknaf thana reported this 'affair' to his parents in Kolkata by mail. Dhiraj's father wrote back asking him to return to Kolkata saying he was seriously ill and that Dhiraj must come even at price of the job, if he cannot get leave. Dhiraj left Teknaf after he promised Ma Thin to come back and marry her. Unfortunately enough, Dhiraj's father did not permit him to come back and Dhiraj had to leave his police career and he joined the cine industry. On the first day of shooting of Dhiraj's debut film, a letter from Teknaf reached him reporting the death of Ma Thin. One of Dhiraj's fellow-community colleague cum friend wrote this letter who was sympathetic to their love affair. He wrote that Ma Thin had not touched a drop of water in the last one or two weeks in her longing for her beloved and ultimately embraced death. A repentant Dhiraj later wrote his biography in two parts styled 'Jokhon Police Chilam (When I was a Police Officer)' describing his affair with Ma Thin and 'Jokhon Nayak Chilam (When I was a Movie Hero)' narrating his other involvements with cine heroines.
Soon after we took some photographs of Ma Thin's Well, we went besides the bank of Naaf river. Myanmar is just at the opposite bank and I cursed myself for forgetting to bring my passport. Otherwise, I could have visited the Myanmar-Bangladesh frontier town 'Mong Doo' and stayed there for one or two hours. We photographed the azure Naaf river and the greenery of the mangrove forests at its bank.
The legendary well of Ma Thin.
In the Chowdhury Para Rakhine village of Hli-la Union, Teknaf around 70 Rakhine families have their abode. We found two Buddhist pagodas here. One had signboards in three languages namely the Rakhine, Bengali and English and it was named 'Ashoka Vihara.' The other pagoda had a mere signboard in Rakhine or Burmese alphabets which I could not read and even Mey Mey Shen could not decipher the letters for she had studied all through in Bengali and English. This pagoda had even more intricate wall decorations and designs.
"Prior to the Second World War, there were around 33 Rakhine villages in the entire Teknaf. But, now only two Rakhine localities are there in the area," said an old Rakhine man preferring anonymity.
As the dusk had set in, Mey Mey Shen and I boarded the bus back to Cox's Bazar.
Copyright (R) thedailystar.net 2010