Art - Hopes and Hallucinations of the Common Man
Hopes and Hallucinations of the Common Man
Fayza Haq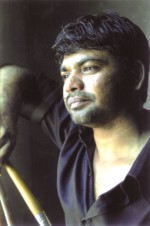 Monirul Alam
Monirul Alam, whose exhibition of semi-abstract paintings is being held at Drik, has the common man's suffering as his theme." Yes, there are beautiful things like the moon and the stars around me, but it is simple, suffering man, who ekes out a living by the sweat of his brow, who inspires me to paint. In my childhood, in the countryside, I've seen the farmers and fishermen working endlessly, and these are the characters who are my heroes today," says Monirul.
The jobless and the daily workers, at the mercy of the affluent in the city are also his concern. Masses of burnt- sienna, amber and yellow ochre go a long way, along with dabs of black, to portray these helpless characters, with no certainty of tomorrow. "In Rajshahi I've grown up with the common man and it is their life I know best. Here in Dhaka, my heart cries out for the pavement dwellers, with no surety of food or shelter. I feel that they deserve more," says Monirul.
Monirul des not want to go in for realism, for that may not be interesting enough in the context of the 21st century. Again, abstraction alone, by a new painter, may not catch the imagination or interest of the viewer. He uses acrylic as he feels that it is easy to handle and preserve in our climate. " My teachers like Shahid Kabir have advised me to go in for acrylic and so I use this medium. Other major Bangladeshi artists that I try to follow are those like Rafiqun Nabi.
"Rhythm of life " brings in the homeless and hopeless men in the city, who have nowhere to go but the city pavements of Dhaka. Some are reclining, while others stand and stare with despair. They are presented as rectangular shapes, done in brown and black touched with flecks of brighter hues. The dark, dismal colours portray the pathos of the situation.
"Morning glory" brings in a cockerel, that cries out at dawn, and a "tokai," with his ragbag full of paper and plastic leftover litter from the streets. The name stands for a symbol in the lives of the forgotten and downtrodden. The red stands for sunrise and blue is there to usher in tenderness.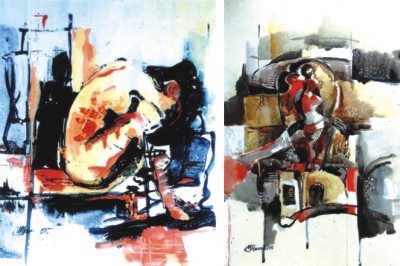 Monirul experiments with texture in the portrait of his inner self. Here he depicts an image within an image and aims to depict the inner feelings and hopes. Bluish ash is mixed with brighter lines, splashes and sketches.
He tries his hand at watercolour too where he brings in semi-nude female figures with long, cascading hair. The women face away from each other, but appear to have a sense of strong camaraderie. This is impressionistic and more optimistic than many of Monirul's other works.
"Ek bikeley" has numerous figures draped around the woven top of a boat. This is a nostalgic recollection of happy days in his youth, where he and his friends sailed off for good times together on the river.
Monirul, who has been making a living with dress designing with fabrics , hopes to complete his masters in Fine Arts shortly.
Copyright (R) thedailystar.net 2009