Sci-tech
Seiko Spectrum Bracelet Watch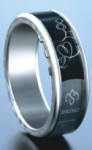 Check out this Seiko Spectrum bracelet watch, which uses flexible E-Ink display technology that wraps all the way around its circumference. It displays a time in two modes, and pictured above is its "mystery mode," making you guess what time it is, but looking pretty cool nonetheless. The other mode on this high-contrast display is presumably more straightforward. The watch is just 6.9mm thick, and it weighs just shy of 3 ounces. Not exactly light, but what do you expect when there's a solid sapphire crystal going all the way around to protect its gorgeous innards? Seiko has been dabbling in the E-Ink watch concept for a while now, showing us a prototype called Spectrum in late 2005. But now this one's for real, shipping later this year for $2000. Isn't this E-Ink tech cool? Now they just need to make a less frilly-looking watch for us guys.


BlackBerry 8800 Now Available on T-Mobile
It's about time the BlackBerry 8800 made its way to T-Mobile. Until today only available on Cingular, T-Mobile will hook you up for $249.99 if you buy a service plan. We've been using this phone for about a month, and can vouch for its sweetness. Heck, about the only thing it doesn't have as a camera, and who wants one of those crappy shooters that you'll never use anyway? Some corporate types can't even bring a camera phone into the workplace, so the lack of a camera is just as well for some. Hey, carry a point-and-shoot if you want to take decent pictures. Our favourite feature is its pearl-like mini trackball, that feels like it's slightly vibrating or even humming when you manipulate it. It's unlike any control device we've ever encountered. We also dig its built-in GPS. This phone sounds good, too, its keyboard is nicely backlit, and its overall user experience gets a big thumbs-up.
Digital Locket Stores and Takes Your Pictures

It may look like a piece of jewellery your grandmother would wear, but this high-tech locket is anything but outdated. Designed by Lindsey Picket, the 1881 features a built-in camera lens that sits on the exterior of the locket. Open the locket up and the twin LCDs will display your favorite snapshots (that are stored on the locket's built-in memory). It's a nice way of giving an old-fashioned gadget a digital twist.

The Magic Backup Video Camera

Now here's a great idea: a rear-view mirror with a video display that automatically appears when you shift the car into reverse. Working just like those displays hiding behind bathroom mirrors, this one shows you a real-time panoramic view right when you need it. Then, when you're moving forward, it disappears. It's made by Ford Motor Company, and it should appear in Mazda SUVs this summer for $665. I just hope the price comes down soon and the idea spreads to all other vehicles. But why not just have a full-width wide-screen LCD that's always on, and eliminate the rear-view mirror altogether?

Gateway's Tablet Notebook

Here's Gateway's E155C, called a thin and light convertible. Thin? Yeah, it's 1.17 inches thick. Light? Well, 4.5 pounds is not something you'd be comfortable dropping on your foot, but it's a lot lighter than this anvil we've been carrying around the past few days. Convertible? You can use its 12.1-inch 1280x800 widescreen as a touch screen tablet, using a digital pen/eraser or finger on the screen that twists around so that it lies flat against the keyboard. Or, it also functions as a normal notebook screen, and that 12.1-inch size is perfect for cramped airplane seats.
Transformer Chairs

These Obelisk Chairs, made of woven polyethylene with a powder-coated aluminum frame, fit together into such a perfect phallic-shaped bulbous rocket ship thing that your neighbours will wonder what it is. Designed by Janus et Cie, with their white cushions they look like they could actually be comfortable either inside or out. Too bad you'll have to shell out $8,922 to find out. Maybe those wicked designers at Target will rip off this design, in the process moving that price number a couple of decimal points to the left.


Compiled by IMRAN H. KHAN
Source: Wired and Gizmodo Online
Copyright (R) thedailystar.net 2007