Endeavour
The Celebrity Memorabilia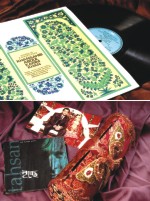 Cherished memorabilia from the stars.
Elita Karim
Memory, as Oscar Wilde had written in his famous play, The Importance of Being Earnest, is the diary that we all carry about with us. The recollections of our first bicycle ride, first day at school, very first love letter or the first ever award won, are cherished by each and every one of us. These memories can never be forgotten, rather shared with others.
That is exactly what Maliha Malek Quadir and her team at bracNet had in mind when they were looking for ways to connect people and at the same time lend a helping hand to the not so lucky ones in society. "It was actually Sumala Chowdhury, the assistant manager of Sales and Marketing, who came up with this concept," says Maliha, Director of portal and mobile services of bracNet, an online portal in Bangladesh. Celebrities and famous names from the various fields in the country were asked to donate personal belongings, which would be sold on an online auction. The money from the sale would then be contributed to the Liberation War Museum, CRP and The Acid Victim's Foundation. "The concept of the Celebrity Memorabilia sale," says Maliha, "is quite popular in other countries. I figured if it would work in India and other places, it would surely work here. This kind of an initiative has been taken for the very first time in Bangladesh."
According to Maliha, people have been very helpful and the response from the celebrities has been marvellous. Interestingly enough, several famous names in the country donated their belongings to raise the fund for the charities. Besides clothing, CDs, props from plays, jewellery and other items, many actually parted with special bits and pieces of themselves. For instance, well known singer Fahmida Nabi, donated her first harmonium, which was given to her by her father Mahmudun Nabi. "She had this ever since she was a child," says Maliha. Actress-turned director Afsana Mimi, donated several silver jewellery sets. The famous magician, Jewel Aich gave away one of his magician's costume along with some of his props, like the famous playing cards that he used years ago during his shows on stage. Actress Bipasha Hayat donated one of her paintings. "Bipasha is a wonderful artist and it's very difficult to get any of her paintings," says a beaming Maliha. Eishita, the actress/dancer, parted with a pencil case that she used as a child at school and a gold pendant, among other items. The famous writer and professor Zafar Iqbal donated several of his books, while the popular band Artcell gave an autographed guitar. Some of the most precious items in the memorabilia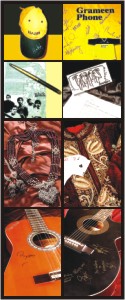 are probably an award won by the young actress and model Tisha, the first Notun Kuri crest to her name and a rare record of the legendary musician Abdul Karim, given by actress and TV personality Shampa Reza.
The online auction is supposed to be launched officially on February 27 and to go on till March 30, 2007. "We will have a major event, where the cheques will be handed over to the charities," says Maliha. Sponsored by Djuice and Hotel Radisson, the gala event scheduled to take place at Hotel Radisson on March 31, 2007, and attended by all the celebrities who had donated items to the auction. Akku Chowdhury from Transcom Food Ltd. (Pizza Hut and KFC) is supposed to hand over a matching fund to bracNet at the end of the auction.
"Our work revolves around connecting people," says Maliha. "Here we are not only connecting people to their favourite celebrities but also bringing everyone together for a noble cause."
Further information about the prices and other details regarding the auction can be found on www.bracnet.net.
Copyright (R) thedailystar.net 2007