Cover Story
Continued from Page 1
Achievers of 2004
Abdullah Abu Sayeed
An Enlightened Man Recognised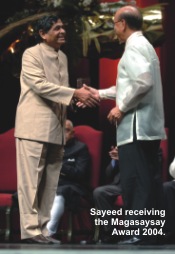 Litterateur cum teacher cum television presenter Abdullah Abu Sayeed hardly needs an introduction. While he has a strong claim of eminence in all of these fields, his most enduring creation is the Biswa Shahitya Kendra (The Centre of World Literature). Since the early seventies, Sayeed has led nothing less than a revolution with Alokito Manush Chai (Creating Enlightened Individuals), a mission he has been pursuing for the last three decades.
Professor Sayeed's remarkable work has won him many accolades besides his disciples' respect, but this year he brought both for himself and Bangladesh a unique honour when he won the prestigious Ramon Magasaysay Award 2004, also dubbed as the Nobel in Asia. In its citation the Ramon Magasaysay Foundation emphasised Sayeed's "contributions to his cultivating in the youth of Bangladesh a love for literature and its humanising values through exposure to great books of Bangladesh and the world". Besides, his contributions to journalism, literature and creative communication arts were also mentioned in the citation when Prof Sayeed accepted the award in an elaborate ceremony in Manila, the capital of the Philippines.
Professor Sayeed believes that a good book contains thoughts, dreams, visions, beauties and all the precious things mankind has created both in the past and the present, so by exposing young people to the greatest books of the world he wanted to create "The Enlightened Individual" for which he has devoted all his energies. The Biswa Sahitya Kendra with its amazing collection of books both Bangla and Bangla translation of many world masterpieces have contributed to the intellectual upbringing of an entire generation of youth, but, more importantly, he has succeeded in reviving the almost dying culture of reading among young people. BSK is not just a library where one goes to read books, it has also developed a network among many of the schools across the country so that students of those particular schools have access to the BSK collections. The centre has also initiated mobile libraries, the first of its kind in the country, which go to different specified places in the city following a particular schedule, thus allowing interested readers, who cannot make it to the library, to borrow books virtually from their doorsteps. Though BSK's principal focus is on reading books it also arranges workshops on filmmaking, photography, creative writing etc and organises film shows and a variety of cultural shows for of the intellectual development of the youths.
Youthful even at 60 plus, Sayeed's energy is still in great supply. He can often be spotted in the front line of a small procession holding banners that read "Save the Buriganga" or "Want Safe streets" or "Beware of the Deadly Dengue". In spite of his stringent daily routine he has time to take the streets for a good cause or utilise his celebrity status to create mass awareness about anything that will benefit people.
-Shamim Ahsan
---
Mohammad Ashraful
The Cricketing Sensation
Cricket is a game that requires a touch of skill, a dash of talent, a fistful of determination and a bucket of hard work. These are the essential ingredients of being an international star in the realm of cricket and Mohammad Ashraful is an upcoming talent who has all this and more. Ashraful was born on 9th September, 1984 in Dhaka. Making a name in the cricketing arena, he made history by becoming the youngest man, or boy, ever to score a century in Test Cricket at the tender age of sixteen. This was the fastest hundred for any Bangladeshi and more so, it was his debut against match against Sri Lanka. He shared the Man-of-the-Match award with Sri Lanka's Muttiah Muralitharan that day. But life was not always so. He started his career at a very young stage, a leg spinner who was also good at batting. He soon joined the under 19 team and from there, quickly shot up to the Bangladesh national team. Since then, every minute has been a sensational adventure. Ashraful is an aggressive middle order batsman and is one of the shining stars of Bangladesh cricket. After Bangladesh's tour of Sri Lanka in 2002 Ashraful was benched for quite sometime. However, after his undisputed contribution of 108 in the Patron's Trophy for Bangladesh "A", Ashraful was back into the national team. In his comeback match he scored a remarkable 98, only to be undone by the magical bowling of Heath Streak.
Ashraful, still in his learning stage, is now a talented batsman. He has made a reputation of playing all kinds of shots in the book but has a knack of throwing away his wickets at odd times. The only thing to account for this is his youthful impulsiveness. He showed what he was made of this December 2004, when he scored his second century - a colossal 158 not out - against the Indian cricket team during their tour of Bangladesh. Ashraful now holds the record for the highest individual test score by any Bangladeshi. It was an inning of rare brilliance for Ashraful, a milestone in his career. He had won the battle but the war was lost, as Bangladesh lost to India that day.
Sunday night on December 26 was a night to rejoice as the Bangladesh side wrote a new chapter in their history. They took on the visiting Indian team in the second ODI and won. Mohammad Ashraful gave a stunning performance whacking two sixes and one four in a fine 28 runs off 48 balls. This was their first victory on home turf and it came on their 100th ODI. The whole stadium exploded with not just the audience there, but also the millions on television all over the country, backing their team as they inched their way to victory.
Ashraful is the 'new kid on the block' and he is here to shake things up.
-Imran H. Khan
---
Momtaz
The Music Queen
Hers is not the typical Bangali woman's soft, mellow voice, it's rather slightly on the rough, husky side. The lyrics of her songs are not exactly refined, but often colloquial, sometimes even rustic. But it is with that unconventional combination that she achieves a distinct quality that the audience finds irresistible. Her strength doesn't lie in the soothing effect on the ear, rather she kind of stirs up the audience's heart and demands their response. Thus when she comes on stage the audience goes into a frenzy and when she sings out the audience invariably joins in chorus. Her infectious charm and undeniable talent has made her one of the most popular entertainers of the country. With an unbelievable 600 audio albums to her credit she is unarguably the most adored singer of the country. At a time when band musicians are the craze in live concert shows she is indeed the biggest crowd puller.
Mumtaz Begum's initiation into music occurred early. She was a mere child when she accompanied her singer father Modhu Boyati at first as an audience but very soon as a co-performer. Her father aside Matal Razzaque Dewan was another of her guru who she considers her mentor. She took to music almost unknowingly, but then she must have dipped deep into the sea of music and come out intoxicated, for ever. She never looked back again and never even distantly thought of doing something different. The kind of music she used to perform like Marfati, Boithoki, Murshidi can roughly fall under the genre of mystic songs.
It was not always rosy though. There were also occasions when she did albums entirely free of cost and when those albums became popular the producer offered her Tk 2,000, not for the ones she had already done, but for the one she would do next. That too on the condition that if it didn't sell well she would be bound to pay the honorarium back. Mumtaz didn't have to pay back-- the album sold out instantly and suddenly Mumtaz became extremely busy. At times she was recording two albums a day. "I used to be handed down the lyrics and the music tracks minutes ago and there used to be hardly any time for rehearsal and I had to record it at one go," she reveals in an interview with the Daily Star last May. Some of her most famous music albums include Return Ticket, Ashol Boithoki, Murshider Talim, Ronger Bazar etc.
Though Mumtaz sings other varieties than those of mystic songs her concentration remains there. One of Mumtaz's great achievements has been to broaden the audience base of mystic songs which has been largely confined to rural areas and rural people. And most surprisingly today's middle class urbanite youths also make a part of her fans.
As a person Mumtaz is a woman of great kindness who is ever ready to extend a helping hand to people who come to her. She was an active supporter in the establishment of an eye hospital in her native Shingair village.
- Shamim Ahsan
---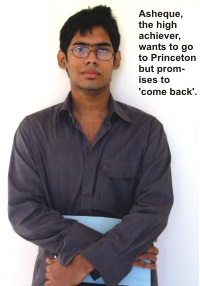 Asheque Elahi Shams
Acting the O's
"Getting an 'A' in Bangla was a big shock for me!" exclaims Asheque. The tall and slim youngster with black rimmed glasses seemed very indifferent to the fact that he actually got a total of 11 'A's in his O level examinations held in the year 2004, the highest this year and the second highest so far, after Rezwan Haque, who got a total of 12 'A's in 2003, the highest in the world. A student of South Breeze School, Dhaka, Asheque Elahi Shams made his family, friends and school proud with his outstanding results, and clinched the Daily Star Award as well.
Asheque had taken on a total of 11 subjects in two sittings, comprising of Bangla, English, Economics, Accounting, Computing, Commerce, Pure Math, Biology, English, Chemistry and Physics. "I was terrified during my Bangla exam and was really bewildered with the result actually," says Asheque. "I had never really done all that well in my mock exams at school and truly speaking, never had much hope in Bangla, especially grammar. I had registered for some of the subjects just a month or so before the exam," he goes on. "I had major problems with my project in Computing and never realised that I would get an 'A' in it."
Asheque claims to be an average student, just like any other from his class. "I am actually very lazy and simply cannot think of studying for hours at a stretch," says Asheque, revealing his study secrets. "I did everything at the very last moment and never really went to all the trouble of studying beforehand. I did take extra help and would go for tuition for certain subjects. However, I also watched a lot of TV, watched movies and had fun as well. I think studying right in the end helped me remember everything."
Did he feel absolutely delighted with his results and the fact that he had the highest score this year? "Not really," he replies. "Everyone in my class got all 'A's in the subjects they registered for. In fact, I think this year we had some of the best students in the batch. Though I did feel happy about my grades, since they will help me get into a good college now."
Asheque is now working hard for his A-levels and looks forward to studying in Princeton University. "I do plan to com back to my country after my studies," informs Asheque. "I hope everyone does, for that matter."
- Elita Karim
Copyright (R) thedailystar.net 2004