Books
The Pleasure of Music

Sanyat Sattar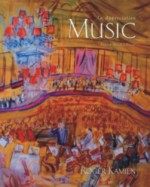 Music: An Appreciation
Roger Kamien
McGraw-Hill Humanities; August 2001
When it comes to writing a text for non-music majors, Kamien knows the score. With the care you would expect from the concert pianist he is, Kamien introduces the musical elements and repertoire thoroughly and clearly, without assumptions of prior knowledge but also without condescension. As a teacher at Queens (NY) College, Kamien developed the concept of the Listening Outline, which he incorporated into the first edition of Music: An Appreciation and which he has refined and enhanced in every subsequent edition. This is a text with which readers of all levels and backgrounds can feel comfortable.

---
The Enjoyment of Music

Joseph Machlis & Kristine Forney
W. W. Norton & Company; January 2003
With nearly three million copies sold over eight editions, The Enjoyment of Music is the best-selling music appreciation text of all time. Spanning the Middle Ages through the 21st century, the text offers a thorough introduction to the elements of music, a broad overview of the history of musical styles, and fascinating cultural contexts and perspectives. The ninth edition of this classic text features a stunning new design, exciting new repertory, and an unmatched ancillary and media package.
---
Understanding Music
Jeremy Yudkin
Prentice Hall; March 2004
This book focuses on music of the Western tradition in a global context -- from the Middle Ages to the present. Historical and cultural background are clearly explained, but the emphasis is on "active listening." A number of completely fresh pieces are integrated among the universally acknowledged masterpieces, and all are presented in fine performances, accompanied by illuminating and accessible "Listening Guides". It explores the activity of concentrated listening and shows that music, like literature and the other arts, can be subjected to intellectual and critical thought and analysis. This volume includes careful consideration of the contributions of women and examines the often-overlooked aspect of patronage and audiences. It features serious analysis of the history of popular music. Indeed for anyone interested in music.
(sanyatsattar@hotmail.com)
Copyright (R) thedailystar.net 2004