Cover Story
Old Books Unlimited
It began immediately after Independence when four young booksellers started selling second-hand books and magazines on the pavement outside the Balaka cinema hall. Within years, that small step became a giant leap forward for the bookworms of the country. With prices of both local and international books spiralling at a geometric progression, Islamia Book Market in Nilkhet provides the readers books and magazines at unbelievably affordable prices. This, along with its close proximity to most of the major educational institutions in the city, have made Nilkhet a lucrative place to run any business. Ownership of shops that were once upon a time sold at Tk 400 now costs a whopping Tk 3 lakh. Nilkhet means books, and of course business too.
AHMEDE HUSSAIN
Nilkhet's Islamia Book Market's history is almost as old as 68-year-old Abdur Rashid Miah's love affair with recycled books. And like Nilkhet, it happened by chance. Rashid used to assist Abbas, a West-Pakistani bookseller, in a bookshop by the Naz cinema hall in Gulistan during the early sixties. In the aftermath to Bangladesh's liberation, Abbas fled to Karachi assigning the bookshop to Rashid. "I was so scared," Rashid says; "I had to take the books away to a safer place because riots broke out; and everybody knew it was a West Pakistani's shop."
On top of it all, Rashid had no idea where to keep them. He later dumped all the 1800 books on the balcony of Balaka cinema hall. After coming back from his village to the newly liberated Dhaka, Rashid was skeptical about getting back the books he left. "So many people have died in the war; and these are only books," Rashid says. But, to his utter surprise, the young bookseller found his books intact. "I cried that day," Rashid says.
Soon he met three other booksellers, Enayet Karim, Abul and Moti Miah, on the pavement in front of New Market. "The place was quite different then," recalls Rashid. "The whole Nilkhet was like a big football maidan; only there were some Biharis…they used to do menial jobs in different offices, some of them even raised cows. Nilkhet was pretty much like a village then," Rashid says.
Things started changing rapidly immediately after independence. Within months, more and more businessmen joined Rashid, Enayet, Abul and Moti on the footpath in selling old books and magazines. Barrister Nurul Islam Talukdar, a lawyer, meanwhile, bought a big piece of land adjacent to the Balaka cinema hall: "Small shops were built with corrugated tin," Rashid says. And as the place was nearer to some of the major educational institutions of the country, the shops primarily focused on selling books. "There were plenty of stolen books around the city at that time," Rashid remembers. "Most of the books we got were looted from different bookshops and libraries across the city," he continues.
But soon Rashid and his fellow booksellers faced a huge problem that threatened to destroy their small success: the diminishing supply of looted books. "We were getting worried," Moti admits. Fortunately, they were soon relieved of their anxiety. Rashid, on behalf of the booksellers, started visiting old-newspaper vendors' places. "Loads of foreigners, who used to stay in Dhanmandi, usually sold their books off to the old- newspaper vendors before leaving the country," he says. Rashid established a good rapport with a storehouse of old-newspapers; and within a few days Nilkhet found a new lifeline, which is still up and running.
But not all books in the Islamia Market come from old newspaper vendors. Golam Sarwar Shopon runs a successful business in Nilkhet, and instead of old newspaper sellers he relies on middlemen for his regular supply of books and magazines.
Shopon, a Master of Arts in Sociology, has a unique story to narrate. "As a student I always came here for reference books. Sometimes I wandered around the place just leafing through books, reading the blurbs or skimming down the contents pages of magazines," says Shopon. And that was all. "I did not really know how these books were coming. Whenever I read an old book I didn't even think once who the book belonged to before me," Shopon continues.
But Shopon's indifference disappeared on a Friday evening of 1991 purely for practical considerations. "At the end of my masters I was getting prepared for the BCS exams," Shopon recalls; "I was living on my own," he continues, "and it became quite difficult for me to meet my everyday expenses."
Shopon toyed with the idea of starting a bookshop of his own for the time being. "We lost five years of our lives in a 'session jam' during Ershad's regime, and I thought what if I just flunked in the BCS," the 38-year-old businessman says.
Actually when Shopon entered the business with an initial capital of Tk 1400, his parents did not mind at all. "They wanted me to concentrate more on the BCS, but my parents were happy that I was earning money so soon after finishing my studies," Shopon says. "I never wanted to take it as a profession," he continues. But Shopon's worst nightmare came true when he failed to pass even the preliminary test of the BCS exams; "I was so depressed. I locked myself up in my village home for three days," recalls Shopon.
Through sheer endurance and unflinching resolve Shopon got over this setback. Now Shopon earns Tk 30,000 every month, and the business, which was started with Tk 16000 borrowed from friends, now has a working capital of Tk 40 lakh.
Islamia Market is a reader's paradise. Everyday hundreds of people walk down the narrow allies of the market, searching for books of their interest. Some of the narrow passages that snake through the 3000sft area of Nilkhet are not clearly visible even in daylight. But this hardly deters readers who flock together irrespective of their age and gender.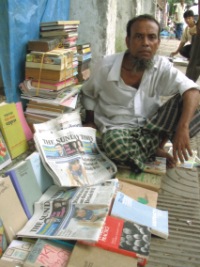 Shahed Noor was only seven when he first went to Nilkhet. "My father is a great fan of Western Classics. We are from the middle income group, and we don't have any other place to buy books than Nilkhet," Shahed says. "Any Louis L'amor classic would cost Tk 300-400 in any bookshops in Gulshan, but in Nilkhet it won't be more than Tk 20 even now," he continues.
Shahed now teaches Mathematics in an English medium school, but he can vividly recall the day he first went to Nilkhet. "Abba took me to the market to buy 'Amaar Boi', you won't be able to fathom how excited I was," Shahed says with a broad smile. Going to Nilkhet to buy books turned into an enduring passion. Shahed's mother did not like the idea of her son reading comic books, as she thought it was a waste of her husband's hard earned money. "Amma even slapped me once when she found an old copy of GQ under my pillow," Shahed smiles. Shahed was in the Tenth grade then.
Shahed's mother put all the hard feelings aside when she found an old copy of Anondolok on the footpath of Islamia Market. "She always loved to watch old Uttam Kumar movies. And as she was crossing the road she found the magazine with a rare photograph of Uttam Kumar on the cover, staring at her," Shahed says. The ban on Nilkhet was soon lifted.
But the comic books that Shahed loved to read are now a rare commodity in Nilkhet. "Old comic books are not coming to the market that much nowadays," says Shopon. "Young people are reading less and watching cartoons on television more," he continues. "The types of books people crave for have been changed with time," Shopon points out, "It has something to do with the change in people's tastes I guess." Daniel Steels, good old Mills and Boons, and western classics are all being sold like hotcakes, he says.
First timers will be surprised to find the hardcover first-edition copy of Philip Roth's Goodbye Columbus or old issues of the Rolling Stones. Shops on the northern corner of the market mostly sell modern classics. But books that have just come out of the market a month or two ago are not difficult to come by either. A copy of Martin Amis's new novel, The Yellow Dog, was on display in a shop last Saturday.
Meanwhile, Nilkhet became a necessity for Shahed when he entered Bangladesh University of Engineering and Technology (BUET). "Most of the books on engineering, and the medical journals the students study in the country are not available in the country," says Shahed. "I couldn't see an original copy of any book I studied in my whole BUET life," he says; "even now teachers usually give the textbooks to photocopy shops in Nilkhet and tell the students to collect the Xeroxed copy of the books from the shops," Shahed continues.
This same old story repeats itself in most of the major institutions of the country. For thousands of English-medium students Nilkhet is the only regular source of reference books and question-papers. Most of them are pirated ones though; and Abdur Rashid, one of the pioneers, think this practice is deplorable and a sheer insult to the writers' hard work. "I know some unscrupulous businessmen who photocopy books only to sell it at a lower price. Some even send people to different libraries to lift books," he says.
Abdur Rashid himself is a victim of such malpractice. During the late eighties he found two copies of Grease's Anatomy Lessons in the old-newspaper vendors at Dhanmandi 27. "I didn't know that these two books were sold by Kadir and Chowdhury, two famous crooks of the city; being an idiot I couldn't even notice the seal of the Asia Foundation on the cover of the book " the sixty-eight-year old bookseller says.
All hell broke loose for Rashid Miah when two Asian Foundation staff members turned up two days later with the police. A warrant was issued against him for stealing two books from the Foundation. Rashid was forced to sell the shop at a meager Tk 300; for the last eight years Rashid has been selling old-books and magazines on the footpath in front of Nazrul's Mazaar. Every story, it seems, does not have a happy ending.
Copyright (R) thedailystar.net 2004