Books on
Ekushey

Sanyat Sattar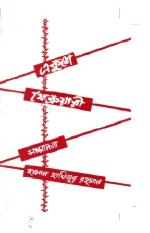 Ekushey February
Hasan Hafizur Rahman (Editor)
Somoy Prokashani; February 2001
Eminent poet Hasan Hafizur Rahman has edited this volume of poems and reflections on Ekushey February. The write-ups contain different aspects of the Language Movement and the aftermath as well.

---
Amar Ekushey

Hayat Mamud
Somoy Prokoshani; February 2001
This is a compilation of poems written by Hayat Mamud. Here each and every poem is somewhat related to the Language Movement. The poems are highly patriotic in tone and lyrical in rhythm. The poems have been written in different time periods of the writer's writing career and have been put together in this volume.

---
Bhasha Andolan: Itihas O Uttar Probhab
Ahmed Rafiq
Somoy Prokasani: February 2001
Writer Ahmed Rafiq writes here about the historical background of the Language Movement. The reflections of the writer are interesting, especially in the very aspect where he shuffles the history and locates its importance in achieving our independence. The text is a rich research work; A must read.