Down from the Silver Screen
Sanyat Sattar
Film stars are adored and admired all over. They are iconized for beauty and glamour. However, Hollywood stars are called as the 'all planet celebrities' for their overwhelming popularity all over the world.
-----------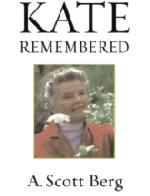 Kate Remembered
A. Scott Berg
Putnam Pub Group; June, 2003
Published a mere 13 days after the death of Katharine Hepburn, Kate Remembered is best appreciated as a valentine of devoted friendship. It's a moving study of mutual trust and admiration between Pulitzer Prize-winning biographer A. Scott Berg and legendary Hollywood icon Hepburn, who'd established an instant rapport in 1983, beginning a 20-year conversation that blossomed into this enchanting "biographical memoir."
As a casual but authoritative survey of Hepburn's career, Berg's book offers little new information to anyone who's read previous Hepburn biographies or Me: Stories of My Life, Hepburn's bestselling 1991 memoir. But the duality of Berg's title reinforces his purpose: "More than my remembrances," writes Berg in his author's note, "this book intends to convey hers." As such, Kate Remembered offers a rare, unvarnished portrait of one of the 20th century's most influential women, achieving a personal intimacy while making the reader feel welcomed in Hepburn's private world of privilege.
---
Sophia Living & Loving: Her Own Story
(Sophia Loren: Tar Apon Kotha)
A. E. Hotchner
Translator: Khairul Alam Sabuj
Somoy Prakashan, Dhaka; February 2003

This is a wonderful volume of the enchanting actress Sophia Loren, who reigned the Hollywood Movie Town more than a decade. Loren's character is reflected on every page, as she narrates her life, starting with her family background all the way to talking about her own children. Loren reflects her with candor that would surely shock a reader, who is used to reading polished and often pretentious autobiographies of Hollywood stars. Loren, the speaker, does not shy away from admitting to being the ugliest girl in town, while growing up; to feeling such human emotions as rage, fear, jealousy, and hate at various stages of her life. Yet, after finishing this book, one will be amazed at the fact that Loren's greatest emotions have invariably been that of a compassionate, forgiving, and loving woman.
The translation done by eminent TV personnel Khairul Alam Sabuj is simply mind blowing and the description equals the simplicity of the English counterpart A. E. Hotchner. The book is a must read.
---
Audrey: A Life in Pictures
Carol Krenz
Metro Books; October 1997
This is an absolutely beautiful collection of photos of the most mesmerizing women ever to grace the silver screen. This book tells the enchanting tale of Audrey Hepburn's wonderful life. From her birth in Belgium to her tragic death, this book tells all about Audrey herself and what was happening through a fantastic collection of pictures. The pictures show her natural grace and elegance that she maintained throughout her life, even in her sixties.
Audrey Hepburn is a true lay of such natural beauty, femininity, and poise and this photo collection really proves that. In this book you get a brief bio complete with some beautiful photographs of the legendary actress. There are photographs of some of her best films "Roman Holiday", "Breakfast at Tiffany's", etc. and intimate portraits with her family. This is a great collector's item that every Audrey Hepburn fan should own.