With their tournament chances hanging by a thread, a match against Afghanistan could be seen as the perfect opportunity to get Bangladesh's run on the home stretch to the World Cup semifinals off to a good start. Man to man, Bangladesh are better. They are also ranked two places above Afghanistan in the ODI team rankings, but a 4-3 head-to-head record suggests that the match-up will not be a simple one for Bangladesh.
For proof of that, Mashrafe Bin Mortaza and Co need look no further than Afghanistan's last match, when they held India, arguably the best batting lineup, to just 224 runs on Saturday and lost the match by just 11 runs.
Still winless in the World Cup and so eliminated from the race Bangladesh is still running, Afghanistan are dangerous, and the conditions in Southampton may favour them today. It is somewhat ironic that, having adapted to the pace they have had to face so far in English conditions, the more familiar spin is now the threat facing Bangladesh. The match will be played on the same wicket that was used during Afghanistan's failed giant-slaying attempt. Both Bangladesh coach Steve Rhodes and Afghanistan skipper Gulbadin Naib thought that the slow wicket was pretty close to subcontinent conditions.
"The wicket was a little bit slower [during Saturday's match] and it turned a little bit," Rhodes said during the pre-match press conference. "We are playing on the same wicket. Secondly, there are some huge boundaries. Six and four-hitting might be less. We certainly have to run hard and earn our singles and twos, and turn them into threes. It may well suit some of our bowlers. I think it is slow and stop-y. There's a little bit of turn. It might suit us. It is not a green, flying wicket, which is a good thing. It might be a small advantage for us."
The problem for Bangladesh is that it would also suit Afghanistan's spinners. Leg-spinner Rashid Khan, off-spinners Mujeeb Ur Rahman and Mohammad Nabi combined to bowl 29 overs and conceded just 97 runs for four wickets against India, arguably the best players of spin in the world. The trio of turners also have good records against Bangladesh.
"I think the word is respect," Rhodes said when asked whether there was a fear of Rashid, who has taken 10 wickets in five games against Bangladesh. "Rashid Khan is a wonderful bowler. I know he went for plenty of runs against England. It was just one of those days for him. Generally he is very, very aggressive and tight at the same time.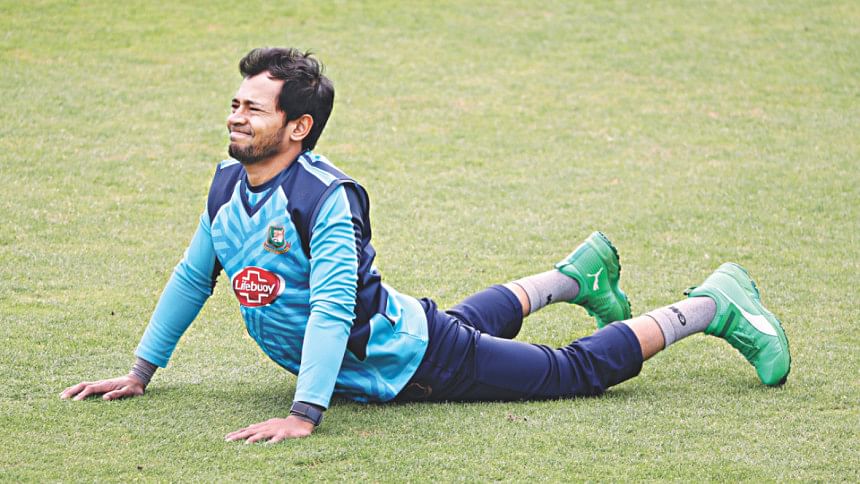 "The other two spinners – Nabi and Mujeeb – are quality too. We respect them, but we don't fear. The lads grew up on spinning wickets but we will respect them because they are top international bowlers."
Gulbadin paid back the respect in kind, but also issued a warning about the conditions helping their spinners in conditions that were closer to home for Asian teams.
"Bangladesh started really well in this tournament, but not only Bangladesh, any team...  yesterday [Saturday] against India, the best side, if the wicket helps our spinners it is difficult for everyone, not just Bangladesh," Naib said in his press conference yesterday. "They are doing really well, especially in batting. They chased 340 [322] against West Indies. Praise goes to them... how Shakib is going for his team, is tremendous," Naib said.
When asked whether Shakib, who has 425 runs from five innings, can be stopped, the Afghan spinner showed the fearless side that has characterised their cricket even during rough times.
"Shakib, no one can say they have been able to stop him, but tomorrow is a new day.  Shakib is one of their best players. It depends on the day, if tomorrow [Monday] is his day he will play good cricket, but if it's for our side it will be very difficult for everyone, not only Shakib."