Deafening boos rang out when Steve Smith went out to bat, when he reached a fighting 50 and when he was finally run out through a brilliant direct hit from wicketkeeper Jos Buttler. The crowd reaction in Edgbaston felt cruel and unappreciative towards a great batsman playing the lone hand for his side in the pressure-cooker atmosphere. For a foreigner to English grounds, however, it was a window into the country's cricket-watching culture and more relevantly, the gladiatorial atmosphere that grips a ground when England square off against Australia.
For those who followed Bangladesh through the World Cup, the crowds were mostly of the subcontinental variety -- loud and joyfully chaotic. Back home, Mirpur has proven time and again the kind of factor the crowd can be in providing the Tigers a vocal home advantage. That was the norm over the World Cup during Bangladesh's matches -- they took a small slice of Mirpur with them throughout the tournament and they were cheered with gusto. England's home support -- especially in Edgbaston -- is of a different sort. It is almost as if the thousands in attendance had a meeting before coming to the ground and determined how to break the Aussie resolve. While you can tell, based on the amount of noise emanating from the Sher-e-Bangla National Stadium in Mirpur, whether Bangladesh are having a good day or not, there was relative quiet between events yesterday even when Australia were on the ropes after losing three wickets inside the first seven overs. But when Alex Carey, having put on 103 runs with Smith for the fourth wicket, hit Adil Rashid towards deep midwicket, at first a murmur went up and then, when substitute fielder James Vince pouched the catch, a chorus of 'Yeah!!' as if uttered by a single, multi-voiced organism went up. The same happened when Buttler's throw found a way through a tangle of fielders and scampering batsmen and found the non-strikers' stumps.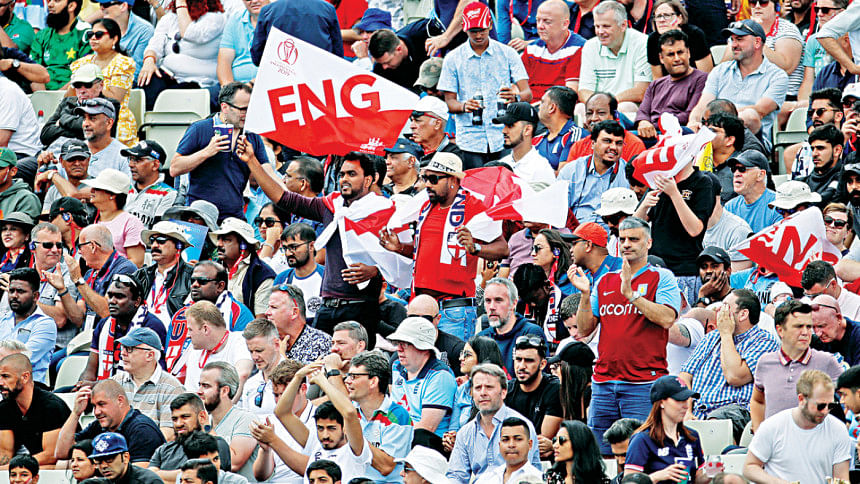 At the centre of this formidable cauldron was Smith, who along with David Warner has been the target of sustained crowd abuse for their role in the ball-tampering scandal in March 2018. That is an old habit of English and Australian crowds when they face the 'old enemy'; Stuart Broad was hounded all over Australia in the 2013-14 Ashes because he refused to walk after edging the ball during the 2013 Ashes in England. It would of course be lost on the crowds that former England captain Michael Atherton was caught ball-tampering in the 1990s or that Australian batsmen have elevated not walking to an art form, because what matters most is laying hands on anything with which to wallop the enemy. 
That, however, also meant that Smith knew how to deal with it. And, after going out to bat in the second over and then watching his side cut down to 14 for three in the seventh over with fellow villain Warner also back in the hut, Smith produced a masterclass in soaking up pressure from the excellent England seamers and the baying Edgbaston masses.
As the seamers -- Joffra Archer, Chris Woakes, Mark Wood and Liam Plunkett -- kept changing their pace to keep the Australians guessing, Smith kept walking towards the off stump and nurdling singles in his inimitable, unorthodox fashion. At stake was Australia's all-win record in World Cup semifinals and of course, a valuable mental advantage handed over to England before the Ashes later this summer. It will perhaps never be known whether focused attack from nearly 25,000 English fans spurred him on, but it could not have hurt in steeling the resolve that is a staple of Australian cricketers.
But soon, when England began their chase of 224, the crowd did a full-throated rendition of the patriotic song Jerusalem to ensure that their participation in the match kept going beyond the fence and lifted their team.