There was bound to be a time when expectations would meet reality, and for Bangladesh that time was yesterday at the Cardiff Wales Stadium, specifically while England ran up a monstrous 386 for six in their World Cup game. Bangladesh had been riding high, coming into the World Cup on the back of a maiden ODI multi-team trophy win in Ireland last month and expectations were further raised in their opening win over South Africa, and hardly dampened in a two-wicket loss to New Zealand that was seen as an example of the team fighting till the end.
Against England, however, the gulf in ability and skill -- and perhaps a little unexpectedly, mental strength -- became apparent in the Tigers' bowling and fielding display.
Bangladesh skipper Mashrafe Bin Mortaza had been trying to tamp down the sky-high expectations of his cricket-crazy countrymen, but it may have been his own expectations that ran into a brick wall yesterday. On the eve of the match, he said that they were aware that England would attack them through the 50 overs and that they would have to be mentally strong when that happened. That attitude was missing as early as the toss, when Mashrafe chose to field first, thus pitting what is perceived to be Bangladesh's weak link, bowling, against England's most feared suit, running the risk of being played out of the game at the halfway stage -- which is what happened.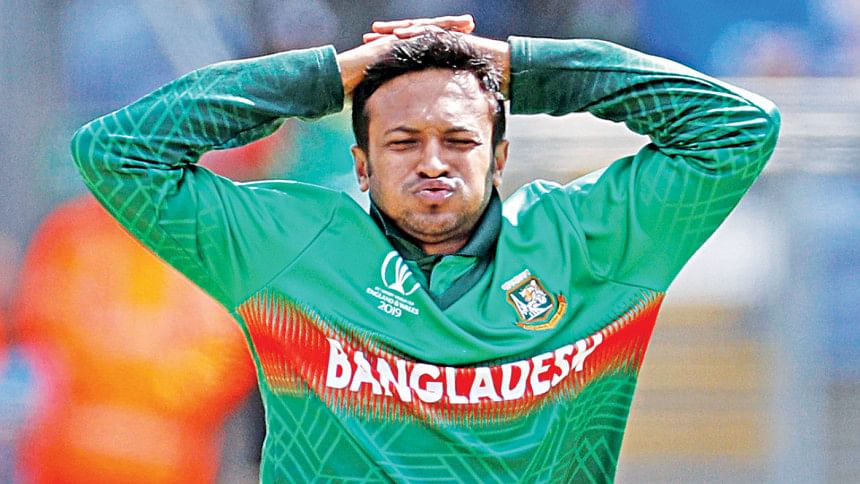 Bangladesh held things together nicely for the first five overs, when left-arm spinner Shakib Al Hasan and Mashrafe gave away just 15 runs, the hosts' second-slowest start in 49 matches at home since the 2015 World Cup. But the moment Mustafizur Rahman at short midwicket failed to even attempt a catch off Jason Roy's bat that was going just wide of him, the wheels started to come off.
England did not need to take risks to go from 15 without loss in five overs to 67 without loss after 10. There was at least one boundary per over for the next seven overs, and two boundaries -- including a six and a four by Roy off Saifuddin in the 12th over -- in four of those. Jason Roy showed as early as the second over, when he straight-drove Mashrafe for four, that bowling full is not the way to go against him, but Mohammad Saifuddin repeatedly erred on the full side against both strong straight drivers, who kept hitting boundaries down the ground along the carpet and over the infield.
Having held a training camp here and played a practice match against India last month -- not to mention winning the 2017 Champions Trophy match against New Zealand -- the Bangladesh fielders were completely at sea on the oblong-shaped ground. England kept picking couples when there should not have been more than a single, and Roy and Jonny Bairstow actually ran four in the ninth over when the latter hit a ball towards the long deep midwicket boundary. As England would prove later, on such a ground square boundary riders have to cut off angles by attacking oncoming balls, most of which were bound to lose speed by the time it neared the ropes. With an Englishman in Steve Rhodes as coach and a fully staffed backroom that includes a fielding coach in Ryan Cook, that -- along with the numerous fumbles from an otherwise competent ground fielding outfit -- was perhaps the most concerning aspect.
England broke the record for most successive 300-plus scores in ODI cricket by crossing the mark in their seventh straight innings yesterday, so it was no surprise that they would dominate with the bat. After Roy hit an outstanding 121-ball 153, the attack predictably continued in the form of a blitzed half-century from Jos Buttler and even number eight Liam Plunkett hit a nine-ball 27 to end things with a flourish.
However, the expectation was that Bangladesh would make it hard for England to execute their game plan, and not make the opposition look better than they actually were. However, from their display on the field yesterday, it was doubtful whether the Tigers had the means and wherewithal to live up to their own expectations.