To say it was the morning after a night of shattered dreams would be too dramatic. After exactly a month of chasing a target that seemed to move farther away with each strained step, Bangladesh's semifinal hopes came to an end in a 28-run defeat to India in their penultimate group-stage match in Birmingham on Tuesday. It was not a match Bangladesh, ranked seventh to India's second, were supposed to win. Shattered dreams it may not have been, but the very fact that there will be a feeling of genuine emptiness in both the team and its legions of followers is perhaps the Tigers' biggest achievement over the past two months.
On a sunny afternoon yesterday, team members boarded the bus from Birmingham towards London, where they will complete their tournament with a match against Pakistan at Lord's on Friday. While disappointed, the players were not downcast. Unlike their runs to the 2015 World Cup quarterfinal or the 2017 Champions Trophy semifinal, this time Bangladesh's race was ran on their own steam and not boosted by a washout or a no-result against Australia. By contrast, their momentum was retarded by a washout against lower-ranked Sri Lanka in Bristol on June 11, which was when the dream started to widen the gap with its chasers. While there will be a bit of regret about Bangladesh not closing out a match against New Zealand on June 5 at The Oval, the Tigers would know that they could with the resources at their disposal.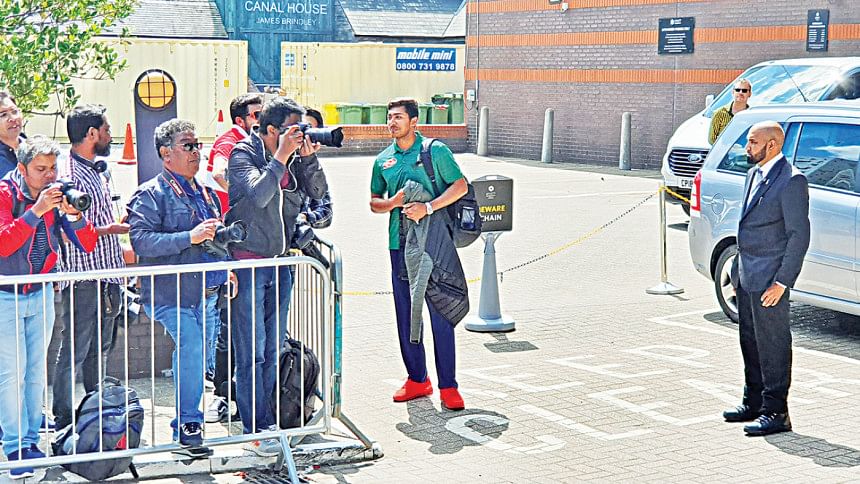 There will be what-ifs: what if they read the wicket better against New Zealand and, instead of looking to put 300 on the board, just aimed at 270? What if the rain stayed away in Bristol? However, it could be said that those results canceled each other out. They have only themselves to blame for sacrificing two points against New Zealand while they were unlucky not to get the extra point by playing a match they would have expected to win.
But the tournament was one of overwhelming positives. Bangladesh reached a new level by making defeats of South Africa and West Indies seem a matter of course. Against West Indies, they chased 321 in 41.3 overs. Shakib Al Hasan has been peerless in this World Cup. Rohit Sharma with his charmed hundreds and Mitchell Starc with a bagful of wickets that may end up north of 30 will probably take home the coveted player-of-the-tournament award, but Shakib's 542 runs and 11 wickets so far -- unmatched numbers by any all-rounder in World Cup history -- makes him the most impactful player in the tournament. 
That Mohammad Saifuddin and Sabbir Rahman dared themselves and supporters to dream during a chase of 314 after Shakib was sixth out with the score on 179 in the 34th over was no small feat and speaks volumes about the team's growing belief.
Therein lies the avenue of work still to be done. The belief was still growing throughout the campaign. It is no coincidence that Bangladesh's worst bowling and fielding performances came against the three teams -- England, Australia and India -- that they knew beforehand would be hard to compete with. A refrain during skipper Mashrafe Bin Mortaza's press conference before the India game was how difficult it would be to beat India. It was similar before England and Australia.
There was progress over the three matches in that department as well. While against England, Bangladesh had basically thought themselves out of the match from the toss when they chose to field, against Australia fielding and bowling errors were offset somewhat by a bright response to a difficult chase. Against India, a poor first hour allowed India a head start, and though Bangladesh started believing as the match wore on, the head-start conceded was too difficult to make up later against a team of India's quality.
The Tigers are still a work in progress and there was steep progress over the last month. However, if they manage to finish the tournament by winning against Pakistan and possibly finishing fifth, a place just outside the semifinals would be a just result for a growing team.