Saiful Alam Nirob could not even appear at the returning officer's office to file his nomination papers fearing police harassment.
A BNP nominee for Dhaka-12, he is currently facing the highest number of cases -- as many as 267 -- filed against anyone from his party.
He is also on top of all the 3,065 aspirants, who submitted nomination papers for the December 30 polls, in terms of number of cases against any hopeful.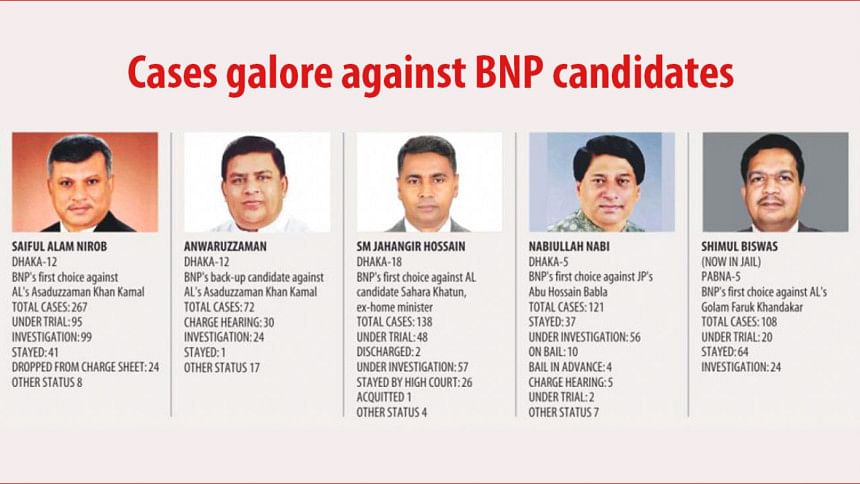 Sent by aides, his nomination papers were accepted by the RO. His main challenger in the polls is Home Minister Asaduzzaman Khan Kamal, the current lawmaker of the constituency from the ruling Awami League.
"When the electioneering will begin, I don't know how I would conduct my campaign because police are raiding my area regularly. Neither me nor my party leaders in my area are staying at home," he told this newspaper.
Nirob, president of Jubo Dal, had got entangled in controversies because of many wrongdoings and unlawful activities when the BNP-led alliance was in power in 2001-06.
Now on bail, he has been facing criminal cases on various charges since 2010. 
Many of those were for carrying out subversive activities, obstructing police from discharging duties, blasting crude bombs, disrupting law and order, according to his affidavit submitted along with his nomination paper.
Ninety-nine out of the 267 cases are under investigation while 95 under trial, shows the affidavit. Most of the cases were filed during BNP's street agitations against the government in 2010-15.
Interestingly, the party did not launch any major street agitation this year but he was made accused in 58 fresh cases.
For the same constituency, the party also fielded a backup candidate, Anwaruzzaman, a former commissioner of Dhaka City Corporation. The number of cases filed against the leader of Dhaka city BNP is 72.
The nature of the cases filed against him is similar to Nirob's.
Of the 72 cases, hearing on charge framing is going on in 30 while 24 are now under trial, according to Anwaruzzaman's affidavit. He is now on bail.
Nirob and Anwaruzzaman are no exception.
Most of the BNP aspirants for the 11th parliamentary election have criminal lawsuits against them with some of them facing over a hundred cases.
For instance, SM Jahangir Hossain, another Dhaka city BNP leader, is accused in 137 cases.
Of those, 48 are under trial and 57 under investigation. Besides, 26 cases were stayed by the High Court and he was acquitted in one, shows his affidavit.
He filed nomination for Dhaka-18, a seat where AL lawmaker and former home minister Sahara Khatun is contesting.
"I have no option but to carry out all electoral activities in secret," Jahangir, who got bail in all the cases, told this newspaper.
Nabiullah Nabi is another BNP leader who is facing over a hundred cases.
The vice president of Dhaka South BNP is contesting for Dhaka-5 and his main contender is sitting AL MP Habibur Rahman Mollah.
Of the 121 cases, 56 are under investigation and 37 are stayed by the HC.
Things are even trickier for Shamsur Rahman Shimul Biswas, personal assistant to BNP Chairperson Khaleda Zia. Now in jail, the BNP aspirant, who filed nomination paper for Pabna-5, is facing 108 cases.
All his cases were filed with different police stations in the capital since 2015, according to his affidavit.
Sixty-four cases were stayed by the HC.
"He [Shimul] is the victim of political harassment. He is mostly accused in false cases. If the party finally chooses him as BNP candidate for this constituency, we will campaign for him," said Abdullah Al Mahamud Mannan, vice president of Pabna district BNP.
His main challenger is AL candidate Golam Faruk Khandakar, incumbent lawmaker of the constituency.
Another BNP nominee Salauddin Ahmed for Dhaka-4 constituency is accused in at least 80 cases. The party fielded Salauddin's son Tanvir Ahmed as a backup candidate. But Tanvir too is accused in 75 criminal lawsuits.
Till November 30 this year, as many as 537 BNP leaders and activists were sued since the election schedule announcement on November 8, shows data of the party's central office.
The BNP also says police filed 4,126 cases against 85,000 party men countrywide between September 1 and October 8. Around three lakh unidentified people were also accused in those cases.
BNP Secretary General Mirza Fakhrul Islam Alamgir is facing 46 cases while standing committee member Mirza Abbas 42.
According to another compilation of data by the party office, as many as 90,000 cases were filed against its 25,70,000 leaders and activists across the country till the first week of this month since 2009.
Of them, a large number of cases were, however, filed between 2012 and 2013 and in January 2014 when the BNP-led alliance took to the street enforcing hartals demanding restoration of the caretaker system scrapped by the government in 2011. The agitations turned violent in many areas.
Again, some cases were filed against BNP men in the first three months of 2015 when the party enforced around a fierce blockade countrywide for three months.
In those cases filed since 2012, many senior and grassroots leaders of BNP were arrested and put behind bars. Many are still in jail while many accused in the cases have gone into hiding.