The election is just three days away and polls campaign ends at 8:00am tomorrow, but election violence and attacks on BNP and Oikyafront candidates are escalating even after military deployment.
In the latest such attack by alleged Awami League men, BNP candidate for Pabna-4 constituency Habibur Rahman Habib was stabbed in Ishwardi of Pabna yesterday.
His wounds were said to be serious, and the BNP leader was flown to Dhaka in a helicopter in the afternoon for treatment.
"He has four stab injuries on his hip and all the wounds are deep. So after primary treatment, he was taken to Dhaka for better treatment," said Abul Kalam Azad, emergency ward record keeper at Pabna Medical College Hospital.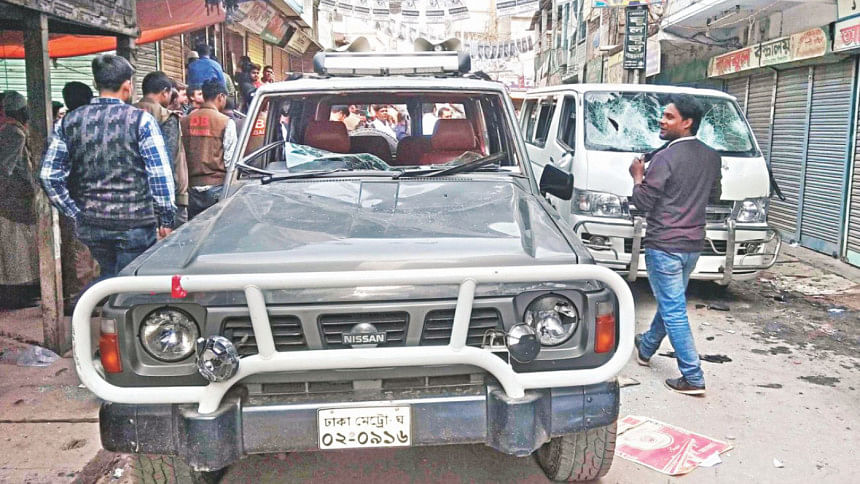 It comes a day after BNP candidate Goyeshwar Chandra Roy and 30 others were injured in an attack by alleged AL men in Dhaka's Keraniganj.
Since election campaign officially began on December 10, at least 53 BNP and Jatiya Oikyafront candidates have now been attacked allegedly by AL men. Two AL aspirants have also come under attack allegedly by their opponents.
The polls violence, which seems to be escalating despite army deployment across the country, left some 1,100 people, mostly BNP men, injured.
Witnesses said some 12-15 men wearing AL badges attacked Habib from behind with knives and machetes soon after he joined a pre-scheduled election rally on Alhaj School premises in Ishawardi around 12:00pm. 
His supporters then shielded him and took him to a nearby house from where he was first taken to the upazila health complex and then to the medical college hospital, before being shifted to Dhaka.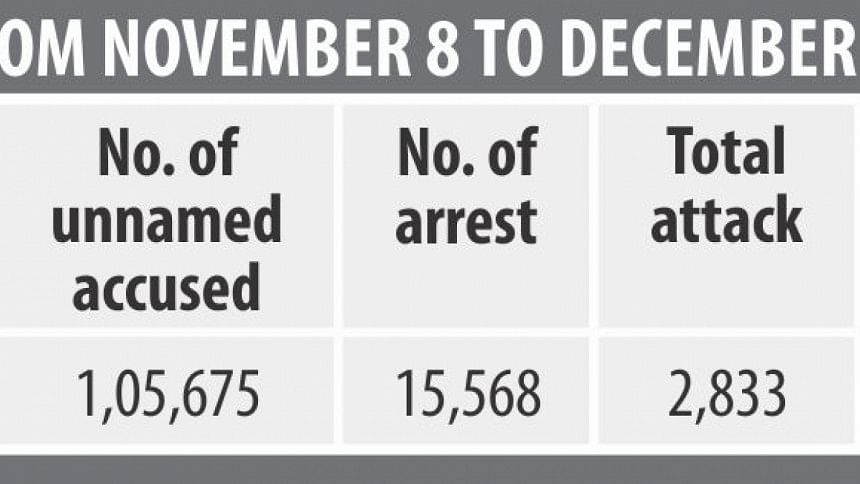 Five of his supporters were also injured in the attack.
Bahauddin Faruki, officer in-charge of Ishwardi Police Station, confirmed the attack and said they detained eight people from the spot over the attack.
He, however, refused to disclose the identity of the detainees, citing ongoing investigation. But law enforcers frequently disclose the names of suspects and even parade them before the media during ongoing investigations.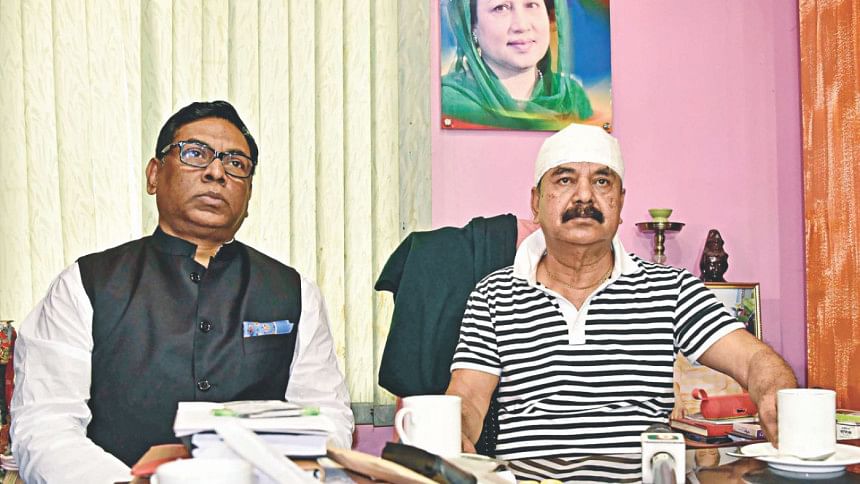 Mokhlesur Rahman Mintu, secretary of Ishwardi upazila AL, denied that AL men were involved in the attack.
But Pabna district BNP Secretary Habibur Rahman Tota blamed the AL for the attack and demanded the arrest of the perpetrators.
Meanwhile in Thakurgaon, BNP Secretary General Mirza Fakhrul Islam Alamgir's wife Rahat Ara Begum alleged that she and her daughter had to postpone the campaign for her husband following threats from a group of Chhatra League and Jubo League men yesterday.
"I, along with my daughter Mirza Safaruh and some supporters, went to Bashirpara for campaigning. But a gang of eight to 10 people carrying sharp weapons intercepted us. They threatened us with attack if we do not leave the place immediately," she told a press conference at her residence following the alleged incident. 
District Jubo League President Abdul Mazid Appel denied any involvement of his men.
Besides, an independent candidate in Faridpur and a Gonotantrik Biplobi Party candidate in Manikganj alleged that ruling party men vandalised their election camps on Tuesday night.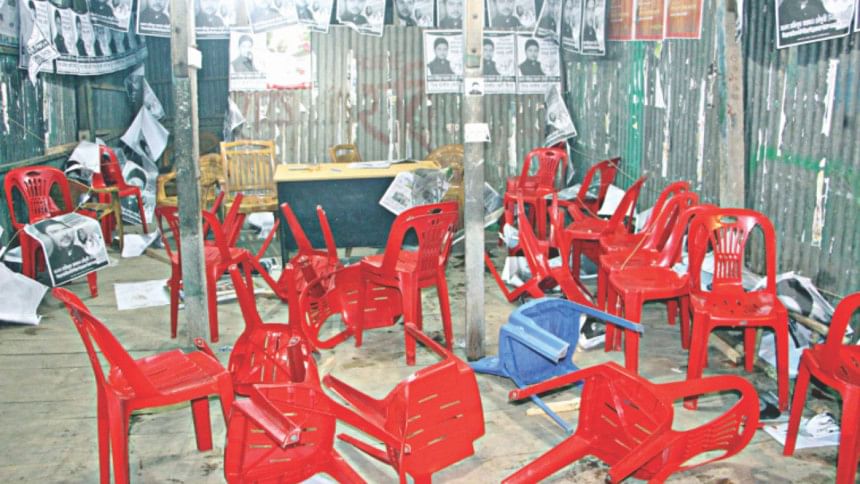 In Tangail, JP candidate for Tangail-5 Shafiullah Al Munir alleged that AL candidate's supporters vandalised two cars carrying his relatives and supporters, leaving five people on the cars injured.
"The Awami League men also beat up my men and snatched Tk 50 lakh from my uncle who was on one of the cars," he told The Daily Star.
"They have been threatening us for the last few days as they are afraid of my increasing popularity," he added. 
Sanwar Hossain, incumbent lawmaker and AL candidate in the constituency, said none of his men was involved in the incident.
"I have heard that local people caught them when they were coming out of a bank with sacks of money," he added.
Rezaul Islam, additional superintendent of police in Tangail, said police detained a man in connection with the attack and the snatched money was recovered.
In Madaripur, at least seven people were injured in a clash between the supporters of AL candidate for Madaripur-2 Shajahan Khan and BNP candidate for the same seat Milton Baidya at Amgram under Rajoir upazila on Tuesday night.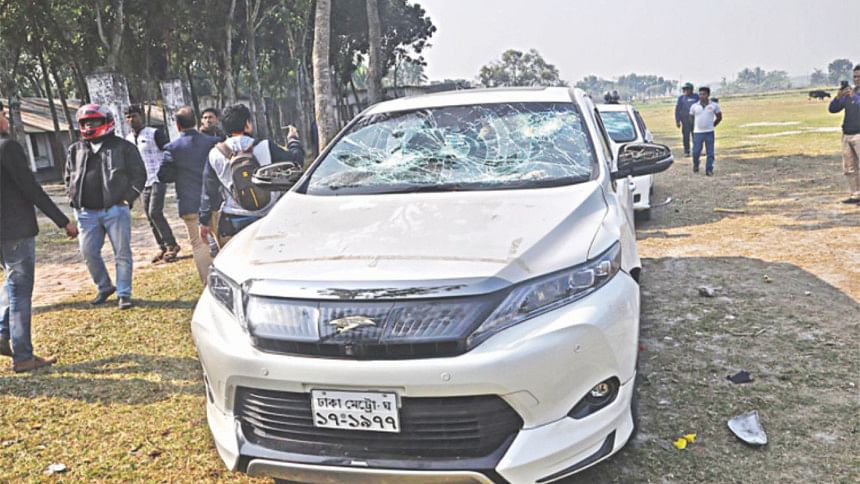 Witnesses said a chase and counter-chase took place between the two groups when a procession of Shajahan Khan's supporters was passing by the residence of Milton around 5:30pm.
Later, AL men organised themselves again and attacked the residence of Milton in the same area around 8:30pm. At least nine people were hurt in the clash, although Milton escaped unhurt.
Ziaul Morshed, OC of Rajor Police Station, said they rushed to the spot and brought the situation under control.
In Tangail, the Basail Upazila administration imposed Section 144 at Basail Bus Stand and its adjacent areas yesterday after Krishak Sramik Janata League president Abdul Kader Siddiqui and upazila Chhatra League leaders called meetings at the same time there.
In Narayanganj, a mobile court recovered over 200 "tetas" (a spear like weapon) from the residence of Kamala Hossain, organising secretary of Jubo League's Sonargoan upazila unit in the evening.
Executive Magistrate ABM Ruhul Amin Rimon, who led the drive, said the weapons were stored for creating anarchy.
Contacted, Kamal said the weapons were stored to fend off thieves and robbers.
Meanwhile, Habiganj police raided Oikayfront candidate Dr Reza Kibria's residence in Gopalbazar yesterday afternoon.
His Personal Assistant Sohrab Hossain Mahdi said police suddenly stormed into their house without any warrant and started searching the house.
Reza Kibria, son of former finance minister Shah AMS Kibria, told The Daily Star that the raid was meant to harass him.
Nabiganj Police Station SI Shamsul Islam said they had information an accused named Mujibur Rahman Sefu was hiding in the house.
"But we did not get him," he said.