All contenders of the Jatiya Oikyafront in the 11th parliamentary polls will submit memorandum to the Election Commission on January 3 demanding re-election under a nonpartisan administration immediately.
Jatiya Oikyafront Convener Dr Kamal Hossain made the announcement after a meeting of top brass of the opposition alliance this evening.
"And, they will announce the next course of programme to press home their demand," Kamal also Gono Forum president said.
The contenders from other opposition parties will also submit their memoranda to the EC office in Agargaon area of Dhaka on the Day, Kamal also said.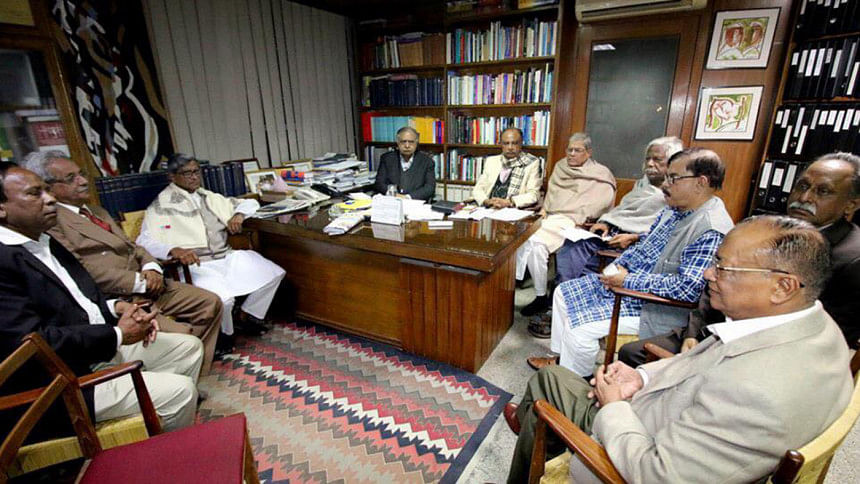 "A drama in the name of national election was staged yesterday and the countrymen perceived from their hearts that how the election process of a sovereign and independent country was destroyed," Kamal said.
Apart from the countrymen, the people across the globe have also saw the role of the prime minister (Sheikh Hasina) and her loyal chief election commissioner (Nurul Huda) in the election, Kamal said.
"Though the ruling Awami League sees its victory in the election it has failed the 17 crore people. A grave of our desired democracy was dug through their (AL) victory," he said.
Earlier, the Oikyafront leaders held a meeting to decide their next strategy as the combine, which includes major opposition BNP, experienced an unprecedented defeat in the 11th parliamentary election yesterday.
The top brass of the alliance held the meeting at Dr Kamal Hossain's chamber in Purana Paltan area of Dhaka, Latiful Bari Hamim, a staff of the Oikyafront's media wing, told The Daily Star.
Oikyafront and BNP-led 20-Party Alliance bagged only seven seats and others three seats while the Awami League-led grand alliance won 288 seats in the 11th parliamentary elections.
HOW WAS THE ELECTION?
Voting for the 11th parliamentary election ended peacefully in Dhaka; but was tainted with violence elsewhere across the country and cost the lives of at least a dozen people.
Reports of casualties came in from Cumilla, Chattogram, Sylhet, Rajshahi, Dinajpur, Rangamati, Cox's Bazar, Bogura, Noakhali, Narsingdi and Gazipur.
Allegations of vote rigging, election clashes, intimidation and irregularities came in from several other constituencies and capital Dhaka city.
Also, the election saw opposition candidates boycotting elections in at least 43 constituencies; 42 of who were JatiyaOikyafront runners.