Chief Election Commissioner KM Nurul Huda yesterday said army personnel deployed for election duty would take any measures required to maintain law and order.
"If any situation that needs to be controlled arises in front of the army, they will go there on their own and bring the situation under control," he said.
The army personnel have been deployed to restore voters' confidence, Huda said, urging all the political parties to maintain a congenial atmosphere for the December 30 election.  
Read More: Army starts polls duty
He made the comments while visiting a trial voting session on using electronic voting machines (EVM) at Dhaka Residential Model School and College.
Army personnel started discharging election duties yesterday to help ensure a peaceful atmosphere and maintain law and order across the country for the polls.
The CEC urged all the political parties to ensure that the election was held the way it should be. He also asked them to shun violence, remove "misunderstandings" and dedicate themselves only to electioneering.
In this regard, the army's role would be helpful, he pointed out. "I do believe, from now on, anything untoward will be controlled."
Responding to a query, Huda said Election Commission officials would be in charge of operating the EVMs while skilled army personnel would assist them.
Asked if the BNP would be allowed for a rally at the capital's Suhrawardy Udyan on Thursday, he said he would communicate with the Dhaka Metropolitan Police over the matter.
'NOTHING TO BE DELIGHTED ABOUT'
Awami League General Secretary Obaidul Quader yesterday said army did not belong to any party or alliance.
Quader, also the road transport and bridges minister, made the statement while addressing an election rally of Lt Gen (retd) Masud Uddin Chowdhury, Jatiya Party candidate for Feni-3 under the AL-led grand alliance, at Ataturk High School ground in Daganbhuiyan upazila.
"The army has taken positions in districts to discharge duties for the sake of a free and fair election. A quarter is much delighted over the army deployment. But they should remember that they [Army] would not work for any particular party. Their role will be neutral," he said.
Quader urged all not to make the army controversial.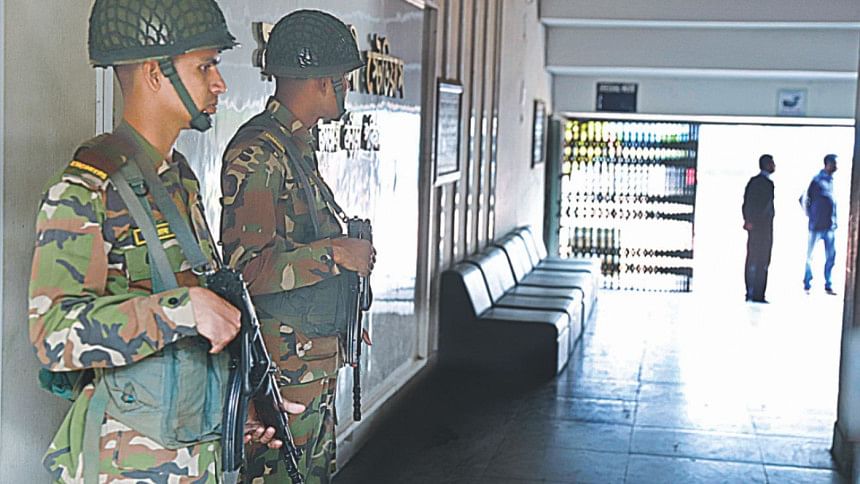 AL contestant for Feni-2 Nizam Uddin Hazari, district AL President Abdur Rahman and the unit's senior vice-president Akram Hossain Humayun, among others, were present at the rally chaired by Daganbhuiyan  AL president Master Kamal Uddin.
Yesterday, the AL also sought steps from the EC to stop "attacks on its activists across the country during campaigning".
BNP and Jamaat goons are attacking AL activists, the party's Election Steering Committee member Akteruzzaman told reporters after handing over a letter to EC Secretary Helal Uddin Ahmed.
He hoped that the polls environment would improve as members of the armed forces were deployed.
Meanwhile, Islami Andolan Bangladesh lodged a complaint with the EC, saying its activists were facing attack and harassment across the country, said the party's Senior Joint Secretary General ATM Hemayetullah.