At least twelve journalists on duty to cover election news were injured and 16 vehicles carrying them vandalised as unidentified miscreants attacked them at a rest house close to Nawabganj Police Station tonight.

A gang of 30 or 35 attackers masked in mufflers suddenly entered the guest house and continued attacking the journalists from private television channel Jamuna and its sister concern Bangla daily newspaper Jugantor around 10:30pm, Jugantor senior reporter Sirajul Islam told The Daily Star.

A total of 40 journalists and drivers of Jamuna Television and Jugantor boarded Shamim Guest House at Kolakopa Bandura in Nawabganj to cover electioneering of the upcoming 11th national elections for the Dhaka-1 constituency, he said.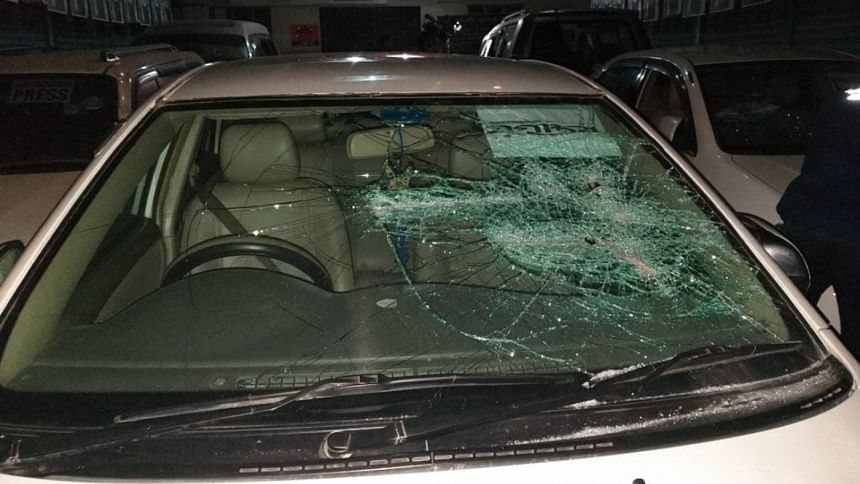 Shamim Khan, Dhamrai correspondent of Jugantor, has been missing since the incident, he alleged. 

The attack continued for 20 minutes in which several rooms on the third floor and around 16 vehicles parked downstairs were vandalised, Islam said.

The journalists were confined to their rooms for around an hour, he added. 

Sushant Sinha, special correspondent of Jamuna television echoed Sirajul Islam adding that they immediately called local Upazila Nirbahi Offcier and officer-in-charge of Nawabganj Police Station but to no avail.

Jugantor staff reporter Yasin said that the attackers were armed with rod, hokey sticks and country-made sharp weapons. 

The Daily Star tried to reach the Superintendent of Police of Dhaka district and officer-in-charge of Nawabganj Police Station over phone for their version but none-of them picked up calls. 

Quamrul Hasan, sub-inspector of Nawabganj police station, was seen on Jamuna television to have arrived at the scene later to collect evidence of the incident and was heard saying that they would look into the incident.