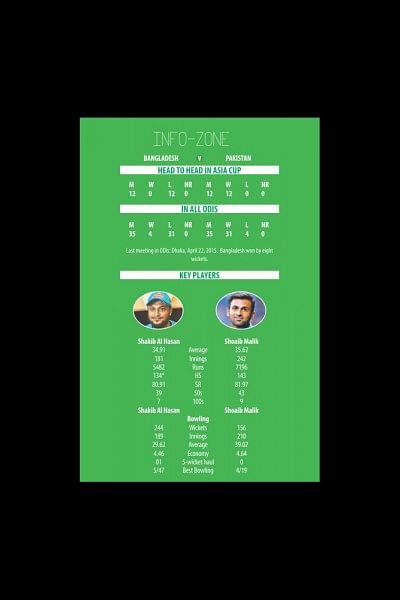 The heat is a dominant topic here in the UAE, and while it is true that the mercury is the same for all four remaining teams in the ongoing Asia Cup, Bangladesh would be justified in saying that they are the most disadvantaged. Afghanistan and Pakistan play 'home' games here regularly and India are the only team who has not had to travel between Dubai and Abu Dhabi to play matches, thereby increasing their recovery time.
Bangladesh, on the other hand, are playing here after 23 years. Given the travelling, the heat and the short recovery time, the squad have had to adjust their patterns -- training, resting and even sleeping -- in order to ensure that they are as fresh as possible for battle come match day.
"We ask them to sleep in," said trainer Mario Villavarayan after practice yesterday. "The Abu Dhabi game [against Afghanistan on Sunday] was the hottest. And then there was a two-hour bus ride to the hotel [in Dubai], so it's tough."
With a start time of 3:30pm, the journey from Abu Dhabi to Dubai means that teams often reach their hotel after two in the morning. Pacer Mustafizur Rahman suffered from cramps and so did batsman Imrul Kayes during that match, and sitting in a cramped position for as long as the inter-city journey takes does not help matters.
"You start giving them hydrolytes and saline from the day before [a game], ice baths. It is all about hydrating yourself. That's the main thing in this kind of heat. From Bangladesh to here, what we have changed a little bit is increase the amount of saline intake because you sweat a lot in 40-degree temperature. But still it is not easy, they are still having cramps. We have played three matches in four days. It is all a combination of sleep, hydration, ice baths, massages," Mario explained.
Yesterday was an optional training session for the Tigers with only Mominul Haque, Ariful Haque, Abu Hider, Mushfiqur Rahim and Soumya Sarkar -- who flew in on Saturday night -- opting to have a day out in the sun. Even training sessions are scaled down at times like these as Mario said that they just focused on doing the essentials.
"Even on rest days, we tell the players not to go out in the sun too much," Mario said. "They do some light gym work and that's all.
"It becomes a problem if you have your head down when you are struggling. As a coaching group we just need to be behind them and not let them be mentally and physically down. There are issues but we do not over-discuss it.
"But they are doing fine. And when they are up against one of the better teams in the world like Pakistan, they are up for the fight."