Looking for a Law Abiding Captain
By Nayeem Islam
Barely a year after leading Bangladesh to a 4-0 series whitewash against New Zealand, Shakib Al Hasan's eventful and somewhat successful reign as Bangladesh captain has come to an end. However, lamenting on what could have been is a futile exercise and instead we need to immediately find a new leader because the next international assignment is around the corner.
Below we take a look at the captaincy credentials of four cricketers who are regular members of the current team: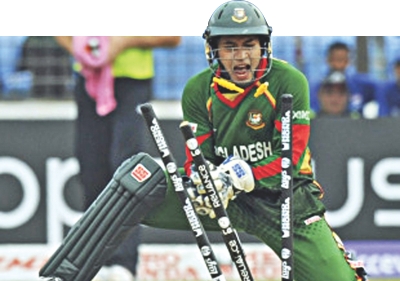 Mushfiqur Rahim: He is the only player on the list who can command a permanent place in the side for all three formats in the long run. He is also the most vocal player on the field. His well composed ton against Zimbabwe couldn't secure victory for Bangladesh but it might just land him this coveted job. The last 12 months have seen Mushfiqur score 556 runs at an impressive average of 34.75 in ODIs, which is also much better than his career average of 25.68. However, a batsman of his calibre shouldn't be satisfied with a Test career average of 27.15 and that's one area where he should look to improve.
As a wicketkeeper he has remained unchallenged since Dhiman Ghosh departed for ICL, although his critics believe he has not yet filled into the shoes of Khaled Mashud with his glove work. But in his defence, Mushfiqur can point to the fact that even his more illustrious contemporaries in international cricket (like Dhoni and Haddin) had their glove work questioned in recent times. Further Mushfiqur's experience of leading the Under-19 team only adds to his resume and makes him the only suitable replacement for Shakib Al Hasan.
Mahmudullah Riyad: Mahmudullah's all-round abilities makes him a regular member of the Test and ODI side but other all-rounders like Naeem Islam have not really challenged him for his position in the team. His valuable knocks have rescued Bangladesh on multiple occasions and his tidy off-spin is also a key component of the Tiger's bowling attack. He is more likely to be named the vice captain though.
Abdur Razzaq: Razzak is the oldest and one of the most experienced players in the current team. After a string of poor performances, his place in test team has been called into question. Despite failures in the last two ODI series, he is still expected to be a regular member of the ODI team. But since the selectors are unlikely to go with separate captains for the Test and ODI teams, it is improbable that Razzak will be named as Shakib's successor.
Imrul Kayes: Kayes is surviving in the team more as Tamim's opening partner than with his own batting performances. Although his role in the Bangladesh team is to play the anchor, he can also step on the gas if required by his team. His place in ODI team is almost guaranteed for the next series but with a paltry average of 17.42 in 14 Tests, he is bound to lose his position in the test team sooner rather than later. As a result, he is unlikely to be considered for captaincy.
So in terms of selecting the next cricket captain, the board doesn't have a lot of options to pick from because some senior players like Ashraful, Nafees and Mashrafe are not permanent members of the playing XI. Whether the diatribe delivered to Tamim and Shakib by the board sends a message to all players is a question only the future will answer. However, in order to ensure that the national team doesn't face a captaincy crisis in future, the board needs to start grooming players for leadership roles soon.
Sources: stats.espncricinfo.com, http://www.espncricinfo.com/indvaus2008/content/story/377859.html
Http://www.espncricinfo.com/india/content/story/390833.html
---
Last week, our topic was "Blur". Good turnout this week. Some very interesting takes on the topic. But we went with the tried and tested subject matter this week, because it was a fun read. While the piece selected only loosely relates to the topic on the surface, the day described flows fast, and so did the game that is part of the plot, for some people at least. Our next topic is Pizza. Yes, we're hungry. Very. Submissions have to be in by Sunday noon at ds.risingstars@gmail.com and have to be within 500 words. Good luck.
.......................................................................................................................................
THE BLUR
By Sarah08Nasri
The same routine. Your alarm goes off. You curse it. You wait till it goes into snooze and turn around. Ah, kolbalish what would I do without you? Soon enough, your vision blurs and you black out again into your world of fantasies. Zzzz…
Something bugs you right when you're about to get Cesc Fabregas's number. But this time, it's not the alarm on your phone that's tugging at your feet. It's Mom. Even though you try hard to make her seem like you can't hear her, she keeps calling you. Okay, a few more seconds. 'Ignore mommy and she'll go away' is what you think. She does. No more yelling mommy. This is the life.
But right before you stretch over to scratch your back - SPLASH! *shriek* WHAT THE What's with the water, mom? She only gives you that mischievous smirk, tells you to change the drenched bed sheet, get ready for school and leaves. Oh goodie. Slowly, you get up; still cursing under your breath. You slide open the toothpaste cover and get your electric toothbrush. Yeah baby, no more hand motion. Click-click… great! BATTERY'S DEAD. Why is God so cruel? I mean seriously, now I have to move my hands! It's 6:40am and you feel like going back to bed. It's misty outside. Jeez, the weather sure isn't helping. You try hard not to doze off again. In the next fifteen minutes, you slip in your books and get dressed. Then you realise that you haven't completed your math homework. You look at your wristwatch. Oh crap, its 7:00am and you're late! You skip breakfast and run out of your apartment. *10 seconds later* you run back in. Can't forget your ID.
Ah, the car. You, Mom, driver (awkward silence). Ok school. You run to the library during free period and finish your homework (Phew!). Unfortunately, your notebook says 'Arsenal' and 'Sarah08Nasri' all over. So once you step inside your classroom, all you get to hear is 'KIRE DOST, tor Cesc ar Nasri koi gelo, ha?' or 'Hey Sarah! Do you think I can finish doing this sum 8 times in 90 minutes? No I can't! I'm not Arsenal, remember?' LAME. Very mature guys. You wait till 6th period so you can shut them up by showing off in physics class. You do. Ha! *Bless you Mechanics*
The bell rings and you go home. Fast forward 6 days. You're asleep; dreaming. This time it's Samir Nasri. It's a good thing it's Saturday; no school. Suddenly you hear a cry. Then a tap. It's not your phone; it's not your mom. It's a crow rapping against your window. WHAT ELSE COULD GO WRONG? Your mom walks into your room. 'Ekhono bichanae? Sunday tor Economics test ar tui ghum? Jao porte bosho! '*sigh* Spoke too soon.
---