Rabindranath and theatre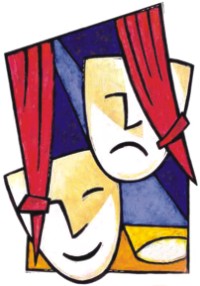 This 25th Baishakh, the country is once again geared up to celebrate Rabindranath Tagore's 147th birthday. Tagore is without a doubt one of the most important icons of Bengali culture, forever going down in history's pages as the first Nobel Laureate from Asia, as well as a man who not only revolutionized Bengali literature, but also changed the face of society as a whole. Writing an article on all of his achievements will take an eternity and a much more capable writer, so this one will be a very brief and quite inadequate view of Tagore's theatrical work (I can almost see the editor breath a sigh of relief now).
Rabindranath wrote his first play when he was only 20, the 'Valmiki Prathiba'. From then on, he wrote a number of plays that created a significant impact on Bengali theatre, since they were very different from the usual style adopted by most playwrights. Of these, some of his most famous ones are 'Roktokorobi', 'Bishorjon', 'Achalayatan', 'Dakghor', 'Chitrangada', 'Rother Roshi' and many more. But though Rabindra Shongeet has always been an integral part of Bengali culture, these plays were only recently introduced and gained popularity on stages in Bangladesh; why?
Mr. Aly Zaker, prominent theatre activist and President of Nagorik, one of the leading theatre groups in Bangladesh, gives us a very insightful view into this. According to him, after the Independence theatre activists and actors began to realise that theatre should be an art form in the new country. Starting off as repertoire groups performing plays irregularly, they evolved into regular performers. But during the dawn of theatre in Bangladesh, the form of performances were not experimented with due to the lack of adequate auditoriums and proper equipment. Content was restricted to a degree as well, since it was limited to realistic theatrical plays which the audience could relate to in an effort to draw in the crowds. This included local and adapted plays, and classical ones of old Bengali playwrights.
In the 90s, people first thought of portraying Tagore's creations on stage. "The reason for this delay was that Rabindranath Tagore, despite his strong messages, was an allegoric playwright, specialising in the form of abstract theatre", says Mr. Zaker, "One had to read between the lines."
For hundreds of years before Tagore, most plays were narrative in character, a form of performance that was original to Bengali theatre. But Rabindranath introduced a whole new style, experimenting with various dramatic expressions and creating a rhythm and flow that was emotional and intriguing at the same time. In his own words, Tagore shaped "the play of feeling and not of action", creating a poignant and expressive performance, the essence of which had to be felt by the audience to be understood.
According to Aly Zaker, Rabindranath's plays have a theme and didactic message that is very cleverly disguised through 'allegorical abstraction'. This has made his plays increasingly popular, since he has the effect of impacting the audiences' senses and exciting their emotions. "He spoke from his heart and introduced obscure subject matters that brought out the truth of human feelings."
This can be seen from the dialogues in the play 'Muktodhara', where the king asks the rebel Dhononjoy Boiragi, 'I am told you do not pay taxes on crops and tell others not to pay? Why so?' and he replies, 'because my surplus of grain is yours. My grain for my hunger is mine.' This dialogue, though a hundred years old, can still echo the sentiments of people around the world.
Many famous playwrights' works have been reinterpreted in television, but the abstract nature of Rabindranath's plays, coupled with his philosophical outlook, make it unfeasible to turn them into telefilms. Nevertheless, the making of his novels 'Ghore Bahire' by Satyajit Ray and 'Chokher Bali' by Rituporno Ghosh have been widely acclaimed, without deviating the stories from the original plot. Nagorik's portrayal of 'Roktokorobi', which always attracts a full auditorium, is proof that his popularity is nowhere near decreasing, for the message of the woman Nandini fighting for the rights of the peasants pulls everyone.
Rabindranath Tagore is a monument in the field of Bengali literature and his impact did not simply affect Bengalis in Bangladesh and India; it extended throughout the whole world. Although most of us in our generation tend to overlook him, labeling his writings as 'boring' and too lengthy, if one bothers to actually read, listen to or watch his works, the message behind them cannot be ignored. We cannot consider ourselves to be literate and cultured people if we are not affected by his philosophies and influenced to look within ourselves. Starting from his progressive thought on education & cultural reform (leading to the creation of Shankiniketon, which still continues to be an institution like no other) to his support of women's rights and his contemplation on the injustices of social hierarchy, Tagore's novels, poetry, short stories, plays, music and even artwork created a storm that still has shown no sign of cooling down.
By Shuprova Tasneem
---
Rabindranath and me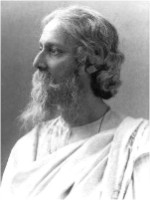 My grandmother read poems of Rabindranath Tagore to me when I was a little girl. She read many but my favourite was about a small girl called 'Bami' who got lost in the dark. I'd eagerly wait for the lines: "Ki hoyeche Bami? She kede koy hariye gechi ami!" This was my first introduction to the world of Rabindranath Tagore who was a poet, prose writer, composer, painter, essayist, philosopher, educationist, social reformer. He was the first Asian to win the Nobel Prize in literature. He was also knighted but gave it up as a protest against the massacre at Amritsar, India. Tagore had become an icon of Bangla literature.
But I wasn't satisfied with a "lifeless icon"- I wanted to know him as a real man who had lived in Bangladesh for quite some time. So I pestered my uncle living in Rajshahi and he took me to the Kuthi Bari at Shilaidaha with my grand father. As I walked down the road which led to the two storied 'bungalow' type of house, I suddenly felt that he was waiting for us! He was- framed in many pictures. Two palanquins, a couch, dinner table with chairs, the poet's bed and the hull of the famous bajra were present. The palanquin was quite ordinary but seeing it I wanted to become a member of the Tagore family and take a ride in it. I imagined myself to be one of the noble ladies wearing long sleeved blouse with saree, jewelery and my long hair tied to form a khopa. Red vermillon on my forehead and black beaded mangalsutra on my neck. For some time I quite forgot who I really am and became one of them. My uncle called me loudly and I came back to reality. The pictures showed a handsome young man with long hair and a mustache. Later pictures showed Rabindranath with his wife, Mrinalini Devi and his five children. Some pictures showed him with other important people like Mahatma Gandhi and Albert Einstein. We could see that he traveled a lot and met many important people. Some pictures show him acting in his own plays. The last pictures are of his older days, Rabindranath lying ill in bed and being attended by friends and well wishers. The final picture shows the funeral of Rabindranath. Thousands of people were present to get a last glimpse of the great poet. Many of his paintings were also present.
Then I went to the covered terrace on the 2nd floor. The view from there was magnificent! Rabindranath Tagore came alive in front of me. I could see him sitting on the terrace writing his poems and plays or painting in the garden. Then I went down and saw the tennis court located behind the house. Big trees shaded the place and the dried leaves on the ground made a crunching noise as we walked. There was a dream like atmosphere all around! I kept remembering the various people who had the great fortune to live with him and watch him grow up to be the 'biswa-kobi'. Being a young girl myself, I became much fascinated with Kadombori Devi, the 'notun bouthan' of Tagore. Kadambari Devi was 8 years old when she came into the Tagore family marrying Jyotirindranath. Rabindrnanath Tagore used to spend a lot of time with her. She would to sit beside him with a hand fan and he would recite poetry to her. She always encouraged her brother-in-law to do better by teasing him. She used to say that he can never write poems like the famous poets of that time and can't sing because he has a horrible voice. She also called him ugly. Kadambari Devi knew that after hearing these things "Robi" (Rabindranath's nick name) will try even harder to please her. She knew he had the talent and all he needed was the encouragement and urge to use his talents and she was proved right. After her death Rabindranath wrote many poems about her e.g.: "Tumi Ki Keboli Chobi?"
The relationship between Rabindranath and Kadambari is still a mystery. Some say it was just friendship but others say that it was a tragic love affair because Kadambari Devi killed herself after Tagore got married to Mrinalini Devi. They loved each other but this love was forbidden and could cause a scandal. Soit was kept a secret. Reading a book called: 'Thakur barir Andar Mahal' by Chitra Deva opened my eyes to the great changes brought in society by the women of the Tagore family. With the support of the Tagore men, these women traveled, got educated, participated in performances and changed many customs of Bengali women. No wonder that we find many strong women in the works of Tagore.
I was fortunate to meet one of his famous characters "Nandidni" in a performance of 'Rakto Korobi' by the students of the Drama Department of the Dhaka University. The play opens to show miners working at a gold mine watched over by the sardar. Suddenly a girl called Nandini appears and it's as if a ray of hope has arrived among all the misery. Her long hair and wrist is adorned with Rokta Korobi. She talks about a man called Ranjan who will come and free them from this prison. The Red Oleander flower she passionately loves becomes symbols of her love, anger and revolt. She dares to challenge the King to come out of the dark covers behind which he hides. The sardars see her as a threat. They know that to stop this they must make Nandidni lose her will to fight. They kill Ranjan without telling the king and torture the miners.
Nandini goes to the king and finds the dead body of Ranjan. Her defense crumbles and she mourns over the dead body. For the first time the king appears in front of her. He says that he has been changed by her and together they will break down the wall which separates the peasants from the King. Nandini and the king look into the world with renewed hope and determination.
Through this play, Rabindranath Tagore wanted to show the exploitation of the peasants under the rule of the tyrants. Tagore wanted to change all these through his plays and songs. "Rokta Karabi" is one of the ways to bring this change. Tagore portrays women as the inspirational force of change. I admire Tagore's vision of free women and men.
By Nishita Aurnab
---
Honesty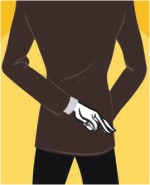 A few months back, I got inspired by a quote which a friend used when she got her Daily Star award-"The world has changed; honesty is no more the best policy, rather stick to your policies". You may say, "I'm totally honest, can't you see it written all over my face?" Then I'd say, "Buzz off, you're probably lying right now!" Today, in this world of lies and deceit, there's no scope to be honest even if one wishes to be, such is the vicious circle of treachery that has seemed to grip our lives.
What's the use in being honest anyway? I tried to be honest when I was in grade seven as I saw my friend about to get punished for spilling water throughout the whole classroom, a crime which she did not commit. So when I came forward to disclose the name of the culprit, it turned out that I ended up being punished too along with the real culprit just because the water-bottle from which water was (deliberately) spilled was mine. One is very familiar with cheating during school exams. I do it, you do it, come on, the 'nerds' do it too! They probably know the answer to all the questions but somehow that urge to check if the answers are correct or not, causes them to consult with other fellow 'nerds'.
However, the aforementioned subjects are just petty crimes that are ultimately forgotten (not if you're caught cheating during board exams, I'm totally against that). In some cases, people are forced to choose the path of dishonesty if they want to live a normal life. Suppose, you need a passport urgently, some officials will keep it stalled for months even if you've paid full fees. It's no use pestering and arguing with the officials. They'll simply show you a list of all the waiting applicants and tell you how tough their job is and blah, blah, blah. At the end of the day, it's you who turns out to be a loser standing in the heat in long queues and end up getting squished by the crowd and not to mention frustrated once you meet the officials. But if you show them a few extra notes, your passport will be ready for you the next day only. This, as we all know, is called bribery and it is known to be a great offence, maybe not in Dhaka, but in other foreign cities, where they imprison you for a couple of years if found guilty.
Who can forget our evergreen ex-MPs and other big-wigs? The most happening of them all being undoubtedly Prince Trek, better known as Mr. ten percent. Now, this guy has probably surpassed all means of dishonesty that a person would take up, to acquire wealth that is worth billions or maybe trillions of taka. He might be in jail right now, sleeping and eating with the regular inmates but hey he's still rich isn't he? At least his daughter gets to buy whatever she wants to (lucky her!). It's a pity that our ancestors turned out to be honest and struggled throughout their whole lives to lead an 'honest' life. Just look where we've ended up due to that, being poor worn-out little freaks and continuing to struggle the same way as our forefathers did. If only one of them was like Prince Trek, think of all the treasures he would've left us with!
Nonetheless it is all better said than to be done. Dishonesty might be an easy way out in most cases but it's not all that good to be dishonest. At least, you don't have that extremely uneasy feeling of guilt that keeps nagging you wherever you go! Your life actually becomes simpler if you're honest no matter how hard you've to work or whatever amounts of bashing you've to get for it. So next time when you do something be honest, ok at least try to be!
By Faria Sanjana