Winners in 'wasting time'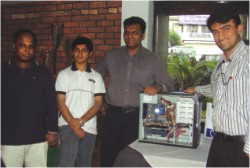 The WCG winners (left) can't seem to wait to get the machines home
Gaming is conventionally considered to be an utter waste of time. Sitting in front of the PC for hours, clicking direction arrows on your keyboard and getting a backache are any parents' definition of the uselessness. However, when this 'uselessness' is taken to the next level, put into challenge and someone emerges as the champion of wasting time, plus win some very cool prizes; I guess the backaches are worth it.
Our winners from the World Cyber Games had a similar experience recently. At the end of July 2007, the World Cyber Games (WCG) in Bangladesh was arranged at the China-Bangladesh Friendship Centre. With 1200 participants competing head-to-head, this gaming gig has been a memorable experience for everyone. The two games that were played on the only available platform, PC are NFS Carbon and FIFA 2007. More like a knockout tournament, where winners advance to the next level while losers are 'knocked out', the gamers have to maintain consistency throughout the tournament to avoid elimination.
I caught up with the 18-years-old Ahmedul Haque Abid, the preceding and current year's winner of NFS Carbon for an exclusive insight into the event. When I asked him how well he rates local gamers on an international competition, he confidently said that Bangladeshi gamers aren't a piece of cake to deal with.
"We are at a level where we can put up a tough fight, so our international counterparts need to be well-trained to win against us," he added.
"Do you think it's unfair that gamers in Bangladesh can only compete by playing 2 or 3 games run on PC format only? What about console users?" was my next question.
"It is a disadvantage, since our local technology is very behind," replied Abid. "To introduce more games in the competition, we need more sponsors. Unfortunately, most people aren't very interested in spending money on computer games. In this regard, gaming cafes can play a major role. Gamers can compete with each other at the cafes, and challenge their skills. There are a variety of games installed at the cafes. For those who play on consoles, the whole Xbox-PS vibe is still new compared to PC. There is definite need for more players on these platforms before it can be brought to a competition level like WCG."
On the other hand, 23-years-old Irfan Reza Khan, who topped at FIFA 2007 had a very different opinion on the matter.
"I think Bangladesh lags behind in an international competition mostly due to the slow Internet speed. Online gaming is important in developing a gamer. When any new game is out, gamers from other countries have the privilege of playing it online, putting their skills at test and practicing over a longer period of time. Gamers in Bangladesh cannot do that, which puts them ahead in the race."
Both our winners have been awarded with very cool computers. Yes, the configurations did make my eyeballs pop. The WCG winners each got an Intel® Quad-Core 3.0 with 1333 MHz FSB, 2 GB DDR2 RAM, 19 inch LCD, the usual peripherals and a whopping NVIDIA 8800GTS PCI Express X16 Graphics Card. Makes your mouth water doesn't it?
"So, how does it feel to win in something that most parents consider pointless? Any future plans?" I posed the final questions of the session.
"Well, earlier, my Mum used to yell at me for playing games all the time. I mean, keeping a fine balance between studies and gaming isn't easy. However, after I won, she's slightly lenient about my love for gaming!" replied Irfan, laughing. "I enjoy living in the moment. So, as long as I enjoy gaming, I'll keep playing."
Although gaming isn't our conventional methods of making parents proud, Abid and Irfan have broken the norms and made their marks in this niche. Call it wasting time or uselessness, gaming is largely potential field in Bangladesh, and with proper resources, stand a pretty good chance of developing into a bigger industry. Besides, if you can win that kind of beauties by racing cars in virtual streets, who wouldn't want to sit with a PC and game on for hours?
By Sabhanaz Rashid Diya
---
HIV and You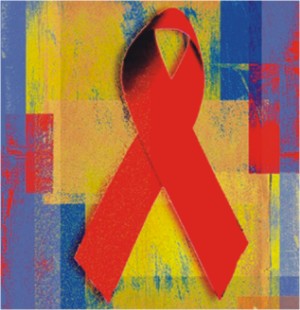 Of all the deadly diseases that can affect our body, AIDS is the deadliest. SO far no cure has been discovered that can give life to an AIDS infected person. Yet, AIDS is the disease that people seem to know the least about. If we look at the bigger picture in the perspective of the world, we will see that almost anybody can be infected by it, and the largest group considered to be vulnerable to it are the young people between the age of 16 to 28. So it is important to know about AIIDS and the virus that causes it, the HIV.
What is AIDS? Well, it is a kind of disease in which your basic body immunity system is totally destroyed, leaving you vulnerable to other diseases. Our body is a special kind of system, one which can take care of itself and heal itself, and most medicines out there are actually support systems which help our body's immunity system take charge of the healing. But if that same immunity system is rendered useless, then a person will lose the ability to fight even the most basic of diseases such as fever. Indeed, a person with AIDS doesn't die of AIDS itself, but suffers due to the unchecked attack of other infections and certain malignancies that eventually cause death.
So what is this HIV? HIV is a virus, except it is a special kind of virus that attacks the white blood cells of our body. It relies of the host cells to replicate itself and slowly eats away the white cells by infecting other white blood cells, which are prime to the protection of our body from other diseases. The important thing to know is that, the virus only exists in our blood stream, semen or vaginal fluid. Hence it is internal to the body system meaning that it cannot spread via physical contact such as touching or kissing or by sharing of food. However, it can still spread if any of the body fluid mentioned above is transmitted, that is, through intercourse, by sharing of needles or other equipments used in injecting drugs or things which comes in contact with blood.
In a study taken in the United States, it was shockingly found that although the young people are most vulnerable to HIV, it is still the group that knows least about it or has mistaken knowledge about it. So it is no wonder that in a Muslim country like ours, it is a taboo topic to discuss in our family or even in school. But HIV or AIDS knowledge is not just about discussing taboo subjects but it is about staying alert and knowing how to deal with the most deadly disease of the 21st century. Due to misconceptions and the lack of open discussion on this topic, we are often misunderstanding those people who have AIDS.
In our country, at least in the middle income earning group, AIDS can also spread, mostly via sharing unsafe needle or other form of blood transfusion. Taking drugs has become somewhat of an epidemic recently as it was on the newspapers a lot lately (yaba). One of the means of taking drugs is by using syringe and these syringes are mostly unclean and contain many germs and viruses. Therefore the best way to be free from HIV or any other diseases is not to take drugs at all. If you think that nothing can happen to you, be alarmed, for HIV can stay in the blood stream and not show any effects until someone has a disease. So if you think that you may never have HIV by sharing needles or other items that comes in contact with blood, think again. Warning about possibility of contacting HIV will not be complete until we talk about the socially dreaded three letter word. But if we follow social and religious norms, we can be safe here too.
The good news is, our society is changing. There are social groups which are showing concern about HIV and we get to talk about it and even commemorate a World AIDS awareness day. Even the government has programs to spread awareness regarding this AIDS. It is our life, we always have a choice, so make a safe choice. Avoid HIV, avoid AIDS.
By Monty Python
---
The debt we forgot to repay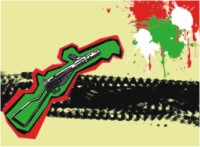 It's the month of December again. Green and red flags are selling like hot cakes, Victory Day special programmes are being broadcasted, and wearing national colours is cool once more.
But do we have that spirit inside us? If Victory Day is so special, why do people remember it only once a year?
Bangladesh will be 36 years old this year. Yet, even after attaining maturity, we remain a broken and confused nation. For starters, we do not know our history. Ask any average teenager about the difference between Victory Day and Independence Day and you will most likely meet with a befuddled look. Yet he will flock to the Shaheed Minar or Sriti Shoudho with bouquets on the 16th of December, waving at TV cameras casually while passing by. What is the point of coming to commemorate something you know you have no knowledge of, and consequently, no respect for? History is, one might argue, truly that- history, and there really is no point churning out old memories, is there? But consider a person with no memory of his past. His existence will only be zombie-like because he has no knowledge of who he is. Knowing our own history is therefore essential for our own improvement and intellectual growth, because the journey to maturity can never be fulfilled without it. Arguments that one can never retrieve Bangladesh's muddled history after a series of distortions seem futile. There are dozens of sources waiting to be checked only if one bothers to find out. The drive must come from within, because being dependent on other sources for information might result in never finding out the actual information at all.
We have no business being happy-go-lucky while the nation's best war heroes suffer lives of life of ignominy and abject poverty. While recently surfing TV channels, i currently came across a muktijoddha describing his ordeal. He has no family and is blind due to lack of proper healthcare. The only way he sustains himself is by begging. People spit on him when he says he is a muktijoddha, perceiving it as a cheap gimmick to earn more money, so he feels ashamed to even share his true identity anymore. He ended the interview by saying that it would've been far better had he died during the war like many of his comrades than live to see this day.
This is not an isolated case. There are hundreds like him,hundreds trying to survive on a meager income when they should be living like royalty instead, seeing that they have given us a new country, freedom and something to live for. The worst thing is that they don't even want much except a little respect, and we can't even give them that. It is imperative that we find out the true picture.
Go over to the Liberation Museum, look at all the irrefutable evidence and think. A programme called 'Muktijuddo Protidin' is aired on Channel-i where there is elaborate discussion on the liberation war. I'm sure there are many other television programmes which also bring to light the true story of our glorious victory. Surf the internet. There are dozens of sites and books out there with authentic statistical data and unheard narratives of the victims or their families. Read Jahanara Imam's 'Ekatturer Dinguli' to view the war through a martyr's mother's eyes. Only after educating oneself can one hope to repay the debt that we once promised of and to fulfill the vow of building a new country with our all. It is time to rise.
By Anika Tabassum