Cover Story

Rekindling the Light
Classical music, which once flourished in Bengal producing maestros like Baba Ustad Allauddin Khan, is struggling today for existence in Bangladesh. Bengal Foundation has taken up the challenge of reviving the practice of this royal art in the country.
Tamanna Khan
Photos: Amirul Rajiv
Pandit Birju Maharaj, the legendary dance master explains, "When electricity goes out and we light a candle that is classical." The maestro spoke to an awed audience who gathered at the Army Stadium in Dhaka on December 1, 2012 to attend the four-day long (Nov 29 - Dec 2) Bengal-ITC SRA Classical Music Festival.
The root of all songs of the Indian sub-continent, classical music has a special place of its own in this region. It is revered and considered as elite music. Once performed only in the courts of the royal, whose status was often defined by the quality of the artiste, the scenario began to change in the twentieth century. Technological advancement and a shift in the socio-political culture opened the magic of this genre to the general public.
| | |
| --- | --- |
| | |
| | Priyanka Gope performing Raga "Rageshree" at the festival. Young Bangladeshi artistes performed along with classical music maestros from India. Photo: Star File |
Starting with the 'All India Music Conference' held in Baroda, Gujrat, India in 1916, ordinary people began to enjoy classical music and dance through such music conferences which gained immense popularity in undivided Bengal. However, the flare died out in the later half of the century since most of these programmes were based on individual efforts. Another important change took place as a result of the Partition in 1947, explains Dr Asit Roy, Associate Professor, Department of Theatre and Music, Rajshahi University. Most of the patrons of East Bengal, the Hindu zamindars, left for India, and talented Hindu musicians followed their trail. A few Muslim artistes who felt the fire of communal riots in turn came and settled in the then East Pakistan. Azad Rahman, Kalim Sarafi, Mustafa Zaman Abbasi, Ustad Gul Muhammad and Barin Majumdar were among those whose contribution developed the cultural atmosphere of Bangladesh especially in the field of classical music, says Dr Roy. He says that after Liberation, though many Bangladeshi students went to India on Indian government scholarship to receive training in classical music, the situation did not improve. "When the Bangladeshi students came back after receiving four to five years of training in India, they could not continue the practice here and a gap was created," he says.
In Bangladesh, Barin Majumdar took the first initiative to impart classical training through an institution by opening a music college, (the present Government Music College) in 1963, informs Saiful Islam, director Bangladesh Music Research Academy (BMRA). He says that at present classical music is taught at the graduate and post-graduate level at three public universities — Dhaka, Rajshahi and Jatiya Kabi Kazi Nazrul Islam University, Mymensingh and two private universities — Shanto-Mariam University of Creative Technology and University of Development Alternative. Most renowned music schools such as Chhayanaut, Bulbul Academy of Fine Arts, and BMRA have separate departments for classical music. Yet, when compared to India, or even to the past decades, it is very difficult to find first-class classical music artistes here.
Young and promising vocalist Priyanka Gope, lecturer, Department of Music, University of Dhaka, feels that everyone — the patrons, audience and artistes — all are to be blamed for this decline in the practice of classical music in Bangladesh. "We, artistes, have moved away from practising. If we look back 30-40 years ago, there were many famous artistes who later became legends. Perhaps they could not leave behind new performers or students or present their talent fully in front of the audience," she explains.

Alif Laila captivated the audience with a dhun performance set on Raga "Desh". Photo: Star File
Reenat Fauzia, renowned sitar player of Bangladesh and great-grand niece of the maestro Ustad Allauddin Khan, the legendary sarod player, multi-instrumentalist and teacher, says how even a generation back, there were ustads in her family. "Today those few of us who have still held on to classical music are doing so only for the sake of blood ties," she says, adding with disappointment how students are not interested in learning classical music. Being an apprentice of the sitar maestro Ustad Khurshid Khan, she had opened a classical music school in Dhanmondi, but the endeavour proved fruitless. "Initially there were five students then they began to drop out and at the end there was only one. It was not financially viable to run the school with only one student," she says. In Fauzia's opinion the social change is the reason behind lack of interest among people towards classical music. "Maybe this is a transitional period — a turbulent time," she adds. Yet she is hopeful that this phase will pass.
The classical music festival organised jointly by Bengal Foundation and ITC SRA (Sangeet Research Academy) of India appeared to prove Fauzia's word. About 20,000 people registered online for the programme, where present day maestros of classical music, dance and instrument, from India and Bangladesh, kept Dhaka's audience spellbound for four consecutive nights. A music festival of this scale was the vision of Abul Khair Litu, Chairman of Bengal Foundation. He shares how Bengal came about organising such an event.
Giving credit to Chhayanaut's effort in ensuring the survival of Bengali songs especially of the 5-poets (Tagore, Nazrul, Atulprasad, Drijendralal and Rajanikanta) for the last 50 years, he says that our artistes are comparably better than Indian artistes in these genres and even in Lalon geeti and other folk songs. "But the problem that I have found is that they cannot sing for long because they lack classical training. Of course there are exceptions but I am talking in general. Classical training is the basis of music. If the classical training is proper then you do not need to worry about rendering other songs. You can sing any song. You develop that capability," he says.
This thought led Litu to establish a classical music school, Bengal Parampara seven years ago. Ustad Mashkoor Ali Khan from ITC SRA and Shanti Swarma from Delhi used to come twice a year and taught for 15 days, he informs. Problems occurred as the students did not get any teacher to continue their practice during the lean period. So the project failed. However, Litu would not give up. He started offering scholarships for classical music. "I gave scholarship to 10-12 students to obtain training in classical music through a 5-year course in Delhi. The result was — they did not return," he says adding that when the artistes do come back and stay in Bangladesh, they do not find a market for classical music in the country and thus cannot make a livelihood with their exclusive training. "Even if they manage to get enlisted as B-class radio artiste there (India), they earn at least one lakh taka a month," he says, comparing the situation with Bangladesh.
Thanks to the talented sitar player Alif Laila, Litu came in contact with the SRA administration and entered into a MOU which intends to develop the classical music scenario in Bangladesh. In the first phase this partnership aims to build up the taste for classical music among audiences through bi-monthly programmes where a top-level and mid-level guru from SRA will perform along with two Bangladeshi artistes. "One programme is held in Dhaka and another outside the capital," Litu shares, "We have already started this and completed three instalments."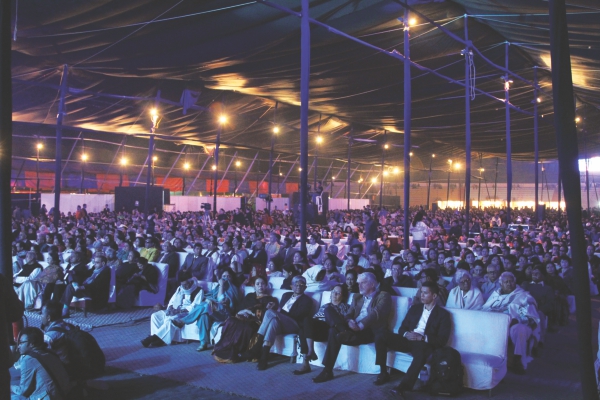 Dhaka's audience amazed the artistes and proved Bengal's love for music. Photo: Star File
"After completing this we thought we need to hold a big yearly concert here like that of Dover Lane (a music festival held at Ballygunge, Kolkata, India)," he says, explaining that such a concert is needed so those who cannot afford to go to Kolkata to watch a concert of that scale can get the opportunity to listen and watch maestros perform in Bangladesh. "That is why all our events are non-ticketed. SRA also follows the same principle," he adds.
Bengal Foundation wanted the festival to create a "Big Bang" to bring back people's attention towards classical music, informs Luva Nahid Chowdhury, Director General, Bengal Foundation. She adds, "At Bengal we always strive to establish Bangladesh's prominence." She admits that only festivals will not revive the glorious past of classical music in Bangladesh except for an immediate awareness building and rejuvenation. "What we hope will happen is that if such a big festival takes place every year, this will become a destination itself. Other things will happen centring the festivals," she says. She informs that under the next phase of the MOU, a classical music school will be opened tentatively on March 15, 2013, where 10 SRA faculties will come on 5 years' lien and create the guru-shirshya parampara (master-apprentice relationship) which is vital in teaching this art.
Proving sceptics wrong, the classical music festival drew crowds from far and distant corners of the country. Mohammad Jahirul Islam, teaching Criminology and Police Science at Mowlana Bhashani Science and Technology University came to the festival with his family and friends and stayed all four nights at the venue. He says, "We watch the performance of these maestros in DD-Bangla every morning (a national TV channel of India). We cannot get the real taste of the music in TV channels. Thanks to Bengal Foundation, we are getting a chance to watch their live performance." Even the artistes who performed on the stage of the Army Stadium were overwhelmed by the response of the audience. This signifies that the interest towards classical music has not totally left the hearts of the Bangladeshi audience. People are willing to listen to good music and thus nurture it when it is properly presented.
---
| | |
| --- | --- |
| | |
| | Ustad Rashid Khan's sublime rendition of the Raga "Puria Kalyan" weaved a transcendental melody. |
A Rainbow of Rhythms, Notes and Taan
Zahangir Alom
Photos: Amirul Rajiv
For four days Dhaka's audience was treated to an extravagant feast of exquisite classical notes at the Bangladesh Army Stadium. World-renowned musical maestros serenaded the ecstatic crowds with songs of devotion, love and spirituality. With an extremely responsive audience and a perfect setting that included excellent stage and acoustic arrangements and idyllic weather conditions - the ambience created at the four-night-long (November 29-December 2) "Bengal-ITC SRA (Sangeet Research Academy) Classical Music Festival 2012" could only be described as exhilarating.
It was the grandest ever musical extravaganza of about 100 artists of India and Bangladesh featuring performances of both instrumental recitals and vocal renditions coupled with enthralling classical dance presentations.
Tickets were free and made available through online registration. Around 27,000 people registered indicating the level of enthusiasm regarding this event.
Dedicated to the memory of Sangeet Samrat Baba Ustad Allauddin Khan, the festival aimed to promote classical music to every corner of Bangladesh. Bengal Foundation and ITC SRA, India, jointly organised the festival with Prothom Alo, The Daily Star and Maasranga Television as promotional partners.
| | |
| --- | --- |
| | |
| | The flute maestro Chaurasia's pahadi dhun articulated imagery of spring in the hills. |
Ustad Ali Ahmed Hussain Khan's shehnai performance set off the musical voyage. He played Raga Hansadhwani that represents all 'shuddha swar' (pure notes).
Ustad Shahid Parvez Khan played a stunning melodic game on his sitar with the raga Bageshree. Pandit Tejendra N Majumdar on sarod, with Pandit Subhankar Banerjee on tabla presented a 'jugalbandi' that the Dhaka music connoisseurs will remember for a lifetime. Showcasing the splendour of Raga Lalit, Pandit Majumdar played a composition on 'rupak taal', 'madhyalaya' and 'drut' composition on 'teen taal'.
The audience received a taste of Dhrupad, the oldest existing form of classical music, in Pandit Uday Bhawalkar's rendition on Raga Jog. Pratap Awad accompanied the performance on 'tewra taal' (seven-beat) and 'sul taal' (ten-beat) on pakhawaj.
Pandit Ajoy Chakrabarty ushered in the dawn through a special performance for Dhaka audience rendering a khayal set on Raga Aahir Lalit. According to the Pandit, he learnt the raga from Ustad Ali Akbar Khan and Pandit Ravi Shankar, but rarely performs it.
The second day of the festival kicked off with an exclusive presentation titled "SRA on Strings". A number of instruments – sitar, sarod, sarangi, flute, violin and tabla fashioned a fusion based on Raga "Kafi" (On Rupak and Drut Teentaal).
One of the main attractions of the second day was Ustad Rashid Khan's sublime rendition of the Raga "Puria Kalyan" that weaved a transcendental melody capturing the myths of both the sun and the moon.
The colour, mood and essence of "Puria Kalyan" zoom in on the adieu of sunlight and fascinating gleam of moonlight. Khan's voice echoed the ecstasy of being saturated in moonlight; at the same time revealing heartfelt pain in saying good bye to the sun. That was Khan's recurring plea for the sun, expressed in his Vilambit Bandish "Aaj Subana" (set on Vilambit Ektaal) performance.

Pandit Ajoy Chakrabarty ushered in the dawn through a special performance for Dhaka audience.
While descending from the musical peak, Khan fashioned a mesmerising illusion of melody circling Yaman Anga and Puria anga. His drut bandish "Bohut din bitten aaj hoon na aye balam" performance together with the saath sangat of sarangi was very close to his vocal. Pt Subhankar Banerjee on tabla, Pt Jyoti Guha on harmonium and Allarakkha Kalawant on sarangi accompanied the evocative musical journey. The master vocalist ended his performance with a thumri "Yaad Piya Ki Aaye", originally popularised by Ustad Bade Gulam Ali Khan.
The commitment and passion for music was manifested in veteran sarod maestro Pandit Buddhadev Dasgupta's enthralling performance. Even with an injured hand, he won the hearts of Dhaka's music connoisseurs by playing tunes of a Tagore song "Sedin Dujoney" as bandish. The piece was based on Raga "Pilu". Prior to that he performed a dhun set on Raga "Kaunshi Kanara".
Sitting amid an aesthetically designed stage, Kaushiki Desikan's delicate beauty contrasted with the sheer power of her lyrical voice. While performing a Khayal, set on a romantic Raga "Basant Mukhari", the accomplished vocalist Kaushiki Desikan showcased endless expressions of emotions and styles in her vilambit bandish "Nayna Mere Baware" performance.
The artiste's drut bandish "Bhayo Bhor" was superb. Tabla artiste Yogesh Samsi presented an exquisite lahora with rela. Later, the artiste presented a mellifluous dadra based on Raga "Mishra Pahari".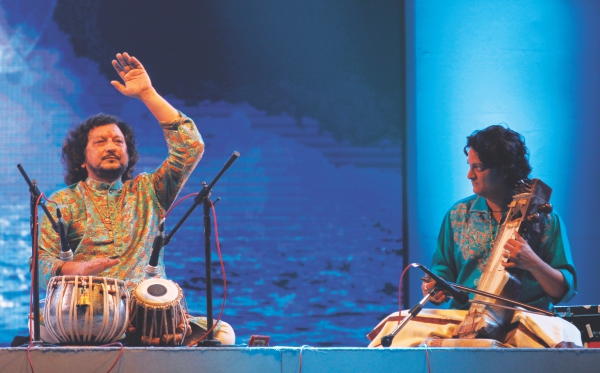 Pandit Kumar Bose's tabla roared like a Royal Bengal Tiger.
Seasoned Ustad Mashkoor Ali Khan performed a melancholic Raga "Malkaunsh". His Drut Bandish "Koyelia Kuk Chhunabey" earned hearts of many.
Adnan Khan played a stunning dhun set on Raga "Yaman" on his sitar. The core of his performance was Gamaki Taan-a very rare presentation in instrumental music. A solo tabla lahora based on raga "Jhinjhoti" by Yaswant Vaishnav had reminiscent features including chakradar, paran, gat, tukra and otit tehai.
Before the musical magic of the entire night could leave the hearts of the audience, they were enchanted with another captivating piece set on Raga "Antardhwani" (sounds of the inner self) on Pandit Shivkumar Sharma's santoor. He said "Music is not only for entertaining but also for nourishing spirituality. The experiences of life concentrate on the oneness with Almighty." Pandit Sharma first presented a very slow but mellifluous alap almost like a butterfly coming out of its cocoon. Panditji, in a word, surpassed the sphere of words and made his own fashioned melody speak to the divinity. Yogesh Samsi too produced divine rhythms on his tabla while Shikahito, a disciple of Panditji, was accompanying on tanpura.
Diffusing the illusion of Raga "Desh" in the evening air, Shashank Maktedar set off the musical flight for the third day of the festival. Abir Hossain's euphoric dhun performance, set on Raga "Puria Dhaneshree", augmented the delight of the Dhaka audience.
| | |
| --- | --- |
| | |
| | Vidushi Sujata Mohapatra enthralled Dhaka's audience through her graceful yet mind-blowing performance. |
The vivacious octogenarian Vidushi Girija Devi performed a romantic Raga "Behag" at the festival. Her sonorous rendition of vilambit bandish, set on vilambit ektaal, tamed the melody of distant romance while her drut bandish "Jhanana Jhanana Baje Mori Payelia" performance was electrifying. The maestro later presented a thumri set on Raga "Mishra Khamaj" and a dadra nourished in Benaras Gharana.
Pandit Birju Maharaj, who wishes to come frequently to Bangladesh, feels no distance with the musical soul of Bangladesh. Maharaj, a living legend of visual poetry or classical dance, made the Dhaka audience sway with his lyrical presentation. The accompanying vocalist, tabla artiste, sarangi and tanpura players weaved a garland of many melodious ragas that actually created a musical high. Showcasing his mesmerising prowess on taal and bol, Pandit Birju Maharaj danced to the melody of divinity, love, myths and of aesthetic ornamentation or experience of human life. His rendition of a thumri "Jaha Kanaiha Brinda Nanda Ke Duare" (words) was awe-inspiring.
The living legend made the rhythms of tabla (by Shubhankar banerjee) dance with his subtle sense of humour. "Our body and not the taal, changes with the passage of time; it (taal) goes on and will go on maintaining its course," said Panditji amid his performance. The audience were enchanted with a blissful performance that portrayed peacocks dancing under the auspices of the much-awaited rains amid flashes of lightening. Saswati Sen, the main disciple of Pandit Birju Maharaj, took the stage to first perform a composition on Dhamar (14 beats) and later to act out a mythical tale from Ramayana.
A surprise still awaited the Dhaka audience. An unscheduled jugalbandi (dual performance) by Pandit Birju Maharaj and Vidushi Girija Devi sent a wave of excitemnent through the rows of music lovers. They presented a chaiti – "Bairan Re Koyelia Tori Bol–i Na Sohaye". Legends are made of moments like these.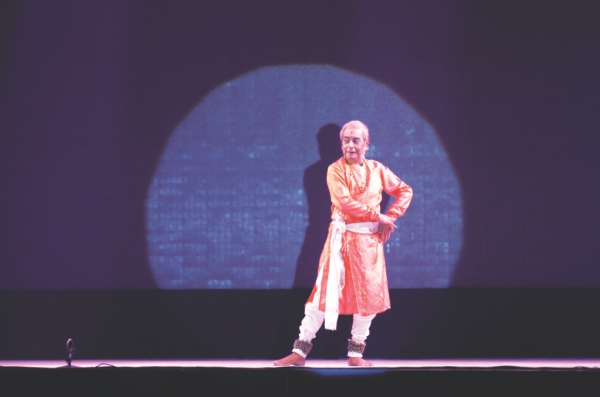 Pandit Birju Maharaj expressing human experience through taal and bol.
The scheduled time of the penultimate night (December 1) was over, but the night was still young and five more musical performances were to be staged. Those who had dared to spend a third night at the venue, emerged in the musical ocean to take the taste of an untainted sitar recital by Purbayan Chatterjee, divine rhythms by Pandit Kumar Bose and vocal performance by Arshad Ali Khan, Kumar Mardur and Vidushi Subhra Guha.
Purbayan Chatterje seemed to stand out as a paragon of sitar. The artiste produced a breathtaking rare symphony of strings set on Raga Jogkaunsh (intermingling of raga Chandrakaunsh and Jog). His alap, ragdari decorated with sweet murki (ornamentation), mute tetai performance were on dynamically balanced melancholic resonance.
Later, the artiste presented a Khamaj dhun set on dadra. The crux of the mellifluous excerpt goes: "Vaishnab jan to tene kahiyen, Je peer parayee jane re, Par dukkhe upkar kare toye; Maan abhiman na aane re…" (The Vaishnav is he, who knows the secret miseries of others; and heals others' pains without feeling pride in his heart.)
Arshad Ali Khan's rendition of Raga "Lalit" on the last day of the festival will remain ever fresh with its reminiscing features –ragdari, making idioms by using few notes, bahelowa, tankari, speedy boltan, aakar and pukar. Another memorable performance was by Brajeswar Mukherjee rendering a khayal set on Raga Marubehag.
Pandit Kumar Bose, whose parental roots are in Bangladesh (Barisal and Jessor), made his tabla roar like a Royal Bengal Tiger of Bangladesh. He produced resonance of divine rhythms that seemed like an earthquake occurring under the sea.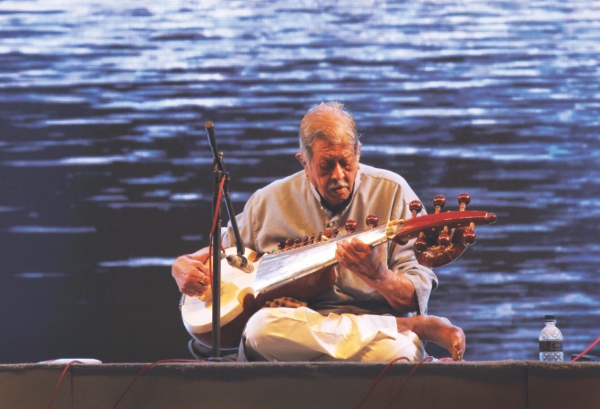 Pandit Buddhadev Dasgupta won the hearts of Dhaka's music connoisseurs by playing tunes of a Tagore song "Sedin Dujoney" as bandish.
"Heard melodies are sweet, but those unheard are sweeter." — John Keats. The excerpts proved true through renditions of South Indian classical music.
Vidushi Aruna Sayeeram performed a Carnatic piece set on Raga Malkaunsh. An unfamiliar rhythm and symphony cast a spell on the audience as the piece was accompanied with mridangam, ghatam and violin. The artiste also presented a devotional Bengali song, "Jago Tumi Jago Obhoyo Shokti".
Pandit Rajan Mishra and Pandit Sajan Mishra performed a khayal set on Raga Nayki Kanara. The audience thoroughly enjoyed the dhrupad-aang bistaar, the wonderful sargam bistaar and gamaki aakar taan by the brothers. Their music sounded divine when the maestros effortlessly used all the notes of the four octaves. The duo presented another khayal on Raga Sohini and a bhajan set on Kirwani. Pandit Kumar Bose generated apt rhythms on his tabla while Rupashree Bhattacharya was on harmonium during the performance.
Pandit Hariprasad Chaurasia presented alap and gaut on Raga Marubehag. The master flautist performed a mellifluous dhun set on Raga Hansadhwani. The composition, set on Panjabi teen taal, was created by Ustad Aman Ali Khan. Subhankar Banerjee produced "tum" on his tabla that seemed like flashes of lightening.
And last but not the least, Chaurasia performed a pahadi dhun on dadra. The piece articulated imagery of spring in the hills where pining for a loved one echoes. The unquenchable thirst of the Dhaka audience was seemingly not appeased, as they wanted more recitals from Pandit Chaurasia.
Pandit Ulhas Kashalkar was the last performer of the festival. The maestro first performed a khayal set on Raga "Mian Ki Todi" and later presented a meditative bandish based on Bhairavi.
Several Bangladeshi artistes took part in the festival and gave their performance –either vocal or on instruments. Amongst them, Ustad Shahadat Hossain Khan played Raga Jilf on his sarod. Bangladeshi tabla artiste Zakir Hussain accompanied the performance on 'vilambit' and 'drut teentaal'.
Rajrupa Chowdhury captivated the audience with a dhun performance set on Raga "Hameer" on Vilambit, Madhyalaya and Drut Teentaal. The striking point of her performance was ragdari that infused a peaceful melody. Accomplished vocalist Priyanka Gope fashioned an exquisite rainbow of notes and taan based on Raga "Rageshree". Priyanka's vilambit and drut bandish performance was evocative.
Sitarist Ebadul Huq Shaikat rightly chose Raga "Hemanta" to perform at the festival. Raga Hemanta was created by Ustad Allauddin Khan. Shaikat was tutored in Senia Myhar Gharana founded by Ustad Allauddin Khan. The artiste's recital of alap and jor created a mellifluous resonance while his presentation of gautkari and ragdari was very stunning.
Noted Bangladeshi artiste Alif Laila presented a dhun based on Raga Desh. The compositions were created by Ustad Allauddin Khan. Laila's performance reflected her deep commitment to music. Flautist Murtaza Kabir presented a dhun based on Raga Bhupali.
The large space inside Bangladesh Army Stadium was used efficiently – not missing out on any vital component that would be required for a nightlong programme. The arrangements were in a word, flawless, whether it was the security measures, seats or acoustics. Ample number of projectors and speakers were placed in the stadium, ensuring that everyone, no matter where they were, could see and hear the proceedings and performances on the stage.
At the back end of the stadium was a quaint open-air exhibition, with portraits and short biographies of the legendary musicians and dancers who had their roots in, or performed in what is now Bangladesh – covering from the Mughal era to the maestros of the 20th century. Music enthusiasts thronged the exhibition, walking through the rich history and legacy of classical music in Bangladesh.
The organiser's thoughtfulness was evident in the arrangements of food and transport. Along with several food stalls offering varieties of delicacies including pitha, there were stalls of Bengal Foundation, Prothoma Prokashoni and Daily Star Books. Bengal had also made arrangements of several BRTC double-decker buses providing free service to and from the festival venue from important points of the capital.
The glory of Dhaka in nurturing the art of classical music revived itself through this festival. Rounds of applause from audiences after every spell binding performance showed Bangladesh's appreciation and love for music. Showcasing a gamut of graceful Bharatnatyam performance, Vidushi Alarmel Valli commented, "I am not only fascinated but also amazed at seeing such a huge, devoted and passionate gathering of people enjoying classical music for four consecutive nights and they are not here for any Bollywood, rock or pop show."
The festival ended leaving all those who had attended with a feeling that they had been treated to a rare and momentous experience that only this kind of music can conjure.
---