International

Power of Michelle
Shah Husain Imam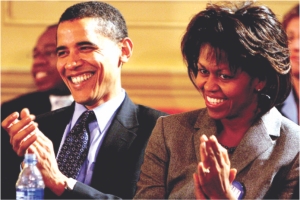 The power of the better half.
Usually, most women in professions feel that the equal opportunity society is not so equal for them after all. They encounter subtle to obvious forms of discrimination when it comes to vertical mobility or participation in the decision-making processes.
This narrative would sound much too conventional, even hackneyed if one were to scroll down the list of the 100 most powerful women published by Forbes for 2011. Money, might and influence put them on the top, claims the magazine specialising in putting a badge of honour on successful women leaders' armbands. Among the first 10 appear Sonia Gandhi and Michelle Obama, not because of their money, but for their influence and might.
Speaking of Michelle, Forbes puts the US approval rating of hers at 70 percent to Obama's 40 percent. A latest CNN poll, however, gave Michelle 65 percent approval rating to her spouse's 45 percent, lowest since Jimmy Carter for any president in his third year.
If the "yes, we can" optimism of the last campaign has hunkered down to "change is slow" in Obama's presidency, Michelle for her part is experiencing a turnaround. During the last election she sparked a controversy saying that 'for the first time in her adult life she was proud of the United States.' She had to issue a clarification to ring-fence the 'outrage'. But the magnetism of her sunny smile, engaging manners, dynamic demeanor, passionate devotion to social causes (child obesity, nutritional health etc.) suffused with her stylish fashion picks have been a powerful clincher for her iconic image. The reflected glory is Obama's, he must be thanking his stars. Obama is 'tipped' as a one-term president, mostly by the Republicans. In his reelection bid, the personal popularity and competence of Michelle are going to make up for double-dip recession image that has got stuck with the Obama persona. With her doctorate in Jurisprudence from Harvard University, her elegant role as the first lady, Michelle, 47, is looked upon as 'a political professional able to handle any audience with confidence'. If Obama won his presidency through the sheer brilliance of his oratorical skills and the capacity to inspire, Michelle has begun to personify those very qualities in some measure.
Importantly, she is giving a perspective to her husband's accomplishments and failings, much of the latter owing to a hell-bent Republican opposition to his plans. Some Democrats too, thought they were barking up the wrong tree.
The Obama fund raising capabilities mostly in evidence the last time round has seemingly been embraced by Michelle garnering a lot of funds through her charm and sobering, beckoning words of counsel: "we will make a choice in a little over a year that will impact our lives for decades to come".
Thus Michelle is poised to play a crucial role in the reelection campaign for President Obama. One shouldn't be surprised if she rejuvenates Obama who is faintly on a bounce-back trail. Obama may be down but not out. He can take heart from the not-so-impressive credentials of Republican forerunners Herman Cain (carrying a stigma of sex scandal), Mitt Romney, Newt Gingrich, Rick Perry and Ron Paul. Their popularity ratings as of now range between 24 and 9 percent.
There have been clearly two delineating patterns to the Obama presidency's performances. He has proved vulnerable in the area of bipartisan consensus-building. On the other hand, there is a scorecard of a certain change in the direction of American affairs not wholly but at least partially. Whilst the faltering at places in the second category will have to be mended back up, the second trend nonetheless needs to be carried forward for its own culmination with dividends reaped in the end. Americans do have a stake in continuity. Who is better suited to cater for that than the Obama-Michelle couple who have the potential to jell publicly?
The writer is Associate Editor, The Daily Star.