Art
Fresh Angles, Fresh Notions

Fayza Haq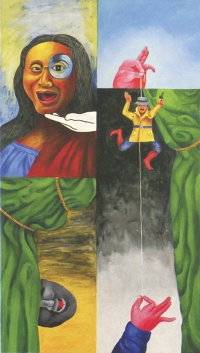 Women and Society III, acrylic on canvas, 2009. Photo: courtesy
Atia Islam Anne is an artist with a nouveau vision. Her dainty features don't let out her fiery mind, at first appearance. Yet this painter-cum-teacher creates canvases that certainly stir up the mind and emotions. She deals with the socio-political and economic situations of the country. She is certainly not inhibited about expressing her ideas and feelings in her work. So much of her work is symbolic – in holding up the mirror of our present society – and that the world over–wherever poverty and crime prevail.
Nasty cockroaches walking down her canvases, chopped heads, the trail of hangers with vicious men in leather jacket, waving pistols and other disturbing images are on the bizarre scenes that Anne has been creating for over two decades. These subjects, painted by Anne, certainly shock you out of your complacency. Some avant-garde artists believe in jarring your nerves, and shaking you out of your everyday existence. The horror, fear, disgust, and feeling being quizzed may not appeal to all. Yet senior artists, like Hashem Khan, have been seen to smile at her creations with patience, understanding, and even amusement. This is referring to Anne's latest exhibit seen at Bengal Gallery, and the ones before, in the past, in the city.
Normally, female artists tend to paint idyllic and tranquil images such as the sea, nets, boats, fisherwoman, gorgeous skies, floating women with beautiful blossoms. These are typical of Farida Zaman and Rukeya Sultana and Nasreen Begum, and even Tayaba Begum Lipi, who has new, vibrant notions of her own. The same applies for Fareha Zeba, artist-cum-teacher. But none quite startle you and shock you. The paintings of Prema Andaleeb–with her covered women's faces, and pasted-on women's shoes on the canvas–are only mild jars compared to what Anne's creations do to you. Harmony is not necessarily the images aimed at by artists after the two great wars and the following cold-war.
Even the colours that Anne uses are raw and harsh.
Atia Islam Anne is not an artist who fills her canvas with pleasing art forms. She is out to make her viewer aware of the social and political wrongs in our society. She depicts men as selfish, lascivious beings and women as helpless creatures behind the "burqa". With flat raw colours and diagonal lines her female figures are symbolic. It is their anguish and frustration that she depicts in her triangular and diagonal lines and loud colours.
Anne's childhood was seeped in fine arts. Her father, a government servant, helped her with her art homework. She had won a prize for composition with an abstract painting that brought in a broken mirror. Incidentally, coming to the Institute of Fine Arts later, she realised that Aminul Islam was working with broken mirror images at that time. Her teachers were Mahmudul Haque, Shahid Kabir and Mahbubul Amin. Among them Mahbubul Amin was strict and taught specially well. Among the masters she is drawn to Michael Angelo's figurative work. She was also influenced by Rembrandt's light and shade play and by Boticelli. As she is drawn to figurative work, she is moved by Zainul Abedin and SM Sultan's paintings.
Anne's work is surrealistic. She says, "When we are thinking of a subject many other topics come tumbling in and I want to capture them all." She brought in the figure of Mona Lisa through which she wished to highlight the fact women are subjugated in our society: she appears in Bangladeshi clothes and appears to be wanting to shout out her thoughts. "It is said that men and women should have equal privileges but in reality this does not take place," she says. "People talk of women's progress in public but when they go home they are conservative about their wife and sister. Through the dictates of religion women are pushed to the background." she adds.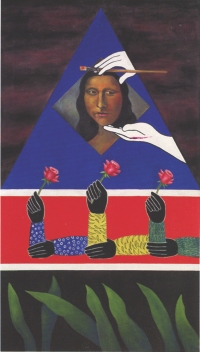 Women and Society I, acrylic on canvas, 2002. Left
Society I, oil on canvas, 2001.
Her canvas reflects her feelings about society which she wants to communicate with her viewers. When she reads about women being the victim of acid throwing and burning, she wants to protest and this is her way of taking a stand for women's lib. Anne's paintings maybe bold and uncomfortable to the eye but through her symbolism she has a definite message.
Anne, with her flamboyant ways, is not just a painter who paints to present ideas. She and her husband have a school of painting for both adults and children, called "Jhapi Art School" at Dhanmandi, Rd. 6. Even if Anne's paintings are not to bring in great sales, by pleasing the run of the mill viewers, the school should help get the bread and butter. Her husband, Syed Hasan Mahmud, with trim handle-bar moustaches, glasses and self-effacing, soft-spoken ways–too is well-known. Their two young daughters, Bhumika and Ritwika, again, have won coveted awards at children's competitions, repeatedly, over the years, as recently from Japan.
Anne, asked to elaborate on her canvas, replete with symbols, says about the BDR incident on March 25, 2009, that she contemplated on the incident for a month before she delineated the bizarre, blood-drenched incident in her powerful way. She says that the shocking incident caused her many depressed days, before, she took up the challenge of portraying it in April. Anne says with aplomb, that, perhaps she is the first artist to depict this incident.
---
Yes, But Is It Art–Or Investment?
Rachel Mayo
Astaggering US$1.08 million for a painting by a Filipino artist has set the local and Asian art market agog. In April this year, Ronald Ventura set a historic record at the Sotheby's Modern and Contemporary Southeast Asian Paintings auction in Hong Kong when his painting sold for an amount 24 times its original high estimate. The painting, titled 'Grayground' (graphite, oil, and acrylic on canvas, 60 inches by 155 3/4 inches) sold for HK$8.42 million ($1.08 million), the highest ever for a piece of Southeast Asian contemporary art.

Ronald Ventura, Greyground, graphite, oil and acrylic on canvas.
The amount is incredulous, even considering that during the last five years, Southeast Asian countries such as Viet Nam, Indonesia, Singapore, Malaysia and the Philippines have been experiencing unprecedented art sales in the two most influential auction houses: Christie's and Sotheby's. This pan-Asian collecting trend has propelled many young Filipino artists into the limelight, among them Ventura, Geraldine Javier, Nona Garcia, Yasmin Sison-Ching, Annie Cabigting, Winner Jumalon, Nikki Luna, Ronald Caringal, Lynard Paras, Kiko Escora, Janet Balbarona, Rodel Tapaya, Andres Barrioquinto, Marina Cruz, Arturo Sanchez, Jon Jaylo, MM Yu and Wawi Navarroza.
The trend could very well have been triggered by two major institutional movements in the region in 1996: the opening of the Singapore Art Museum with one of the world's largest public collections of modern and contemporary Southeast Asian artworks, and the inauguration of the first bi-annual sale of Southeast Asian paintings by Sotheby's, also in Singapore the same year. Those two events eventually generated international attention and consequently created a demand for works of a new breed of young artists from Southeast Asia, whose increasing presence and success in these auctions have stoked interest in other auctions and galleries in London and New York City.
How did Ronald Ventura become the cause célèbre of the local and Asian art market? Born in 1973, Ventura is known for his cutting-edge mastery in drawing with a surrealist bent that utilises a combination of hyperrealism, graffiti and cartoons. These elements are situated within complex compositions that explore social, cultural and historical issues alongside layers of mysterious imagery that delve into the psyche.
Ventura holds a Bachelor's degree in Fine Arts, major in Painting from the University of Sto Tomas in the Philippines. Since 1998, he has participated in numerous exhibitions abroad. In 2005, he was given the Cultural Centre of the Philippines' 13 Artists Awards.
Sotheby's Hong Kong achieved the second highest auction price for Sanyu.
Asked about his opinion on Ventura's record-breaking sale, Nicholas Forrest (Art Market Blog: The World's Most Popular Independent Art Market Analysis) observes: "Investors and collectors are always looking for new emerging markets that have untapped talent, and several Southeast Asian countries–including the Philippines– fit the bill. What makes Ventura stand out from the crowd is the fact that he has progressed through the ranks and proven himself over quite a long period of time. Ventura showed that he is an experienced artist with a bright future. Adding to his status is the fact that he has been picked up by a New York gallery and was part of the 2008 Singapore Biennale."
Patrick D Flores, professor of art history, theory and criticism, and author of several books on Philippine art, says Ventura's recent sale could attest to the fact that the artist has been steadily earning a huge amount of attention from buyers. Says Flores: "The signature is highly valued in the market, the artist having the most stable market presence among Filipinos in the emporium. I'm not sure if his being Filipino mattered or if what he wanted to say in the painting was a concern."
Norma Liongoren, owner of Liongoren Gallery, one of the older galleries in the Philippines, calls Ventura the "Pacquiao of Philippine art". Notes Silvana Diaz, owner of Galleria Duemilla:"We have been made proud because of Ventura's achievements as a Filipino artist. We're very happy that now foreign dealers are looking at the Philippines as a source for bankable art."
Ventura has been a consistent favourite in international auction houses since his first sale at Sotheby's Hongkong in 2008, for a 1973 work titled 'Black and Blanche'. Since then, he has sold about 10 times more in either Sotheby's or Christie's before his groundbreaking 'Grayground' sale.
According to Artprice.com, (the world leader in art market information that keeps track of the art market with its unique databank of 27 million auction prices and indices, and detailed auction results), Ventura's first sale in 2008 earned him about $62,000. Subsequent sales have shown a consistent increase in the value of his works until 2010, when his biggest hammer price was $270,000 before 'Grayground'–a tremendous jump to more than a million dollars in just a few months.
Indeed, Ventura's major coup has not only given Filipinos a collective lift in self-esteem; his major sale has also brought valuable international attention to Philippine contemporary art which local galleries, museums and cultural institutions could not have achieved on their own. Auctions also help a lot of artists earn a good living at a level that local art dealers cannot possibly provide.
However, we must also have a realistic view of how the art market truly moves. The practice of regarding contemporary art as investment rather than art for its sake began sometime in the '60s in the US, as epitomised by the commercialism of Andy Warhol. Collectors then began buying art not for its higher intrinsic value, but rather as an object that is expected to increase in value in the future. This eventually paved the way for artists to fall into the consumerist trap that sadly began to influence artistic styles and establish trends.
The market can indeed stifle and influence artistic endeavour. This is the downside to Ventura's success and those of other young artists in the global market, says Diaz.
"The local market now finds itself somehow in disarray, because now a trend has been established and creativity is affected." She calls this the "creative bandwagon".
She continues: "Young artists now have a tendency to repeat the styles of works being bought in these auctions. Though the current trend is difficult to forecast based on auction records, according to Professor Flores, "(Do) artists make art solely for the market or does art start out as a commodity, which is not impossible but clearly quite tragic? There's a thin line between a speculator and a connoisseur.
It could be purely speculation; or purely a collector's belief that the work is worth that much. Either way, the logic is market-driven and beyond the pale of the curator, the critic, the historian, and even the artist. It's thrilling, and therefore scary."
But the dictates of the market are volatile and the value of artworks is subjected to its idiosyncrasies. For instance, what if a collector suddenly decides to unload his collection at a really low price? In this case, what is the real value of the art work?
Money is the greatest motivator in this world, and unfortunately, art, despite its supposedly lofty ideals, is no longer an exception.
This article was first published in Philippine Daily Inquirer. Reprinted with permission.