Remembrance
Genocide at the Dawn of Freedom
Facing inevitable defeat, Pakistan and their Bengali allies devised a scheme designed to cripple this society – the liquidation of her intelligentsia
Shudeepto Ariquzzaman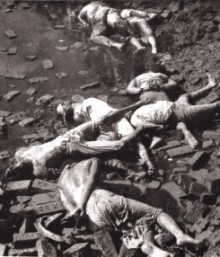 A few of the intellectuals murdered by Bengali collaborators in the wake of freedom lie at Rayerbazaar killing field. Photo: Courtesy
By December 14, 1971, Pakistani occupation forces were in complete disarray and for them the inevitable outcome laid on the horizon. The Muktibahini and the Indian armed forces were closing in on Dhaka, which became the main military objective to be secured after India had entered the war barely a fortnight before. The liberation of Dhaka would effectively mean the total collapse of Pakistani occupation forces. The rapid advances of the Allied forces (Mitra bahini) on three fronts had ensured that it was only a matter of time before occupation forces collapsed.
Facing inevitable defeat, Pakistan and their Bengali allies had something else in mind, a sinister scheme designed to cripple the country that was to be born from their defeat. They decided to liquidate the Bengali intelligentsia.
At the very onset of the liberation war, the Pakistani armed forces and their local allies had demonstrated their capacity to mercilessly slaughter unarmed civilians. Starting from Operation Searchlight on March 25 and continuing till the dawn of freedom on December 16, they killed and raped civilians leading to one of the worst genocides in human history. Systematic executions of leading Bengali intellectuals were part of their strategy from the very commencement of armed hostilities on March 25.
But it was in the last few days of the war, that the most extreme and systematic executions of the intellectuals took place. Teachers, doctors, artists, writers and others who were considered the cream of the Bengali society were summarily arrested, tortured and slaughtered en masse in the killing fields, most notably at Rayerbazaar and Mirpur. In memory of those intellectuals slaughtered, December 14 is mourned as 'Shaheed Buddhijibi Dibosh' (Day of the Martyred Intellectuals).
"On December 15, at 4:30 pm, they came," says Dr Nuzhat Chowdhury, daughter of martyred intellectual Dr Alim Chowdhury, a leading physician of that time. "They went first to the room of Moulana Mannan." She says that on the request of an acquaintance, her father had sheltered Mannan, a Pakistani collaborator, whose life was in danger. Only later, they realised that the man whom they had sheltered was actually sent by the occupation forces to spy on her father's activities.
"Some time later, they came to the third floor where our family used to live. They told my father that they were taking him somewhere. My father asked where, and they replied that he was soon to find out. My father was in informal clothes, and he asked for some time to dress properly. To this they replied, that where he was going, he would not need proper clothes. Then they handcuffed him and dragged him away to the microbus in which they had come." It is the last time they would see Dr Alim Chowdhury alive.
"There were three men, their faces were covered, but they were unmistakably Bengalis," she says. "My mother ran to Moulana Mannan and asked him for help as he was known to be in good terms with the authorities."
"They are taking him to a doctor, do not worry at all, that is what he told my mother," says Dr Nuzhat. This was a ludicrous suggestion, as no patient is taken handcuffed by cloaked men. But Mannan pressed his point. According to Dr Nuzhat, Mannan said that the three men were his students. "He repeatedly assured my mother about my father's safety," she says.
Men pull out a recently buried corpse in Mirpur a few days after the day of victory. Photo: Courtesy
Moulana Mannan in his lifetime went on to become a successful politician in independent Bangladesh. He became a minister under Ziaur Rahman and Hussain Mohammed Ershad. He is also remembered as the founding editor of The Daily Inqilab. He was arrested by the police in the aftermath of liberation, but was released. Mannan confessed that those three men who had taken Dr Alim Chowdhury were members of the Al Badr brigade.
"Sometime later, the wife of Dr Fazle Rabbi called and informed my mother that her husband had been taken away in similar fashion," she says. Dr Fazle Rabbi was also a leading intellectual of that time. He was to meet a fate similar to Dr Alim Chowdhury. "That is when we knew for sure that something was wrong."
"He was connected with underground activities during the war," says Dr Nuzhat. The martyred intellectual, during the war did not leave Dhaka in spite of repeated warnings by well-wishers who suspected that he was to be harmed. "He facilitated guerillas with medical care. He used to say that some people were required to stay in Dhaka to perform their duties." For performing his duties as a patriotic citizen, Dr Alim Chowdhury and others like him had to pay dearly with their lives.
After days of agony, the family identified the corpse of Dr Alim Chowdhury at Rayerbazaar on December 18, 1971. "He was presumed to be killed on December 16, the dawn of freedom."
"I remember that they also identified the corpses of Dr Fazle Rabbi and Selina Parveen." Sirajuddin Hossain on the other hand, was non recognisable, she says. Pakistani occupation forces and their collaborators, Razakars and Al-Badr, took him away on December 10 from his residence at Chamelibagh and he had been missing since then. Later it was known that he had also been dumped in the same place, according to the confession of Khalil, a member of Al Badr brigade. Like others, Khalil was also released from jail by Ziaur Rahman.
Selina Parveen was picked up on December 12. Her son Shumon Zahid says that there is enough evidence to implicate the murderers, but the government has not approached them. Like others, he too awaits justice that has not been forthcoming in four decades.
Dr Nuzhat suggests that these killings were planned meticulously and the outcomes have been to most extent triumphant. "All these people were successful and leading professionals in their own fields, the sort of people who would have led the society in post liberation Bangladesh."
According to her opinion and many other's, the liquidation of the progressive elements has a specific purpose – create conditions where they could make an eventual comeback in independent Bangladesh. "They have been partially successful, sometimes I fear fully successful."
These fears have been echoed by others. "The defeated forces of 1971 assumed that if they could kill the progressive people, those intellectuals, the people who would have led the civil society, they can stage a comeback to Bangladesh," says Rabiul Husain, Trustee of Liberation War Museum. "As we have seen later, their plans have been quite successful as anti-liberation forces have become strong, and beneath the surface there is still a warlike situation."
As Pakistani forces prepared for unconditional surrender in the December 1971, their local collaborators were already planning a comeback in Bangladesh. The day would not be very far off.
The then commander in chief of Al Badr and Jamaat Ameer Matiur Rahman Nizami, Jamaat secretary general Ali Ahsan Mojahid, assistant secretary general Kamruzzaman and Mir Kashim Ali, according to the statements of the victim's families and the collaborators, various publications and secret documents of Pakistan home department have been heavily implicated in the targeted killings of these intellectuals. All the above mentioned names are successful politicians in post liberation Bangladesh.
Copyright (R) thedailystar.net 2010