Voicebox

"There can be some deviation. You should see these minor things negatively. Even the moon has flaws. So do we."
R M HAFIJUR RAHMAN
Registrar
Begum Rokeya University, Rangpur
about majority of the staff coming from Pirganj, the upazila of the Vice-chancellor.

"Usually, our classroom becomes full with the presence of students, but we are only three today."
SYNTHIYA
a class III student Moushuri Registered Primary School
about the panic among students of Rupganj and Kayetpara unions in Narayanganj Rupganj furore between army and the villagers.

"It seems sitting at their desks in New York the honourable clerks have prepared the report. So, they have to give a statement."
AMA MUHITH
Finance Minister
about UNFPA's recent population report that the population of Bangladesh is now 16.44 crore.

"Khaleda Zia has taken a confrontational stance against the army since she had been asked to vacate her cantonment house. They [BNP] are trying to put the army on a collision course with the government and the people by orchestrating such incident."
MAHBUBUL ALAM HANIF
Awami League Joint General Secretary
about the Rupganj violence claiming it to be orchestrated at the house of a local BNP leader in Narayanganj.

"We are consoled by the knowledge that he enjoyed a good life."
STEFAN PORWOLL
Manager, Sea Life centre in Oberhausen
about the death of Paul the octopus, famous for predicting World Cup football result.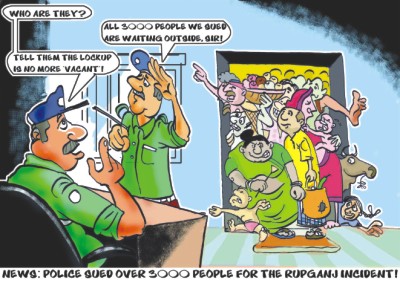 Copyright (R) thedailystar.net 2010